[soliloquy id="8403″]
LionsGate has just sent over the new one sheet for their upcoming supernatural horror film The Devil's Hand, which was previously known as Where the Devil Hides. We have your first look, so come inside and check it out!
This flick has been in the can for a while and gone through several title changes. It's been a long road to distribution but audiences won't have to wait much longer. The Devil's Hand is slated for an October 10th release. The film recently saw a trailer debut on the LionsGate VOD page, so it wasn't a big surprise to discover that the release strategy will be VOD and a limited theatrical exhibition.
The Devil's Hand stars Rufus Sewell (Dark City),  Jennifer Carpenter (Dexter), and Alycia Debnam Carey (Into the Storm). It is directed by Christian E. Christiansen (The Roommate) and written by Karl Mueller (Mr. Jones).
The film centers around New Bethlehem, a religious community that sees six of its girls go missing. Each of the young women was born on the sixth day of the sixth month. The events leading up to and including their disappearance were predicted long ago by local legend. The town's lore also suggests that last remaining  girl will be used in the devil's bidding.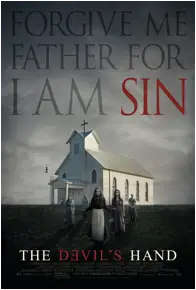 https://www.imdb.com/title/tt2290739/?ref_=nm_flmg_dr_1