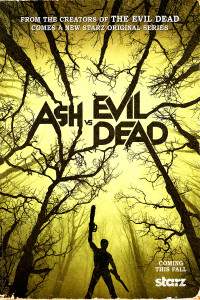 Starz has reached out to share a brand new teaser trailer for Ash vs. Evil Dead. We are thrilled to share both that and the new concept art (pictured left) with you. Head inside for your first look at the new teaser.
The clip offers no actual footage from the new series but it does hint at the inclusion of the notorious rape vines and Ash's trusty chainsaw.  The series will be filming on location in New Zealand this Spring and is set for a late 2015 premiere.
As we told you previously, Starz has ordered a total of ten episodes of the upcoming series.
Sam Raimi, Rob Tapert, and Bruce Campbell will be executive producing the show. We also previously reported that Raimi has signed on to direct the first episode for the cable network.
In the original The Evil Dead, Ash, his girlfriend, and a couple of their buddies trek to a cabin in the woods for a break from the pressures of school, studying, and day-to-day life. Shortly after the friends arrive at their destination, they discover The Book of the Dead and tape recordings of incantations from the book. Against their better judgment, they listen to the spells and unleash an ages old evil that rises from the woods and attempts to take possession of each and every one of their souls.