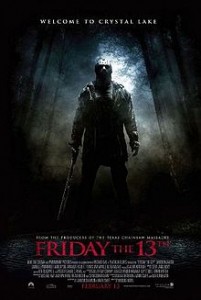 Hannibal Season Three writer and producer Nick Antosca who was recently brought on board to have a go at the script of the new Friday the 13th film has just confirmed via Twitter that the latest installment will not be a sequel to the 2009 remake. It will be taking place in its own timeline, feature different characters, and its own unique style. Head inside to see exactly what Antosca had to say.
Antosca is proving to be a great source for news about the latest Friday the 13th film. He also recently shared a photo via social networking that showed a series of machete props, as if to suggest that different variations of the iconic weapon are being considered.
The previous draft of the script was penned by Richard Naing and Ian Goldberg. David Bruckner (The Signal) has been tapped to direct. The new installment is appropriately poised to release theatrically Friday May 13, 2016.
It was speculated a while back that Jason would not be in the new Friday the 13th film but that allegation (to the very best of our knowledge) is completely false. There was another round of rumors that suggested that the new film would be found footage. And even though some outlets continue to report that tidbit, it has been repeatedly refuted. Rest assured that we will keep you in the loop as we learn more about the forthcoming installment in the rebooted Friday the 13th franchise!
@TwistedKhy it's not a sequel to the 2009 version. Different characters, time period, style.

— Nick Antosca (@nickantosca) May 21, 2015