In an already incredibly strong year for horror, that's given us the varied likes of Get Out, Raw and the unstoppable IT, the outwardly silly, PG-13 slasher Happy Death Day seemed like it would be DOA.
However, unlike, say, Jigsaw or Annabelle: Creation, the surprisingly clever slasher turned out to be far more than the sum of its parts.
Witty, scary and loaded with killer performances from no-name young actors, Happy Death Day was one of the nicest surprises of the year, particularly for slasher fans jonesing for a hit after what feels like forever.
Those hungry for a re-watch, or anyone who missed it first time around on the basis of its dodgy marketing campaign/age rating, will be pleased to know that Universal Pictures Home Entertainment are releasing the movie on Digital from January 2, 2018, followed by DVD, Blu-ray and On Demand from January 16, 2018.
The Blu-ray, DVD and Digital releases also boast the following whopper extras:
Alternate Ending
Deleted Scenes
Worst Birthday Ever – Filmmakers and cast discuss the challenges of executing the time-loop concept at the center of the film, including how to make each day feel different despite the fact it's being repeated.
Behind the Mask: The Suspects – At the heart of any great murder mystery is a list of possible suspects. In this featurette, we explore all the possible identities of Tree's killer.
The Many Deaths of Tree – Director 

Christopher Landon

, star 

Lena Rothe

, and producer 

Jason Blum

 recap the various ways in which Tree is killed, but also explain why we never actually see her die.
Check out the super-rad box art for the home video release below: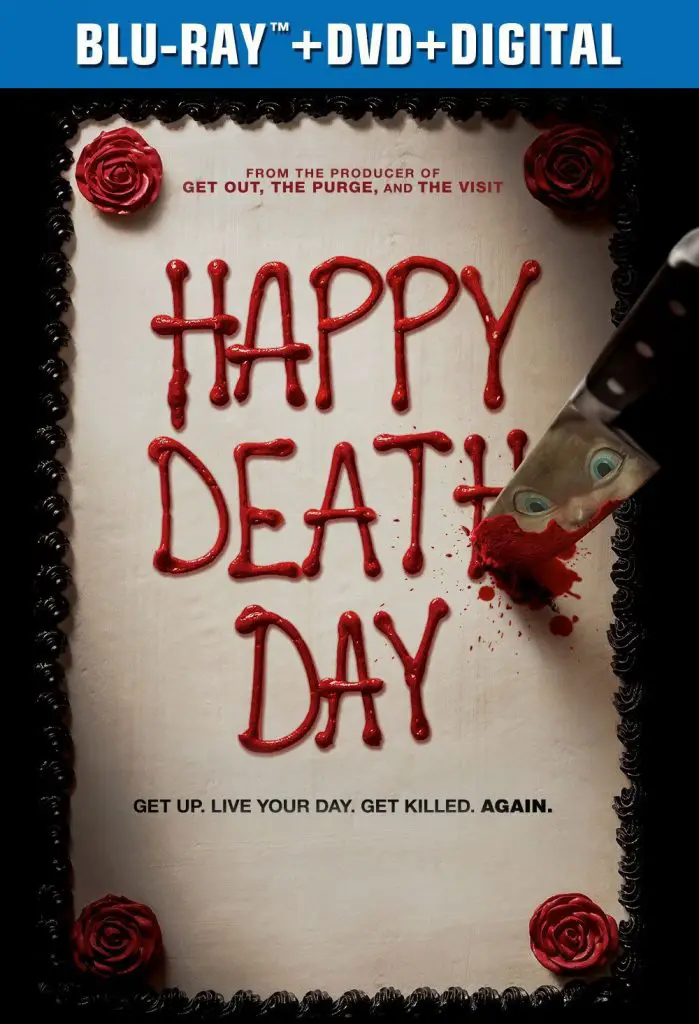 Directed by Christopher Landon from a script by Scott Lobdell, Happy Death Day sees spoiled college student Tree (Jessica Rothe, La La Land) stuck reliving the day of her death (also, as the title suggests, her birthday) over and over until she can figure out who's killing her.
If it sounds a bit silly, well, it is, but then the best slashers often are. But, if you missed this one first time around, trust us, it's definitely worth a watch even from a PG-13 horror perspective.
Catch Happy Death Day on Digital from Jan 2 and DVD/BD from Jan 16