Zach Galligan, Felissa Rose and Tom McLoughlin — among other horror heavies — partake in a socially-distant Days of the Dead convention in Atlanta
The Days of the Dead Convention held in Atlanta Feb. 26-Feb. 28 marked one of the first major horror fan community gatherings since the outbreak of the COVID-19 crisis in 2020. While the attendance at the three-day expo was considerably smaller than in years prior, the overall turnout was hardly insubstantial; indeed, as of midday Feb. 27, one could easily find hundreds of horror enthusiasts snaking their way throughout the labyrinthine corridors of the Sheraton Hotel off Courtland Street.
At once, the sights and sounds at the convention were instantly familiar and astonishingly surreal. While it's not "uncommon" to see an armada of Freddy Krueger and Michael Myers cosplayers traipsing around the building, it was somewhat bizarre to see those same attendees in their garish regalia and personal protective equipment simultaneously — i.e., gothic, nightmarish clown girls swinging around plastic pink mallets but doing so while sporting latex gloves and surgical masks. 
The three-day gathering in Atlanta came with a host of social-distancing guidelines that the overwhelming majority of attendees had no difficulties adhering to. The onsite convention volunteers had little need to police the guests, as the guests seemed to unanimously police their own behaviors; for once, the most ubiquitous fluid at a horror convention wasn't fake blood, but Purell.
Volunteer Kristen Michelle Gilotti has been making the Days of the Dead rounds since 2012. 
"This most recent convention was a fabulous turnout, however, due to COVID-19, there were limited capacities and decreased crowds," she said. "This year was significantly reduced by 50%-60%, plus spacing out, double masking and hand sanitizing at every corner made it more health conscious."
Gilotti said she saw few — if any — noncompliance issues at this year's event.
"People realized that COVID-19 is a highly contagious and dangerous disease, therefore, we need support from everybody," she said. "I noticed that patrons, celebrity guests, vendors and other workers consistently wore their masks, hand-sanitized in between panels and conversations and practiced social distancing. It is imperative to follow the safety guidelines nowadays and for once, I didn't hear any complaints."
When it comes to the convention circuit, she said she's optimistic that things will return to normal — or, at least, normal enough — by next year.
"Situations were altered a bit, however, everyone was ecstatic about returning to the con and reminiscing what life was like prior to COVID-19," she said. "Several cons, festivals and parades were already cancelled in 2021. Therefore, 2022 should — or will — be the remarkable year."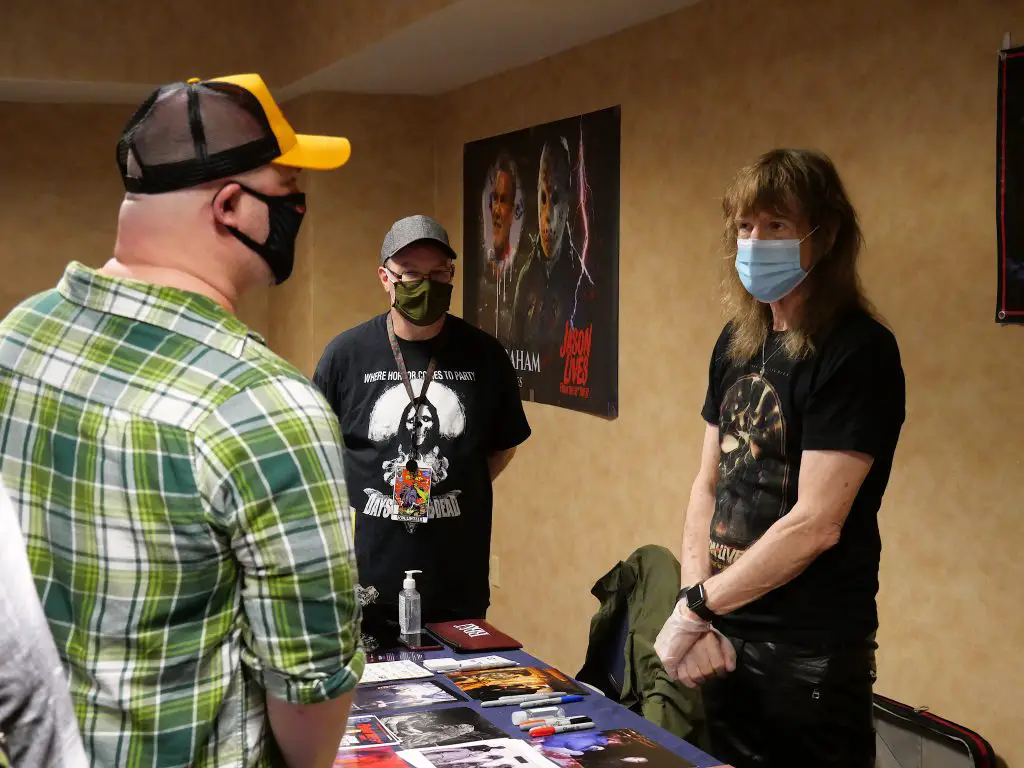 Jason Lives Still Lives
Making the rounds at the three-day event was 70-year-old Tom McLoughlin. Despite having dozens of directorial credits stemming back to the 1980s, his most famous work remains 1986's Friday the 13th Part VI: Jason Lives — which, incidentally, was filmed in nearby Covington, Georgia.
"When we were making those movies in the '80s, all of us, we never thought we were making anything that was going to survive beyond the second weekend, and then be gone and forgotten," he said. "I was nervous about my movie because I put humor in it and I didn't know if people were going to go for that or not."
Par for the course, Jason Lives was maligned by movie critics when it was initially released. The movie also incurred some blowback from Friday the 13th purists, who were put off by the film's self-parodying elements. 
Thirty-five years later, however, the film is routinely regarded as one of the finer Friday entries, with some retroactively hailing it as a proto-Scream horror comedy pioneer.
"It's one of the favorites for a lot of people, and I think a part of it is because of the humor, it keeps having fun with itself," he said. "It's like, sort of the intro film for a lot of people, that they saw that and then they started watching the rest of them."
Out of the 40-plus films he's directed, McLoughlin said Jason Lives is far and away the most fun he's ever had making a motion picture.
"It's certainly the one that probably has the most notoriety, because obviously, it's part of a franchise that's so huge," he added. 
Like many Friday directors, McLoughlin said he had many battles with the Motion Picture Association of America. Indeed, he said Jason Lives had to go through nine screenings before the censors granted the film an R rating.
"I tried to make all the kills supernatural so they're like, not imitable — you can't crush somebody's head, you can't turn a head around and pull it off, you can't punch a heart out," he said. "So when they started, like, cutting down things, I was going 'Really? Come on, this is like fantasy, it's not real.'"
The censors' most loathed scene, he recalled, is a kill in which Jason bends a character backwards — naturally, with little regard for said character's spinal anatomy.
"Which doesn't have a drop of blood in it, but they just said 'It's cumulative,'" he remarked. "You just can't win."
McLoughlin said the executives at Paramount offered him a gig directing the seventh Friday film. At one point, McLoughlin said he was pitched the idea of helming a Freddy vs. Jason picture that never came to fruition.
When that fell through, McLoughlin said he came to the suits with a different crossover movie idea.
"How about 'Cheech and Chong Meet Jason,' you own them, right?" he said. 
About a year and a half ago McLoughlin said he penned his own speculative Friday script, titled Jason Never Dies. 
"Which is set in the wintertime, over the Thanksgiving weekend," he said. "It's Jason coming back 13 years later. It's kind of a different take on it in a certain way, but it is a very classic, '80s-feeling horror movie — I obviously wanted to give the fans pretty much what they loved the first time."
Of course, with the fate of the Friday franchise stuck in legal limbo, McLoughlin said it might be a while before his script — or anybody else's — gets the green light.
"There's a big lawsuit that's going on, that has been for nine years, and that stops everything," he said. "Until that is resolved, none of us can do anything — other than the fans, who are making some very cool Friday the 13th films on their own." 
In an odd poetic twist, the same campground used for the filming of Jason Lives was repurposed by State of Georgia officials in 2020 as a temporary COVID-19 quarantine location. 
Over the last year McLoughlin said he did contract COVID-19. He also said he was subsequently vaccinated. 
"Obviously, we've all been wanting to get back and be with everybody again," he said. "We know it's not over, we know we're doing everything we can to safeguard ourselves. But at the same time, you know, you just want to be with people."
A Rose By Any Other Name
Few scream queens are as revered as Felissa Rose — and with more than 140 film credits to her name, for good reason.
"Fortunately, I've been on a bunch of sets in 2020 and we just take the greatest of precautions, with everybody being tested very often — temperature, sanitizing," she said. "So we're seeing new kinds of parameters, but we're working within them to make certain that these films get made."
Among other productions, Rose said she just wrapped up Stream with Fuzz on the Lens, the same company responsible for the cult hit Terrifier. 
"I'm working on a few films in the next few weeks," she said. "Massacre Academy, Camp Murder, Cult of Blood —there's a bunch coming out."
On top of that, there's her work as a film producer.
"Hopefully, maybe I'll even direct," she said. "I've been talking about it with a few film production companies, and we'll see what happens."
It's hardly controversial to cite Rose's performance as Angela Baker in 1983's Sleepaway Camp as her most popular. 
She described watching the now-iconic slasher grow from an obscure B-movie to a bona-fide eighties classic as her "ultimate dream" as an actress.
"It's kind of like it's my baby, so to watch it grow and see people kind of recognize it because of people like Joe Bob Briggs on The Last Drive-In on Shudder and James A. Janisse does The Kill Count, they've sort of reintroduced it to new audiences, and I'm incredibly grateful," she said. 
Considering the popularity of the Sleepaway Camp franchise, Rose said she definitely foresees a remake of the film happening in the not-too-distant future.
Naturally, she said she'd be more than happy to make a return to the series that made her a genre legend.
"I think I'm a little bit too old to play Angela, but I would love to play Aunt Martha," she said. 
She shared her thoughts on making the post-COVID convention rounds.
"I love the conventions, I love connecting with everyone," she said. "During this time, even wearing the mask and socially distancing, it's so nice to just be with people and kind of have a community together again."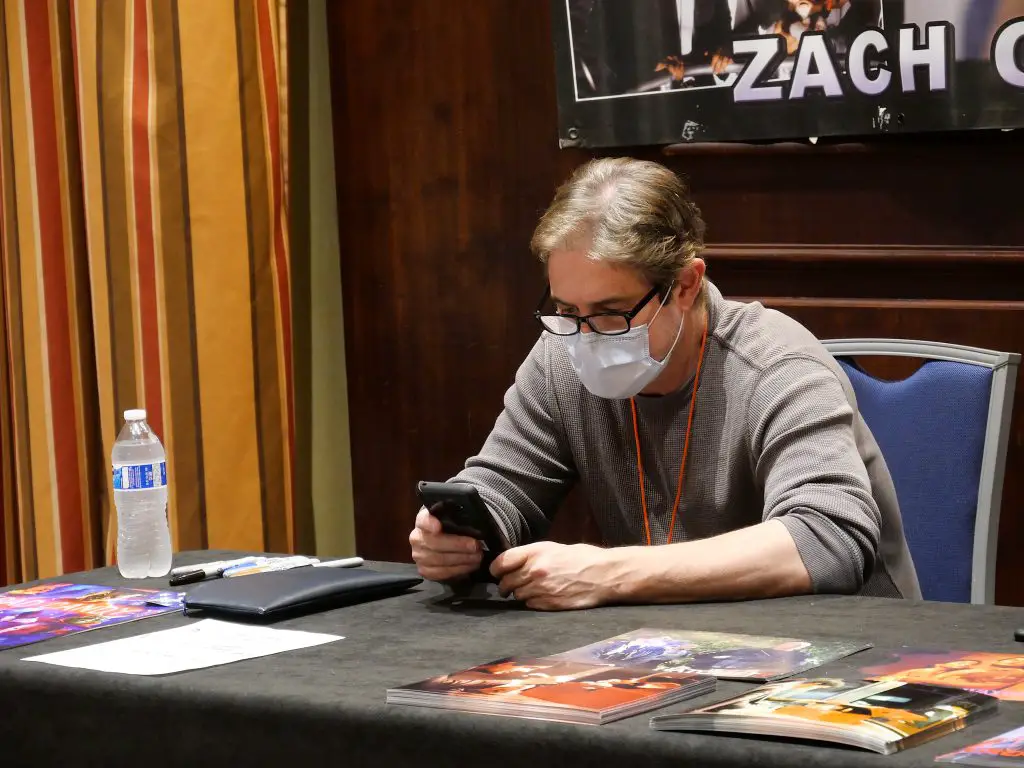 Gremlins and a Glimmer of Normalcy
Although Zach Galligan's name is synonymous with the Gremlins franchise, it's not the only cult-classic he's starred in over the years.
"Well, I guess Waxwork is the one everybody talks about the most, just because, for some reason, it's had staying power," he said, referencing the 1988 Anthony Hickox-helmed production. "I think it's just a very imaginative concept with a pretty good cast and some nice execution and it still kind of holds up — it has the occasional scare and a lot of gore, so horror fans seem to really like it."
The 57-year-old was also on hand to promote his upcoming horror anthology Bad Candy, which is targeting a September release. 
One of his co-stars in that particular film? None other than Corey Taylor, the famed Slipknot frontman.
"That's going to be fun," he said.
Of course, it's impossible to chat with Galligan without bringing up his most iconic role. If the door was opened for another Gremlins film, would he be willing to reprise the character of Mogwai-caretaker Billy Peltzer?
"They better use me," he said with a humongous grin. "Otherwise there's going to be hell to pay."
For Galligan, it was just his second convention appearance in the wake of the 2020 COVID-19 outbreak.
"It feels very safe, everyone's quite responsible and I just get the feeling that people are tired of staying in their house," he said. "You can't live the rest of your life in your house, you have to eventually live your life."
From his observations, Galligan said the bulk of the attendees at the Atlanta event were serious about COVID-19 precautions.
"It's just like wearing seatbelts when they get into a car," he said. "And trying to live their life, and do it responsibly."
He contrasted the turnout at Days of the Dead with the turnout at an earlier convention in Charlotte, North Carolina. He said he couldn't help but interpret the sizable attendance numbers at both events as an indication that many horror fans are ready for a return to normalcy.
"I think people are starting to realize that, with vaccinations and, hopefully, herd immunity, and just the inevitability of having to live again that, you know, we've kind of turned the corner," he said. "Hopefully."