It's Friday and you know what that means: It's time to figure out what you'll be watching this week. Welcome back to New on Netflix! The streaming giant's horror department has always been a mixed bag. However, I'd say they've really stepped up their game in the last couple of years with the release of amazing, essential watches. We've been treated to must see original programming like The Haunting of Hill House, Velvet Buzzsaw, Hush, and some of the classics we all know and love.
This week we have an investigative documentary and a 2013 sci-fi flick.
Dark Skies
Arriving on June 22nd is Dark Skies. When someone begins terrorizing the Barrett family, turning their peaceful suburban life into a living nightmare, all of the escalating series of disturbing events eventually leads the family to believe the culprit may come from beyond the stars.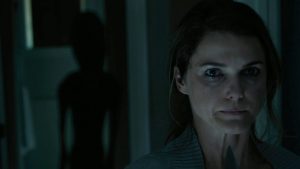 Athlete A
Arriving to Netflix on June 24th is the documentary Athlete A which follows a team of investigative journalists from The Indianapolis Star who would go on to break the story that the USAG women's team doctor, Larry Nassar, had been abusing athletes for over two decades.