Yesterday, Wicked Horror managing editor Tyler Doupe' had the chance to participate in a conference call with Bruce Campbell, Sam Raimi, and Rob Tapert discussing the upcoming television series Ash vs. Evil Dead. The trio filled us in on the decision to take the franchise to TV, the rationale behind opting for 30-minute episodes, and whether or not we should expect to see Ash pulling out his trusty chainsaw!
Starz has just announced that Ash vs. Evil Dead has officially commenced production in New Zealand and  network has ordered a total of ten episodes. Sam Raimi, Rob Tapert, Bruce Campbell, and Craig DiGregorio will be executive producing. Sam Raimi has signed on to direct the pilot episode (which he penned with his brother Ivan) for the cable network.
"The cast is led by Bruce Campbell (Evil Dead) in the role of Ash Williams, Lucy Lawless (Spartacus) as Ruby a mysterious figure who believes Ash is the cause of the Evil outbreaks, Ray Santiago (Touch) as Pablo Simon Bolivar, an idealistic immigrant who becomes Ash's loyal sidekick, Dana DeLorenzo (A Very Harold & Kumar 3D Christmas) as Kelly Maxwell, a moody wild child trying to outrun her past and Jill Marie Jones (Sleepy Hollow) as Amanda Fisher, a disgraced Michigan State Trooper set to find our anti-hero Ash and prove his responsibility in the grisly murder of her partner."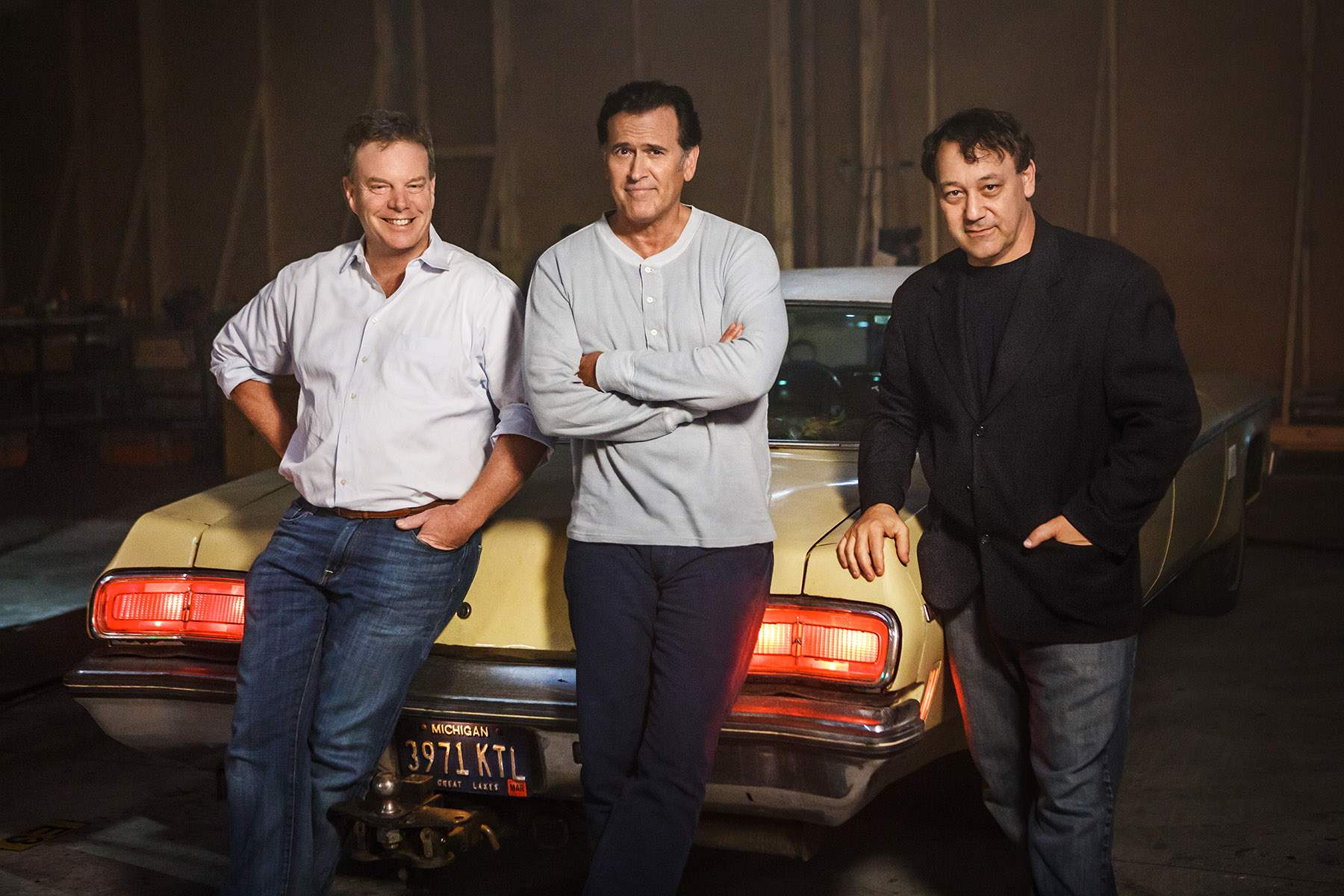 It's looking like the tone of the series will, to some extent, follow the vibe of the second and third films. It will be a deft blend of horror and comedy.  "It's a mix of both," Sam Raimi said regarding how the series will walk the line between comedy and horror. We have elements of the
Evil Dead
films, which have always [had] very hard edged, intense horror designed to really frighten the audience. And no holds barred there. Starz has really taken the reins off of us and allowed us to go to town and thrill the audience, chill them, and scare the heck out of them. There is a comedic element that is alive in this, and it's the thing we found the audience has always liked the most about the
Evil Dead
movies. More and more, we seem to realize the thing that made them different was Bruce Campbell. And more and more we brought him to the forefront of the pictures. First, he was just the guy that happened to star in the movie because he was the last survivor–and our best friend and the only actor I ever worked with. But then we started to realize, gee, the audience really likes this guy and he's the thing that actually makes it special. And by the second one, it all became about him. And finally we delved into Bruce's natural strength of–he's got a lot of strengths, but–comedy is one of his real inner strengths as a performer. And I think the third one,
Army of Darkness
, really tried to capitalize on that. And the character that he had been creating over the first two, we tried to all take it a step further–my brother Ivan, Bruce, Robin, myself. Ivan was the co-writer of that one,
Army of Darkness
. And this third one I think what we tried to do was go back to the horror of the first and second
Evil Dead
, but with the character of Ash that Bruce had created, over the second and third
Evil Dead
. So that's really a combination of something we haven't quite seen before."
As for whether or not Army of Darkness will be part of the series mythology, we got somewhat different answers from the guys. Rob Tapert said, "The answer to that question is it doesn't really exist in the exact same universe. It's a slightly altered universe. It takes place somewhere in an alternate universe after Evil Dead 2. That might seem like a confusing answer, but I don't want to spoil too much for the audience, but that's the truest answer I can give you. "Ash went through that experience, but we're not really referencing it in terms of we're not referencing specifics from that but he certainly has that in his memory.""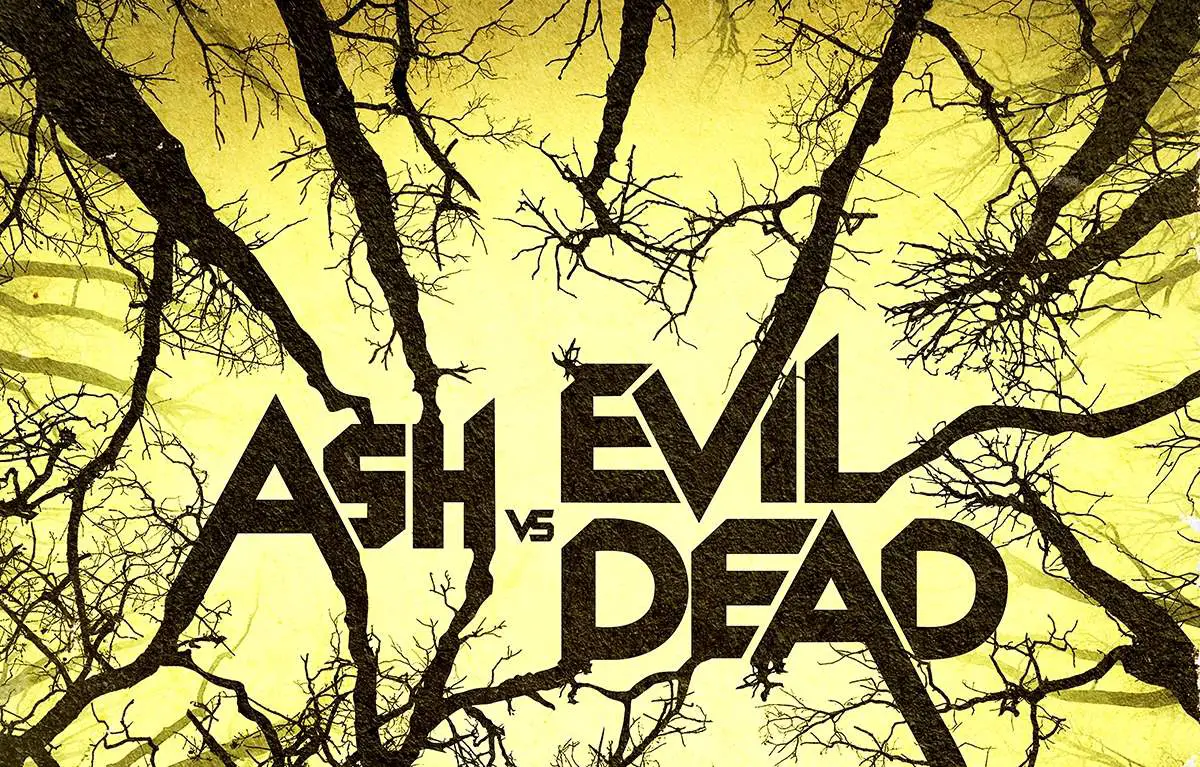 Then Raimi interjected, "We kind of want to take a politician's stance on that. We neither want to deny nor confirm that. We want the audience to be open with no previous expectations coming into the show. We want them to have seen one or all of the Evil Dead [movies] and be completely up to date on everything they need to know. So we really kind of designed it to live outside of having to have seen any of the movies. But if you've seen one, two, or three of the movies, it should still [play] very well for the viewer, we hope. That was the intention."
Campbell, Raimi, and Tapert have always been a tightly knit crew. And this is no exception. In fact, if his counterparts were not on board, Bruce Campbell would not have even considered taking the project. He assured us that their involvement was paramount in his decision to reprise the role. "Sam is our leader," explained Bruce Campbell. "He's our fearless leader. All these movies have sprouted from his very ripe brain. And it just–and Sam's the best director I've ever worked with. I'm just going to say that. And I know that him being involved, it was mandatory that he is involved in this thing and we're going to get him as long as we can get him. We'll get him as often as we can get him. And the other directors are just going to have to suck it up and try and chase after what he's going to deliver in this pilot, which we've been shooting. So no, this is mandatory. And, you know, I'm going to be in touch with Sam even on the episodes that he's not directing because I've never been directed by anyone else as this character. So thank God he's doing the pilot so we can get reacquainted with the approach to this character. Because when he's off doing post on this pilot, you know, we'll have to grope in the dark without him. But he will be consulted quite heavily, I would suspect."
Raimi followed up by saying, "Bruce is being very kind, but the truth is in directing Bruce as Ash, my only job is in recognizing growing up with Bruce throughout all these 40-some years, all his lowest, weakest, most cowardly, brashest, loudmouth moments, and reminding him who he really is. And then Bruce says, 'That's right. I know who I am.' And Bruce really–the funniest thing is he is Ash and my job is to remind him–and he doesn't need that much reminding, is the scary part. And he even has–the truth is, he's got the heroic side, to him just as much. So he's got it all. And sometimes he pulls upon his best parts and sometimes he pulls upon his weakest parts, and that's what his performance really is–it's getting in touch with himself in, you know, this fantastic world. It's really funny. It's a very funny process working with Bruce. He makes me laugh my head off, because he's not afraid to show–maybe because I know him so well–not afraid to show me the worst parts of himself. And when he does that, I really feel like we've got Ash nailed. And coming up, we'll get into the, you know, I don't want to spoil it. I think you know where it's headed, but I don't want to spoil the climax of the first episode. But he's also going to have to pull upon the best parts of himself. I'll tell you in a later interview if he's still got that part.
As for whether or not time travel will be involved, contrary to previous reports, it sounds like things will be staying in the present, at least for the time being. Well right now, the first season it seems like it takes place in the here and now," explained Raimi. "And with Ash 30 years later–what he's become and what he again has to face. But it's certainly an element of the Necronomicon that some of the passages not only call forth demons, but portals in time and space. Perhaps by the end of this season–because we haven't really discussed episodes nine and ten too much–or the second season, if the story took us there, we know it's part of the Evil Dead universe and always a possibility. But right now, it's not in the work that we're doing."
As for why the series is taking to the small screen and what prompted the half hour format, Rob Tapert explained that the freedom of premium cable was very alluring and that thirty minutes was just a better fit for what they wanted to do creatively. "You know, it is a serialized storytelling, since it's on premium cable, so there's an overarching plot," noted Tapert. "But each episode is still a self-contained story. The characters themselves are on a bigger journey, and therefore those who turn in every week will be rewarded, but the casual viewer can come in and out and kind of get what's going on. It's not as dense as other story tellings. And one of the reasons we decided we wanted to do a half hour is we thought that this would maintain the breakneck pace that the movies often had, but that really was the right format in the world of television for this particular project. So it's–I think that anybody can kind of join in, but those who love it will be able to kind of see where it's heading and have hopes and expectations of outcomes."
Sam Raimi chimed in and explained that he too is a big champion of the thirty minute episode format. "I really appreciate that Starz let us keep this half hour idea. That's what makes it really cool to me is that we can really fire on all cylinders and really be outrageous and fast-paced and non-stop without a lot of secondary character exposition that sometimes you find in these hour shows. They have to pad them out. But Starz took this unusual approach of ours, embraced it, and they've been nothing but supportive."
For anyone worried that Ash's trusty chainsaw appendage won't be making an appearance, we can assuage your concerns. "Bruce has stored his rig these last 30 years just in case–in case this TV show ever came up," said Raimi. And you know, he's been living in fear of a resurgence of the Evil Dead, of the Deadites and so that old, rusted hulk of his, that's the one thing he's kept oiled up and in tip top shape just in case. So I think we will see that sweet baby come back–come roaring to life and slicing and dicing on the Deadites."
In addition to Raimi, some other talented names in horror will be taking a crack at directing episodes of the series. We have Michael J. Basset out the UK," Tapert offered. "Michael is a horror director in his own right. He also created and ran a show called Strike Back. We have a director David Frazee out of Canada who is off Orphan Black. We have a director that I've worked with a great deal called Michael Hearst from New Zealand. We have a director from Australia who I've always wanted to work with who worked on the Underbelly series and subsequently has done a lot of work out of HBO Singapore, Tony Tuls. And then the season finale is done by longtime collaborator, Rick Jacobson who was here for Spartacus and worked going back to Herc and Xena. So he's done many season openers and finales."