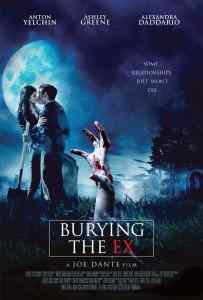 In news that's got this guy excited, Joe Dante's horror comedy 
Burying the Ex 
has secured distribution at long last! This is one that I have been anxiously anticipating for some time and I am more than a little excited to check it out.
Image Entertainment and RLJ entertainment have secured all US distribution rights to Burying the Ex. No word as to when we can expect a US release but it shouldn't be too long before that announcement is made! The film stars Anton Yelchin (Fright Night 2011), Ashley Greene (Otis), and Alexandra Daddario (Texas Chainsaw 3D). Alan Trezza penned the script (which was adapted from his short film of the same name) with genre film icon Joe Dante at the helm. This is Trezza's first feature film screenplay.
Stay tuned to the site for more news on this title as it rolls in! In the meantime, let us know your thoughts in the comments box below.
Burying the Ex follows Max (Anton Yelchin), an all-around nice guy, and his overbearing but incredibly beautiful girlfriend, Evelyn (Ashely Greene). Their relationship takes a nosedive after they decide to move in together and Evelyn turns out to be a controlling, manipulative nightmare.  Max realizes it's time to call it quits, but there's just one problem: he's too afraid to break up with her.  Fate steps in when Evelyn is involved in a freak accident and dies, leaving Max single and ready to mingle.  Several weeks later, he has a chance encounter with Olivia (Alexandra Daddario), a cute and spirited girl who just might be his soul mate.  But that same night, Evelyn returns from the grave as a dirt-smeared Zombie and she's determined to live happily ever after with Max …