With less than a month to go until Frightfest takes over the Vue in Leicester Square, Joey Keogh takes a look at some of the most-anticipated movies on this year's jam-packed schedule. First up, it's the hugely anticipated horror anthology, Tales Of Halloween.
Horror anthologies have been a bit hit and miss lately. When they work, we're gifted a V/H/S 2. When they don't, we have to suffer through The ABCs Of Death. It's surprising, then, that the biggest and most-anticipated movie on this year's Frightfest line-up is Tales Of Halloween, also the festival's closing film.
The ten-part horror anthology has had fans salivating for months, and recently sold out its world premiere screening at Fantasia Fest, with the ensuing reviews praising its ingenuity. The flick won't be available in theatres, or VOD, until October 16th, so those of us who are lucky enough to catch it in London this summer (or at Wizard World Chicago, where it's set to open the fest, a week previous) are especially lucky.
Tales Of Halloween showcases the work of eleven key horror filmmakers including: Darren Lynn Bousman, Lucky Mc Kee, Mike Mendez and Neil Marshall, and features genre vets such as Lin Shaye, Pat Healy and Barry Bostwick in starring roles, along with cameos from fan favourites like Joe Dante, Adam Green and John Landis.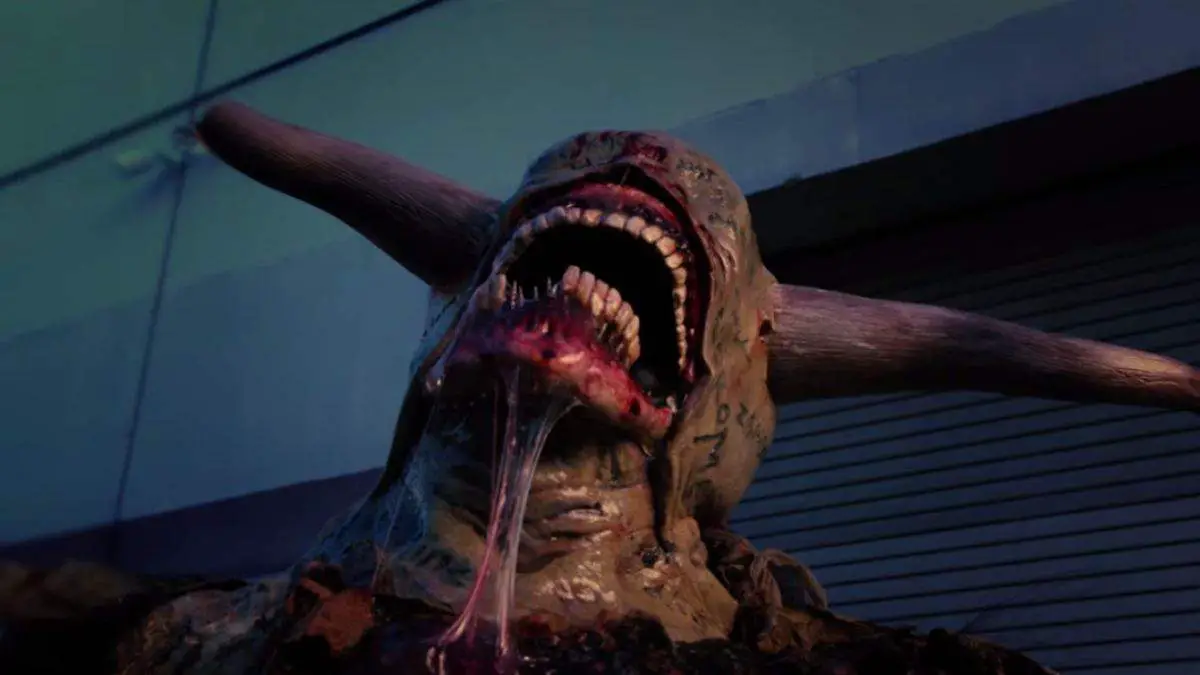 As is probably obvious from the title, the shorts all take place over the course of one, fateful Halloween night. Each is set in the same, small American town, which is besieged by terrors.
Featuring everything from ghouls to witches to zombies, along with the less-often-seen man-eating pumpkin, among other delightful frights, the flick is stuffed to the brim with all the ingredients for a great horror movie–much like a trick or treat bag at the end of the night.
The many different ideas at play could mean Tales Of Halloween ultimately fails to make a lasting impression on the notoriously hard to please genre audience, but it has all the necessary components for a great anthology piece and will hopefully deliver.
Early reviews from Fantasia Fest have been mostly positive. Twitchfilm compared it favourably to cult favourite Trick 'r' Treat, for its commitment to the spookiest of holidays, while Fangoria posited that the film is poised to become a Halloween go-to for genre fans, for more reasons than its star-studded cast and multitude of ideas.
Check out the awesome trailer for yourself below, and let us know whether you think Tales Of Halloween has the potential to be a holiday favourite, or if it's going to leave us feeling as though we've had a bit too much candy corn.
Tales Of Halloween closes Frightfest on Monday, 31st August at 8.30PM. Weekend passes for the festival are sold out, but, at the time of writing, Day Passes are still available for Monday and you can buy single passes to the screening also direct from the site.  Frightfest takes place from August 27th – 31st at the Vue cinema, Leicester Square. Wicked Horror will be there in August to bring you all the need-to-know reviews, news and interviews direct from the festival.