Mill Of The Stone Women was the first Italian film to be shot in color, and it was financially successful enough during its original Italian theatrical run to be a viable export (with some variety in the edits for each country). It was a banner moment for Italian horror, as Mill Of The Stone Women, Bava's Black Sabbath and the trashier delights of Anton Guilio Majano's Atom Age Vampire all received Italian general releases in a two week period of the summer of 1960.
While Mill Of The Stone Women was arguably the bigger success at the time, it is Black Sunday that is likely the more familiar film for modern audiences. Hopefully, the Arrow Video  Limited Edition 2 Disc Blu Ray release will help rectify Mill Of The Stone Women's under seen status, and introduce a new generation of fans to a lush piece of semi forgotten Eurohorror.
Journalist Hans van Arnhim (Pierre Brice) travels to a small Dutch Island to profile sculptor Professor Gregorius Wahl (Herbert A.E. Böhme). Professor Wahl is the owner of the titular mill, a tourist attraction featuring a stage bound carousel of wax models depicting various crimes and cruelties of history. The lifelike quality of the sculptures has been regionally famous for several generations, the mill converted over by Wahl's great grandfather.
A simple job becomes much more complex when Hans meets Wahl's housebound daughter, Elfie (Scilla Gabel), and Dr. Bohlem, the live-in physician tasked with maintaining her fragile health. As Hans becomes more deeply entwined with both the beautiful Elfie and investigating the mysterious disappearances surrounding the mill, he comes closer to uncovering the dark secrets of both the family and the carousel.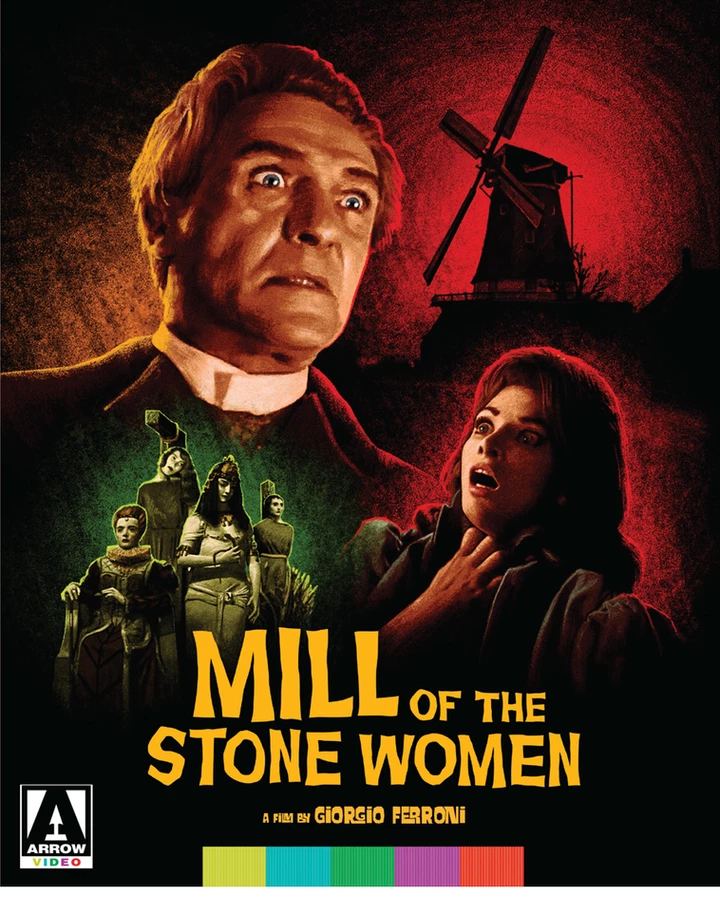 Mill Of The Stone Women
is a measured creep through its first half, not as perverse or as lurid as similar subgenre entries of either Mario Bava or Hammer Films, and lacking the moody black and white photography often associated with this era's Gothic entries. However, the slow simmer is a stunning display, as
Stone Women
makes exceptional use of its vivid Technicolor/Eastman Color processes, lavish art direction and careful set design. The film's universe is devastatingly dreamy, a painting come to life.
It's obvious much effort was spent creating a carefully curated selection of Gothic imagery in every frame. Boats in the fog, half finished macabre sculptures scattered across a studio, and the delicate, damned damsel in decadent bodice are all present and accounted for. The restoration job Arrow has done on the film is simply gorgeous, allowing vivid reds and yellows sharp contrast without making the skin tones too ruddy or shadowy shots smeary. It is unlikely Mill Of The Stone Women has looked this good opening day in 1960.
For those who are not as easily seduced by lavish visuals and sumptuous set and costume design, the back half of the film picks up the pace quite a bit, combining familiar influences —Eyes Without A Face, House Of Wax, the collected works of Edgar Allan Poe- into a cohesive whole that feels authentically true to both Gothic and Italian genre traditions without losing its distinct aesthetic and tone.
Arrow has absolutely stacked this 2 disc edition with extras, including definitive versions of multiple cuts of the film. Disc one has the original Italian and English language export, Disc 2 the French and American edits. There are some edits for a brief moment of nudity and some shifts in Hans' hallucination sequence and some changes in the dubbing. The French version is the most divergent from the rest of the group, with a shorter runtime and an exclusive scene that fleshes out secondary characters more explicitly.
Author Tim Lucas turns a passionate and informative audio commentary as a life long fan of the film, and the always outstanding Kat Ellinger provides larger context on the stone/wax woman trope in the larger scope of Gothic media and literature. The Limited Edition also offers newly a commissioned poster from artist Adam Rabalais, a 56 page booklet that includes 2 new essays and a selection of contemporary reviews, plus a set of retro lobby cards.
Archival features are just as robust, with a small featurette focusing Liana Orfei and film historian Fabio Melelli, as well as an interview with actor Wolfgang Preiss. There are multiple versions of the opening titles, the US and German trailers and a selection of still images.
The Arrow Video package greatly surpasses all previous home releases of Mill Of The Stone Women, and is one of the best visual restorations they've put out in their very deep catalog. This set is sure to please existing fans of the film, as well as garner some new ones.  Mill Of The Stone Women is a solid recommendation for anyone interested in Gothic horror, vintage Euro Horror, or the aesthetic intersection of pop pulp and painterly soft surrealism. It's unlikely this particular film will get a more luxury treatment than this one, so the this edition is definitely worth adding to your shelf.
Wicked Rating 9/10