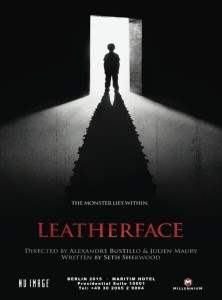 We announced yesterday that
Leatherface,
 the upcoming prequel to 
The Texas Chainsaw Massacre 
has cast its titular character. Sam Strike of 
EastEnders 
is reportedly in negotiations to play a young version of Leatherface for the upcoming Julien Maury and Alexandre Bustillo (
Inside
) helmed entry in the rebooted franchise. But today we learned that there is a possibility that the role of young Leatherface could possibly be portrayed by James Bloor. According to
The Wrap
, the script sees three young people escape from a mental institution and any one of them could possibly be the villain in the upcoming 
Leatherface. 
The outlet is saying that it is currently unclear if different actors will portray the villain at different ages or if there will only be one player taking on the role.
Today also marks the announcement that genre film favorite Angela Bettis has been cast to portray Leatherface's mother. This second announcement comes via Bloody Disgusting.
Julien Maury and Alexandre Bustillo will take point on directorial duties for the upcoming prequel. The pair is working from a script was penned by Seth M. Sherwood.
Leatherface will reportedly tell the story of Leatherface as a youngster in the early '70s. The latest installment is a joint venture between Millennium and LionsGate. This latest installment is apparently setting out to further complicate the timeline of an already complicated series. Texas Chainsaw 3D blatantly ignored the timeline established by the first film (which it claimed to be a direct sequel to) by setting it in the present but portraying its lead as way younger than she should have actually been if she were born in the '70s. Leatherface seems like it is going to be another film that further confuses the already questionable series of events. Since Tobe Hooper's Texas Chainsaw Massacre saw Leatherface as an adult in the early 1970s, which is the same timeline that the original film took place in but the character was an adult.