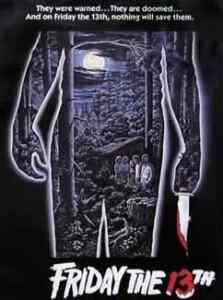 The premium entertainment network Epix is gearing up for an all day Friday the 13th marathon. With the exception of parts V and VII, and
Jason Goes to Hell, 
the entire original franchise will be broadcast throughout the course of the day. The marathon begins at 7:00 AM on Friday, March 13th and ends at 4:10 AM the following morning. The sequential airing of the series will begin at 10:25 AM.
Will you be marathoning the Friday the 13th series on Epix or otherwise this Friday? Let us know in the comments section below.
The original Friday the 13th film begins in 1958 when a couple of camp counselors opted to make love instead of doing their job. The pair inadvertently let a young boy named Jason drown in the lake adjacent to the camp because they weren't watching him. Following the tragedy, the camp closed its doors for some time but the owners recently made the ill-fated decision to reopen the camp for business. Someone disagrees with that decision and begins downsizing the camp staff…by way of murder. Anyone that attempts to get their f**k on, smoke drugs, or neglect their duties is getting the axe.