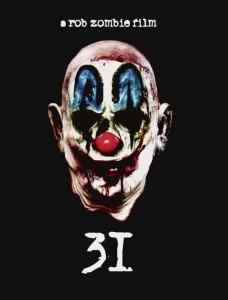 Indie Distributor Alchemy has just announced that they have acquired the North American rights to Rob Zombie's currently in production horror shocker 
31. 
Deadline reports that Zombie commented on the acquisition by saying that he is "thrilled to work with a company sharing the same vision for my film 31 as I have. Alchemy has committed to bringing the most intense experience possible to the screen."
The film is currently in production and reportedly nearing completion. The picture will feature appearance by Richard Drake, Malcolm McDowell Judy Geeson (The Lords of Salem), Daniel Roebuck  (Phantasm: Ravager),  Lawrence Hilton-Jacobs (Otis), and more.
The picture will be heavily influenced by the horror of the 1970s–it will also be set in 1975. The film zeroes in on five people kidnapped in the days leading up to Halloween. They are brought to a place called Murder World where they must fight for their survival by playing a game called 31. To win, the 'contestants' must kill their opponents over a 12-hour period. Their adversaries are comprised of a group of killer clowns.
As you already know, Zombie opted for crowd-funding to secure financing for the project. Contributors to the campaign had the opportunity to secure a variety of prizes, including a walk-on role in the film, an advance copy of the script or props from previous Zombie films, and more.
Zombie has been touting the project as a killer clown flick and has suggested that it will be nasty and brutal. He has cited his reasoning for choosing to crowd fund the project as a lack of interest from studios in financing the kind of films he wants to make. He also suggested that films like The Devil's Rejects would never get approved for studio funding in today's filmmaking climate.