[soliloquy id="8464″]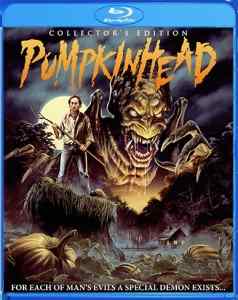 Scream Factory! is bringing the classic Lance Henriksen film 
Pumpkinhead 
to blu-ray. If you pre-order directly from their website, Scream Factory will include an exclusive 18″ X 24″ poster featuring the newly commissioned artwork for the film (pictured left). The blu-ray will be a single disc release in 1:85:1 Widescreen.
The film streets September 8, 2014. The pre-order price from Shout Factory! is $21.95.
Pumpkinhead sees Ed, a grieving father seeking vigilante justice against the reckless teenagers that caused the death of his son. When Ed enlists the services of Pumpkinhead the teens start to die in increasingly gruesome ways.
Special Features Include:
NEW – REMEMBERING THE MONSTER KID: A TRIBUTE TO STAN WINSTON featuring new interviews with actors Lance Henriksen and Brian Bremer, special effects artists Alec Gillis, Tom Woodruff Jr. and Shannon Shea
NEW interviews with producer Richard Weinman and actors John D'Aquino and Matthew Hurley
Audio Commentary by Co-screenwriter Gary Gerani and Creature & FX Creators Tom Woodruff, Jr. and Alec Gillis
PUMPKINHEAD UNEARTHED (now in HD) – a documentary on the making of PUMPKINHEAD featuring Evolution of a Demon, The Cursed and the Damned, The Torture Soul of Ed Harley, Constructing Vengeance, Razorback Holler
Featurette: Demonic Toys
Behind-the-Scenes Footage
Still Gallery
Theatrical Trailer
https://en.wikipedia.org/wiki/Pumpkinhead_(film)