I have never been a die-hard fan of the Saw franchise. I really enjoy the original and I am a fan of a handful of the sequels. Although, after several years without a new Saw film, I was more than happy to revisit the series' cinematic universe. But was Spiral: From the Book of Saw worthwhile? Well, mostly. I definitely had a good time with it. 
The latest series installment sees Detective Zeke Banks (Chris Rock) tracking down what appears to be a Jigsaw Killer copycat. But this time, the perpetrator is targeting corrupt cops and giving them one last chance to atone for their wrongdoings. 
This film takes the series in a somewhat different direction. The storyline is certainly relevant to what's going on in the world. Like in life, police officers aren't automatically the "good guys".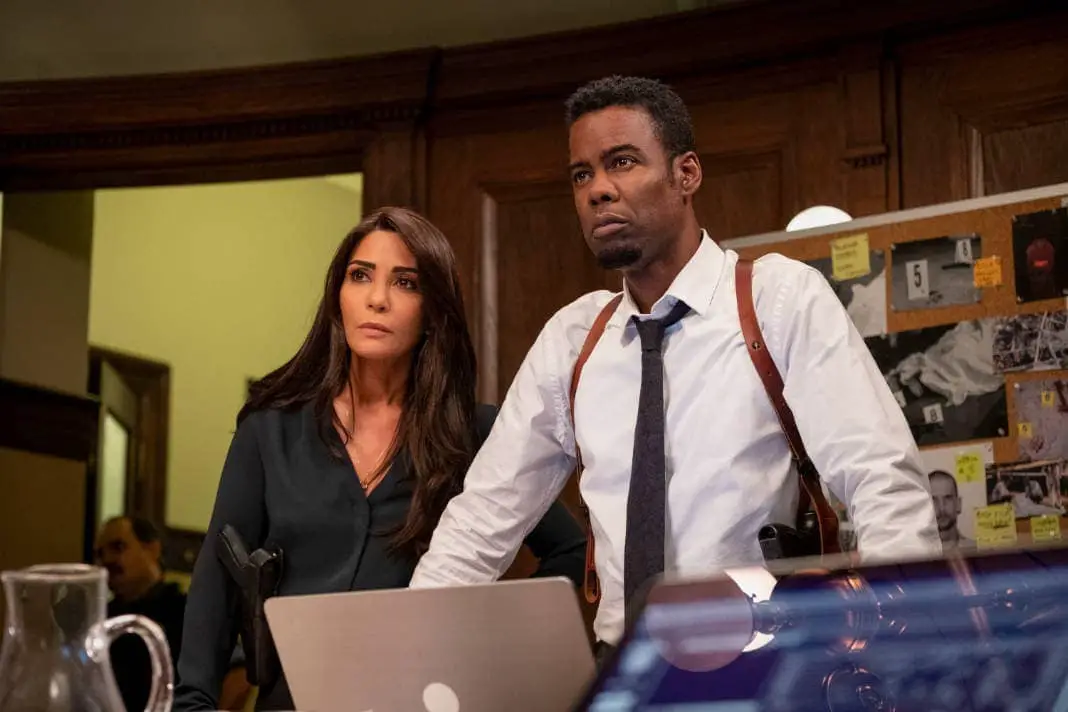 I like the pivot. Although the Saw series has dealt with the corrupt cop trope before, I still consider this to be a change of pace, as the focus in previous installments wasn't really about attempting to punish (or rehabilitate) dirty cops.
Spiral shifts the focus of the film to being more of a police procedural with far less emphasis on the victim's stories. Going in a different direction was a bold move and it's good to see things shaken up. The last thing we need is another sequel that never deviates from the proven formula.  
It's also good that we are getting less heroic portrayals of law enforcement in film and television because the actions of law enforcement in real life aren't always heroic. The flick has a strong message about holding officers accountable and the need for police reform. However, I think Spiral misses an opportunity by never really addressing the fact that people of color are far more likely to be the victim of police misconduct. The storyline goes a long way in terms of providing a more realistic look at the corrupt nature of the system (and the film even features a fairly diverse cast). But I think Spiral missed the mark by not speaking more to the horrors POC face when interacting with law enforcement.  
Aside from the aforementioned misstep, I did enjoy the film. I am a big fan of screenwriter Josh Stolberg. And the script that he cowrote with frequent collaborator Pete Goldfinger is clever and avoids merely rehashing plot points depicted in the series' previous installments. I also have to commend the duo for a final reveal that is well-supported but not overly obvious. 
Another win is the casting of Chris Rock in the lead role. He injects some levity into the heavy subject matter, something that some of the earlier entries may have benefitted from. It's nice to get a moment of reprieve when Rock cracks a joke amidst all the doom and gloom. 
Everything else aside, let's get to what Saw fans really want to know: What are the traps like? Well, they are equal parts inventive and horrifying. But I am pleased to say that director Darren Lynn Bousman has moved beyond the constant depiction of ultra-violent carnage that was commonplace in so many of his early career efforts. This is certainly still a Saw universe film. But it's more restrained and less grotesque than I was expecting. A lot of the violence is obscured or shown in brief clips, rather than in gratuitous closeup. 
The Saw franchise hasn't entirely shed its roots. But Spiral: From the Book of Saw is definitely less graphic than most of its predecessors. Rather than just being about gratuitous displays of torture, this is a film that taps into police misconduct and the need for change. 
As for overall enjoyment, Spiral is on par with the better franchise entries. It's amusing, enjoyable, and offers up a clever twist. Nothing will ever top the original. But this is certainly worth a look if you are a fan of the series' previous installments.
You can check Spiral out in theaters starting Friday May 14th. And if you haven't already, take a look at this swag pack giveaway in support of the film's release.  
Wicked Rating: 6.5/10