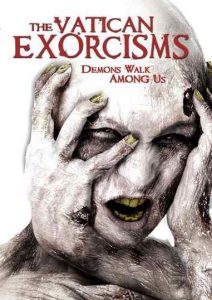 We have learned that 
The Vatican Exorcisms 
will be hitting DVD on May 19, 2015 via
Anchor Bay
. Check out the newly revealed DVD artwork which is pictured to the left.
The film is directed by Joe Marino (The Hobbit trilogy) and stars Piero Maggio (El Alamein aka The Line of Fire) and Anella Vastola. Marino will also be appearing in the film as himself. The screenplay was penned by Salvatore Scarico and Mauro Paolucci. This marks Marino's feature film directorial debut.
Stay tuned to the site for more on this upcoming title as it is announced by the studio. And be sure to let us know if you will be checking it out when it is released.
The film is described as: "The horrifying story that the church tried to bury. Hoping to expose a shocking scandal inside the Vatican, a documentary filmmaker travels to Rome to interview several key witnesses but finds himself unearthing something far more sinister. Delving deeper, he becomes dangerously close to exposing a much darker reality of corruption and demonic forces. As he is drawn further into the satanic underworld, he soon discovers that sometimes the truth is best kept hidden and that demons do walk among us."