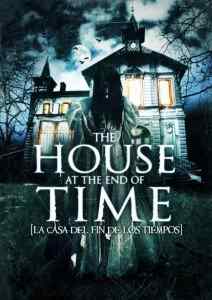 Dark Sky Films has debuted a trailer for their upcoming DVD release of the supernatural horror thriller,
 The House at the End of Time. 
We have your first look at the new trailer after the break. So come inside for a look.
The film is written and directed by Alejandro Hidalgo. In addition to writing and directing, Hidalgo also served as a producer and the editor. The House at the End of Time marks Hidalgo's his first feature film effort. But it is garnering great reviews from advance screenings.
The House at the End of Time focuses on a woman named Dulce, whose husband was murdered 30 years ago. Though she claimed there was an evil entity in the house responsible for her husbands death, she was sentenced to a 30 year stint in prison. As a condition of her release, Dulce is ordered to return to her home and confront the memories and inner demons associated with it.
The House at the End of Time is scheduled for a November 11th release from Dark Sky Films. Stay tuned to the site for more on this title as it is released. Also, be sure to check out our review of the film which is now live.