Warped & Faded: Weird Wednesday And The Birth of the American Genre Film Archive is the occasionally accidental, always flammable, history of the Alamo Drafthouse's deep dives into the cinematic fringes. In the beginning, forgotten fare from the wilder side of exploitation history flicked across the screen to an alternately bemused and bewildered midnight crowd.
Today, Weird Wednesdays cover a wide variety of psychotronica. As the brand grew, so did the range of the selections, expanding from repertory screenings of under seen genre fare to also include experimental entries from emerging outsider artists and found footage pastiche. While the series is currently a nationwide event, with multiple programmers and locations, the early days were much less polished.
In 2001, the Alamo Drafthouse was a scrappy single screen theater in a lower rent section of Austin, and founders Tim and Karrie League were the newly minted owners of some 10 tons of forgotten celluloid. The reels had been rotting away in East Prairie, Missouri. Only the film fanatic grapevine, collector's impulse and an overheating, overloaded moving truck had saved the lot from the landfill.
The series began as a means of checking what was even inside the (incorrectly labeled, if labeled at all) cans, and what was salvageable enough to run through the projector became the event's initial library. Most had never been seen since their original theatrical run, and the prints were often damaged, poorly spliced or out of order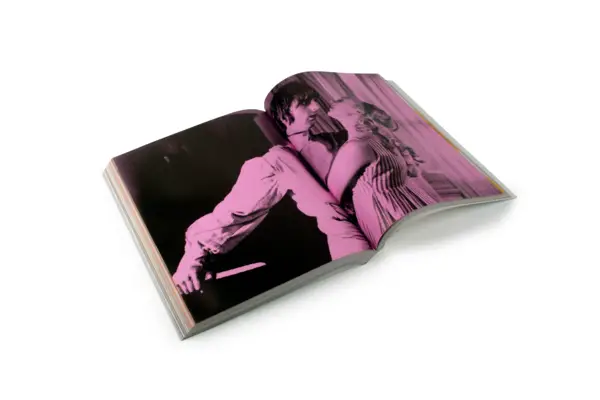 For every crazy grindhouse classic waiting to be discovered, there might be 4 or 5 dull films. The rowdy midnight audiences were often a hassle for the venue's waitstaff. Projectionists had to make do with damaged, volatile prints running on older model equipment, which led to fires on a few unlucky occasions. 
It's interesting to hear the stories of some huge names in the genre space (Kier-La Janisse did a multiple year stint as programmer, the Alamo Drafthouse is now a national chain) in their early incarnations. Warped & Faded is also an excellent time capsule of a transitional moment in cult film fandom. Still an underground, mostly DIY space, collectors and fans found each other via print zines, tape trades, and other analog methods. The internet had not yet taken over as the hub of weird film fandom and commerce.
Prints were bought, sold and saved through a tight knit community grapevine, word passed along regarding local closures of storage depots and old theaters that might have some rare reels in their dusty stacks. Early preachers of the merits of exploitation like Sleazoid Express' Bill Landis and Something Weird Video's Mike Vraney both merit passing mentions in the story of Weird Wednesdays, the audience and community for these films far smaller than it is today. For newer exploitation film fans used to the plethora of online information and regular restoration announcements on cult titles, this peek into the complicated logistics of cult film fandom before the mass adoption of online venues is an important history lesson.
To that educational goal, the bulk of the book is a gorgeous compendium of all of the initial haul of Weird Wednesday titles, complimented by stills, posters, print ad mats and the original Drafthouse plot summaries for each film. A murderers' row of genre writers (Kier-La Janisse, Stephen Thrower, Kat Ellinger and Tim Lucas, amongst others) also provide some short essays on the creatives who made some of the Weird Wednesday greatest hits so special.
The growth of the 35mm print collection and film series into the preservation and restoration focused American Genre Film Archive is assigned to an epilogue at the end of the book. That choice seems odd and a touch rushed considering the archive's origin is front and center in the title.
Hopefully, readers who have gotten that far into the volume have received an object lesson in how easily films can be lost to history. As AGFA is one of the few restoration/home video boutique labels that operates as a non profit, Warped & Faded  should encourage a new audience to take a look at their excellent library of both physical media releases and digital downloads.
Minor issues of pacing and space aside, Warped & Faded should have much appeal for both newly minted lovers of cinematic oddities who need new titles to check out and the seasoned exploitation fans who remember when the wild world of weird movies was a much more uphill battle. With the winter holidays rapidly approaching, Warped & Faded is a coffee table ready tome that would make a handsome gift for cult film fans.
Wicked Rating: 8.5/10