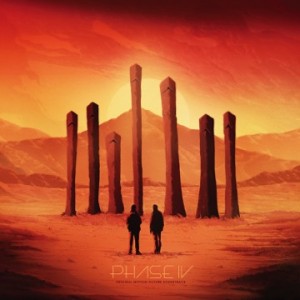 Waxwork Records and Paramount Pictures have come together to put out the previously unreleased original soundtrack recording for the mind-bending sci-fi classic 
Phase IV. 
You can stream the entire album
here
.
From the press release:
Directed by the late, legendary poster artist and graphic designer Saul Bass, PHASE IV has gained a cult following while influencing numerous films such as Beyond the Black Rainbow.
The unique, psychedelic synth-driven score is composed by Brian Gascoigne and David Briscoe, and full packaging artwork has been created by Swedish artist, Kilian Eng. 
Waxwork Records has worked closely with the Bass family and the Academy of Motion Picture Arts and Sciences to create the ultimate Phase IV soundtrack experience.The LP package comes complete with never before seen production and marketing photos, and unreleased conceptual art by Saul Bass that has been locked away in The Academy vaults for 40 years. Each LP package features a heavyweight Stoughton old-style tip-on gatefold jacket and a 12 page booklet with unreleased photography, liner notes from Sean Savage of The Academy, and a bonus art spread by Kilian Eng. 
The score has been mastered for vinyl by former White Zombie guitarist, J.Yuenger and pressed on 180 gram vinyl.
Variants include "100% Yellow" vinyl, "Toxic Blue Haze" vinyl, and classic black vinyl. 
• Never before released in any format
• 12 page booklet featuring never before seen photos and conceptual art
• Artwork by Kilian Eng
• Liner notes by Sean Savage of The Academy of Motion Picture Arts and Sciences
• 180 gram classic black wax
• 180 gram "100% Yellow" wax to represent the toxic repellent used to fight the ant invasion
• 180 gram "Toxic Blue Haze" wax to represent the toxic chemicals sprayed to kill invading ants