Don't Breathe tells the story of a group of friends who attempt to burgle the home of a blind man. However, they get much more than they bargained for when the homeowner begins to display an almost superhuman ability to defend himself and his home by relying on his remaining senses.
Fede Alvarez (Evil Dead) makes a triumphant return to the director's chair with his sophomore feature film effort, Don't Breathe. Alvarez has again proven to be a modern master of horror with his latest outing. He delivers a high level of suspense and palpable tension, this time with very little gore (in comparison to his previous effort).
Alvarez cowrote the screenplay with his writing partner Rodo Sayagues. The film features an impressive lineup of genre vets, including Jane Levy (Evil Dead), Daniel Zovatto (It Follows), Stephen Lang (Exeter), and Dylan Minnette (Goosebumps). All three turn in great performances but perhaps the most worthy of note is Stephen Lang (Exeter) as The Blind Man. He plays the victim and the aggressor with equal conviction. And he communicates a great deal while reciting very few lines. 
One of several factors that make the screenplay behind this feature brilliant is that while the characters have cell phones on them, they are not eager to use them to call the police because they have broken into this man's house and are armed. If they were to call, law enforcement would  almost certainly show up on the scene and arrest them. That further complicates the situation and also quickly dispenses with the ever-present cell phone conundrum that is often dealt with in less than convincing ways in many contemporary horror pictures.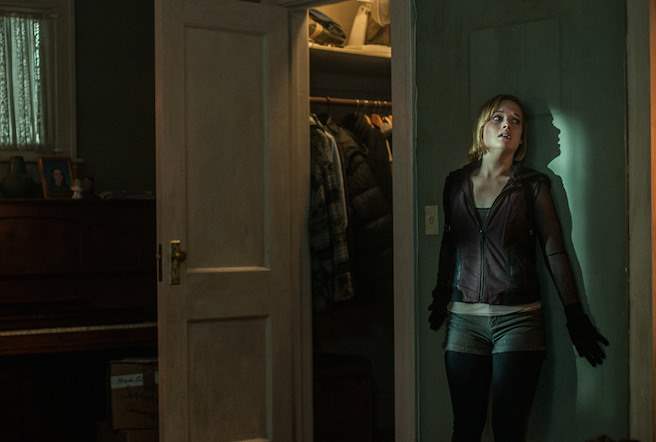 One of the most interesting things about Don't Breathe is that for the first portion of the film, there is not necessarily a clear hero. All of the characters are flawed and none of them are beyond reproach. As such, it's sometimes complicated to determine precisely who you are rooting for. But as the film progresses, it became easier for me to identify with one person in particular.
The tension in this flick is palpable. It's almost impossible not to sit on the edge of your seat while watching this smartly-crafted thriller. You feel what the characters are feeling. It's as if you are going through this ordeal alongside them.
Don't Breathe is unpredictable, filled with twists and turns and wholly entertaining. Just as soon as you think you've got it figured out, you realize you were wrong. It will enjoy a home video release on November 29, 2016. I highly recommend checking it out. You can pre-order your copy right here. Or you can buy it now on Digital HD.
WICKED RATING: 8/10
Director(s): Fede Alvarez
Writer(s): Fede Alvarez, Rodo Sayagues
Stars: Stephen Lang, Jane Levy, Dylan Minnette
Release: November 29, 2016 (Home Video)
Studio/ Production Co: Screen Gems
Budget: $9.9 Million (Estimated)
Language: English
Length: 88-Minutes
Sub-Genre: Home Invasion