The presence of certain people in a movie portends doom. In the 1990s, if Leland Orser was in your movie, bad things were going to happen. From Seven to Alien: Resurrection to The Bone Collector (among many others), if Orser was around, bodies were dropping. Lately that's been the case with John Carroll Lynch. Like Orser, Lynch is a great character actor, but one whose presence in a movie is a bad sign. That's been true ever since he played the likely killer in Zodiac. You can't help but think serial killer when you see him. 
First things first. The Invitation, director Karyn Kusama's (the extremely underrated Jennifer's Body) tense and unsettling thriller, is all about Will (Logan Marshall-Green). Will is in a strange situation. He is on his way to a party with his girlfriend Kira (Emayatzy Corinealdi). The party, the nature of which is a little mysterious, is being hosted by his ex-wife Eden (Tammy Blanchard) and her new husband David (Michiel Huisman) in the house Will used to share with his former spouse.  
Will has not seen Eden for two years. She dropped off the face of the Earth not long after their son died. The invitation to the party came out of nowhere, and Will isn't even sure he wants to be there. His discomfort is palpable upon arrival but he eases up a bit when he discovers that all of his old friends are there. He hasn't seen them in two years but they are people with whom he is happy to reconnect.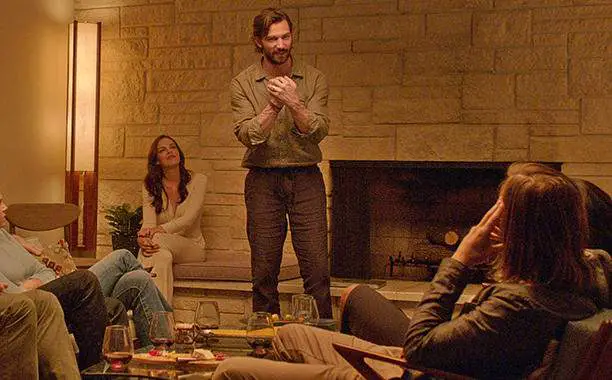 The same is not true of David. Something about him gives Will the creeps, and t's not just the fact that he is living in his old house and sleeping with his ex-wife. He looks at David and senses something is off, but he can't place it. The party, meanwhile, is described as a sort of reunion/celebration. The reunion part is obvious. The celebration, not so much. Then a new guest suddenly arrives. His name is Pruitt (Lynch) and he knows both Eden and David.
This is when we learn more about the true nature of the gathering. Eden, David, and Pruitt are part of a group known as The Invitation. Eden and David have just returned to Los Angeles after two years in Mexico, where they lived with other members and studied grief. The group (cult?) consists of people who have lost a loved one and are desperately trying to cope with their pain. It's where Eden met David.
David distributes information about The Invitation very deliberately. They watch a weird video of someone dying (of natural causes) and play an even weirder game of I Want (think Never Have I Never). Everyone reacts differently. Will's old friends find David and Eden a little odd, but harmless. She's just dealing with tragedy in her own way. Will, however, is convinced that David and Pruitt are trouble. He believes they are all in serious danger.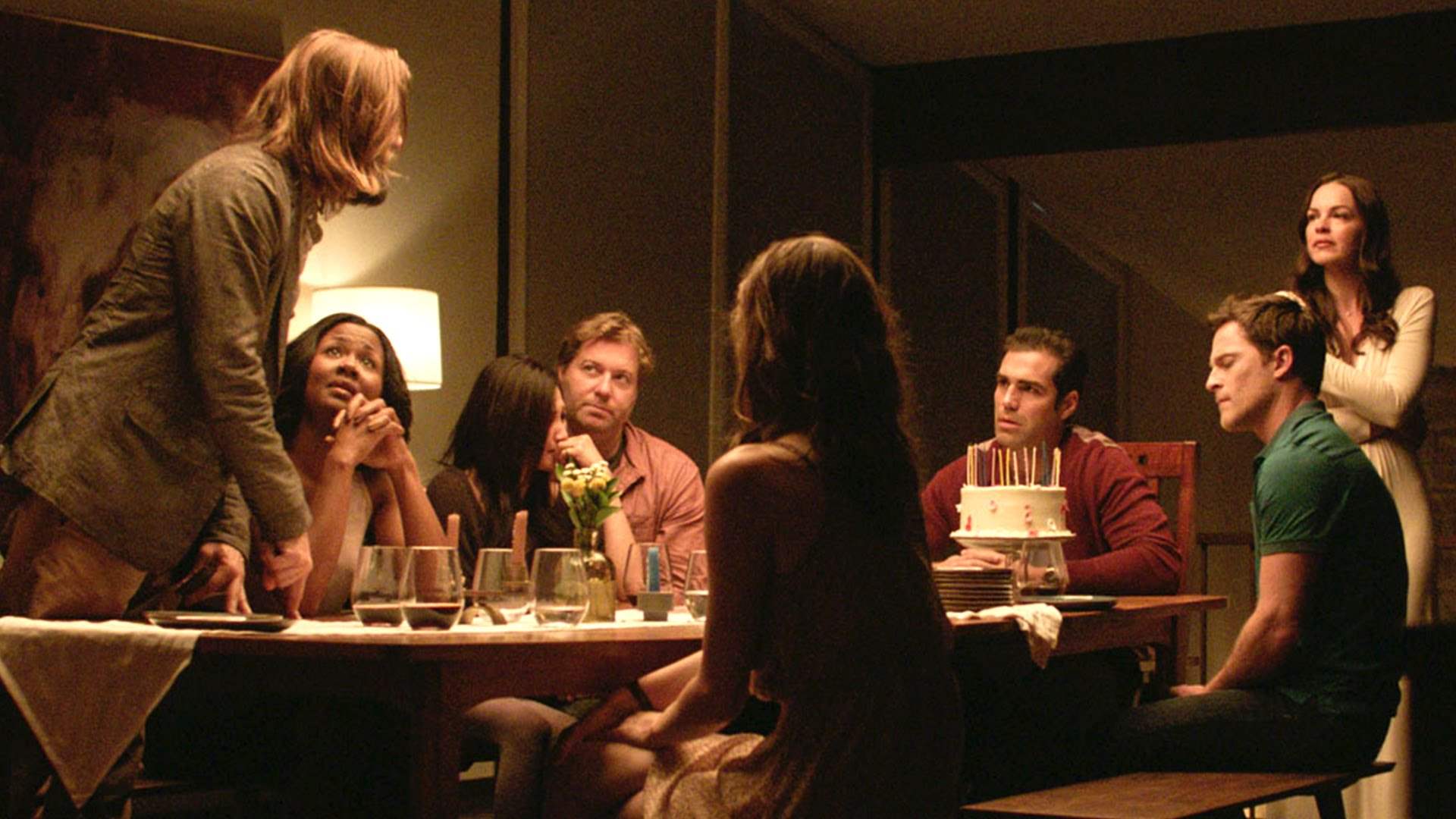 Kusama and writers Phil Hay & Matt Manfredi (Clash of the Titans, R.I.P.D.) play things close to the vest. Every time Will freaks out, there is a perfectly logical explanation. It's easy to think that he's just not handling his loss in a productive manner. His friends are sympathetic but worried. So is Eden. Clearly she still cares about Will, and she believes that she has found a way to effectively deal with the loss of their child. Saying more than that would be revealing too much.
In addition to genuine suspense and an overall feeling of heightened but uncertain paranoia, The Invitation works as well as it does because of an outstanding cast. Logan Marshall-Green, the weak link in a strong Prometheus cast, is truly exceptional. Will is in mourning and not OK, and you feel his pain. You want to tell him everything will be alright. John Caroll Lynch and Michiel Huisman are highly effective at making viewers feel unsure. Blanchard, whose Eden has a glow that might or might not be authentic, is equally good. Kudos to everyone, really. 
In the end, the movie is also surprisingly moving. It attempts to tackle grief and how there really is no right or wrong way to cope with a tragedy. Everyone needs to do what works for them, and who are we to judge how other people deal with loss. Whatever helps them get through the day. Help if you can, but don't be too pushy about it. The Invitation will see a limited theatrical and simultaneous VOD release April 8, 2016. I would highly recommend checking it out then!
WICKED RATING: 8/10
Director(s): Karyn Kusama  
Writer(s): Phil Hay and Matt Manfredi
Stars: Logan Marshall-Green, Tammy Blanchard, Michiel Huisman, John Carroll Lynch, Emayatzy Corinealdi, Michelle Krusiec
Release: April 8, 2016 (Limited Theatrical and VOD)
Studio/Production Co: Drafthouse Films/Gamechanger Films/XYZ Films/Lege Artis
Language: English
Length: 100 minutes
Sub-Genre: Mystery/Thriller