Spoiler Alert: According to writer-director Guillermo del Toro, Crimson Peak was never intended to be a horror movie (despite its misleading trailer). Everyone was, understandably, thrilled at the idea of a Victorian-era ghost story from the brilliant mind of del Toro, who previously scared audiences with the likes of Pan's Labyrinth and The Devil's Backbone. 
Due to a somewhat misleading marketing campaign, a lot of horror fans were disappointed by the lack of scares in Crimson Peak. For a few fleeting moments it seemed that del Toro might be losing his touch in a Shyamalan-esque fashion. For example, Shyamalan had an epic debut with The Sixth Sense, and even carried on his creepy story telling with Signs, but after that, The Village and Lady in the Water were huge disappointments.
These movies tarnished Shyamalan's reputation, with their promising previews of another great horror film, but ended up being hugely underwhelming. At first glance, Crimson Peak seemed to be del Toro's The Village, but instead, it turned out to be an ingenious celebration of the gothic romance writing style. This means that Crimson Peak was not necessarily meant for horror seekers, but instead for those who adore Victorian era literature. In particular, the work of Edgar Allan Poe.
Poe, the grand master of all gothic lit, is widely acknowledged as being the inspiration for many of our most beloved Horror Icons. Noteworthy Poe enthusiasts include the likes of Clive Barker and Stephen King. Through his writing, Poe explored the darker side of humanity, touching on themes of murder and revenge, all while realizing the gripping power of love.
Through his work, the reader can experience the pain of loss and grief, along with the terrible consequences that befall tragic heroes. During the Victorian era, these emotions were virtually never discussed in the home, but thanks to Poe's work, scores of people were able to embrace madness and melancholy within literature.
Poe's work is still hugely influential to this day, with his poem The Raven being a pop culture touchstone, while the man himself was recently portrayed by John Cusack in the 2012 movie, The Raven. Recently cancelled television series The Following features a serial killer and his followers whose exploits seek to pay homage to Poe's work in various horrifying ways.
Crimson Peak is the story of Edith (played by Mia Wasikowska), a young woman who is charmed by a dashing English inventor named Thomas Sharpe (Tom Hiddleston), subsequently marrying him after the tragic death of her father.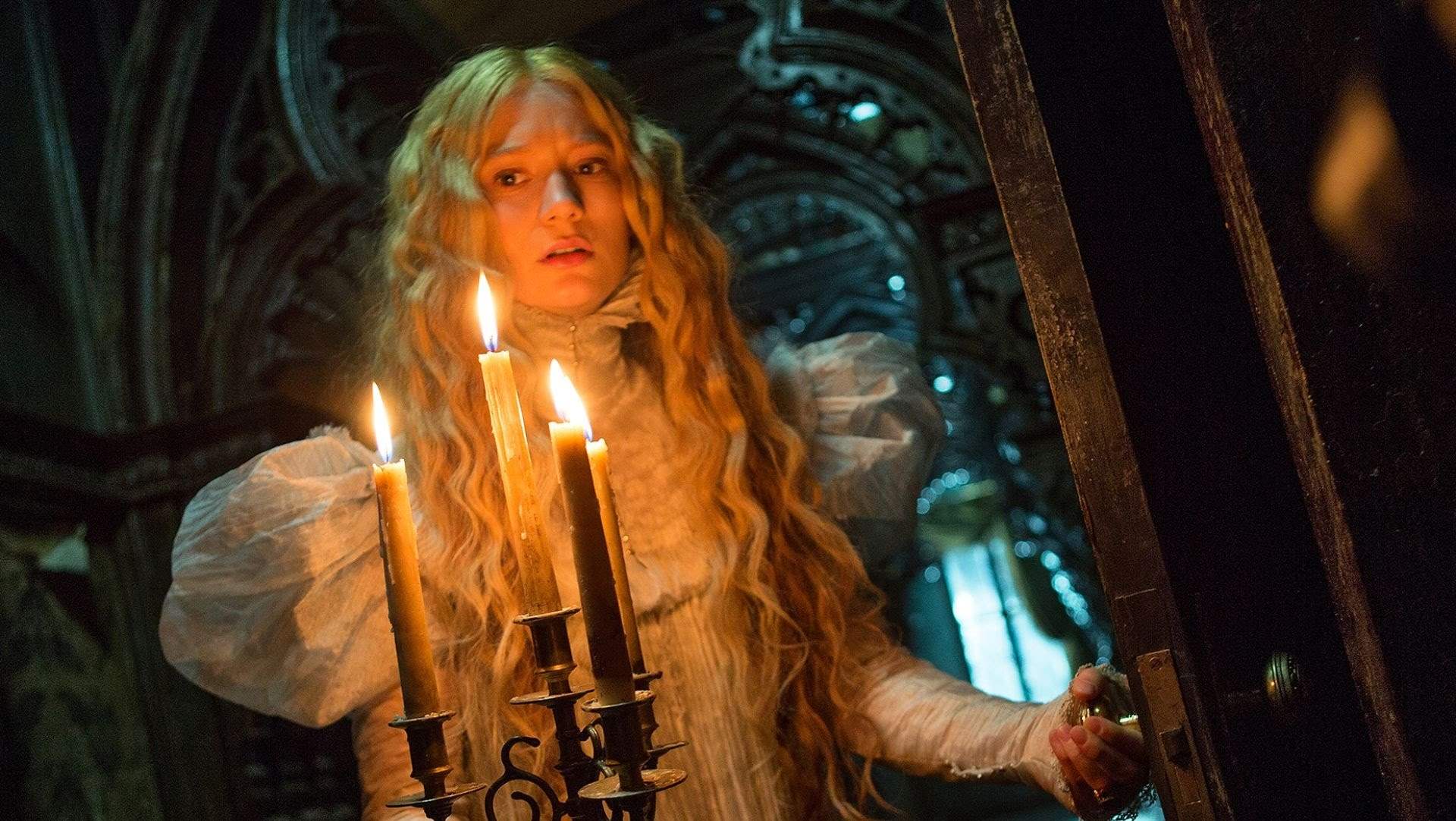 Sharpe takes her across the Atlantic Ocean in the company of his sister, Lucille (Jessica Chastain), to their family home in Allerdale Hall, which is in pretty awful shape. Sharpe promises that he is working on a machine that will make them rich again, and that soon they can leave the dilapidated mansion. However, the longer Edith stays, the more she encounters the ghosts of the mansion. The young woman is unsure whether the spirits that haunt the dwelling, or indeed the siblings themselves, are malicious or friendly.
In one of its opening scenes, Edith is dealing with the grief of losing her mother when, suddenly, she appears as a ghost warning Edith to "beware of Crimson Peak." The mother is not a flawless apparition, or a reflection of a rotting corpse, but a decomposed skeleton wearing the dress she was buried in. The beauty of her dress and the grotesque nature of her appearance intertwine to portray a celebration of death and the loveliness in it. Edith is terrified at first, but is ultimately accepting of her mother's presence. Edith's acceptance may make her an odd bird, but it's perfect for a story that parallels one of those spun by Poe.
Additionally, throughout the movie, there are constant themes of beauty. Particularly those that feature inanimate objects that were once beautiful. But the film also regularly depicts rotting people that were themselves once very attractive. Allerdale Hall is in horrible aesthetic condition, but its many rooms are filled with luxurious items indicative of wealth and travel. Edith is a rather gorgeous addition to the mansion herself, but her cherubic presence counters that of Lucille and Thomas, the perpetually dismal siblings who are almost always depicted as gloomy and melancholic.
It's important to not that Crimson Peak is not completely devoid of horror elements. The spirits reveal themselves to Edith in order to warn her of the murderous goings on that have transpired in her new domicile. Yet Edith doesn't run away from the red-bound skeletal figures she spots lurking in the hallways. Instead she actively listens to, and later investigates, their claims.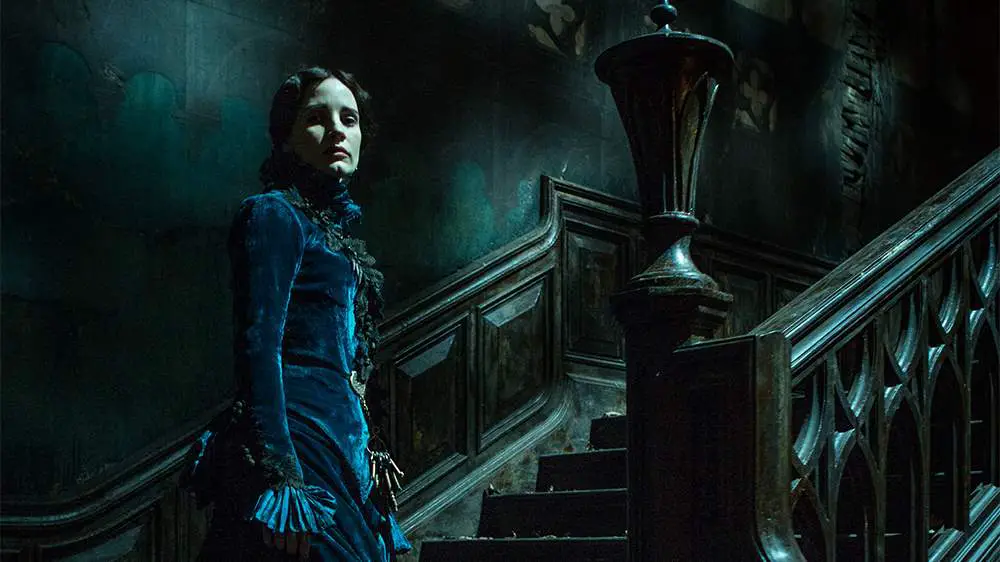 Arguably the greatest aspect of Crimson Peak, the part that truly secures its status as a gothic romance, is the twist. Poe's fingerprints can be seen all over the revelation that Edith makes in the final moments of the feature. I won't spoil that any further in case you have yet to take in this loving tribute to the master of literary macabre but the references to Poe will be quite clear when you do see the final act for yourself.
Crimson Peak follows the same themes of darkness, murder, the forbidden and intense, romantic love that can be found in the great works of Edgar Allan Poe. Any Poe fan will thoroughly enjoy Crimson Peak. If anyone has ever found themselves hopelessly enchanted by Lenore and Annabel Lee, but also enthralled by The Raven and The Tell-tale Heart, Crimson Peak is a worthy tribute to those haunting, gothic works of art.