New kid in school Milo has no one in the world to relate to until he meets fellow metalhead Zakk. Together, the guys form a band called Deathgasm and inadvertently unleash Satanic chaos on the world when they come across a piece of possessed sheet music. The guys must then band together and attempt to stop the evil they have let loose.
The balance of horror and comedy in Deathgasm is spot on thanks to a tightly written script. If you're both a metalhead and a horror fan, this is the film you've been waiting for. Deathgasm feels like a close cousin of Todd & the Book of Pure Evil. But it certainly stands quite nicely on its own.
Some of the best moments of the film can be found in the more subtle efforts. The messages scribbled between scene transitions and the name of the record company listed on the music video that Deathgasm makes are both great examples of that.
The dialogue is often brilliant. I loved the scene where Zakk calls Brodie a Cocktapus and says its with a completely straight face. It's that kind of nonchalance that makes the film so funny. A lot of the really amusing scenes are downplayed, which made it that much more fun to watch. Also, the scene where sex toys are somewhat inexplicably used as a method of defense had me chuckling quite a bit.
There are tons of great references to classic horror throughout the film. Also, there are some really incredible camera angles that brought to mind some of the works of Argento and Fulci.
The gore is off the hook. It's almost all done practically and it's brutal as hell. There are gallons of blood spilled and vomited and sprayed from severed arteries. This is the kind of throwback to the heyday of practical effects that gore hounds have been asking for.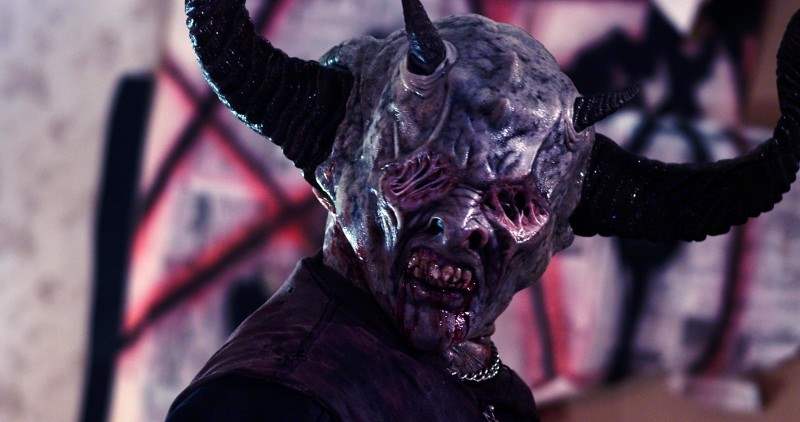 The film stars Milo Cawthorne, James Blake, and Kimberly Crossman. The characters are really likable. Anyone that's ever felt like an outcast should be able to relate to Cawthorne (Blood Punch) as Brodie and Crossman (A Beginner's Guide to Snuff) is spectacular as Medina.
Jason Lei Howden shows a lot of promise in his directorial debut. He understand pacing and tone and he obviously grew up on horror movies and heavy metal. I am quite curious to see what does next.
Our resident metalhead Zak Greene also reviewed the film during its theatrical release. You can check out his rave review right here. Deathgasm is headed for DVD, Blu-ray, and Digital HD January 5, 2016. If you enjoyed Todd & The Book of Pure Evil or are simply looking for a gore-filled good time, check this one out ASAP!
WICKED RATING: 6.5/10
Director(s): Jason Lei Howden
Writer(s): Jason Lei Howden
Stars: Milo Cawthorne, James Blake, and Kimberly Crossman
Release: January 5, 2016 (Home Video)
Studio/ Production Co: Dark Sky
Language: English
Length: 86 Minutes
Sub-Genre: Horror Comedy