The skeletal outline of A Quiet place reminds me a little bit of A Nightmare on Elm Street in the sense that it pits people against an adversary that preys on one of our basic needs. We have to sleep and we have a basic human need to communicate. Fred Krueger strikes while his victims are sleeping and the monsters in A Quiet Place stalk their prey by sound. Rendering verbal communication a threat to one's well being. A world where verbal communication can get you killed is an almost unthinkable horror for many people. To see that concept realized in a cinematic setting is delightfully unnerving.
The film follows a family struggling to survive in a world where verbal communication and any kind of noise is tantamount to a death sentence. A clan of predatory beasts that prey on living things and hunt by sound devour anyone or anything that cannot exist in complete silence.
As the family featured in the film has a daughter that is hearing impaired, they are familiar with communicating by way of American Sign Language. And this is undoubtedly why they have made it as far as they have. The use of ASL allows them to satisfy the basic human need to communicate but to do so in a way that does not put their lives in such great danger.
Bryan Woods, Scott Beck, and John Krasinski really deserve credit for a brilliant screenplay that relies more on silence than it does on spoken word. And I can't praise director John Krasinski enough for sustaining nonstop suspense for a solid 90-minutes. It's hard to think of another instance (in modern cinema) of a director using lack of sound to such terrifying effect.
The scarcity of audible dialogue and the notion that any noise, no matter how minor, could signal imminent  demise or the demise of a loved one will likely have viewers on edge from the get go. Nearly any sound that does occur during the film's runtime will make you want to jump out of your skin. As such, the entirety of the flick is almost unbearably tense. From start to finish, I was in a state of utter horror. Director John Krasinski masterfully ratchets up the tension with each passing minute. By the time the third act rolled around, I could hardly bear the suspense. It's hard to recall a time in recent memory that I've been this tense watching a movie.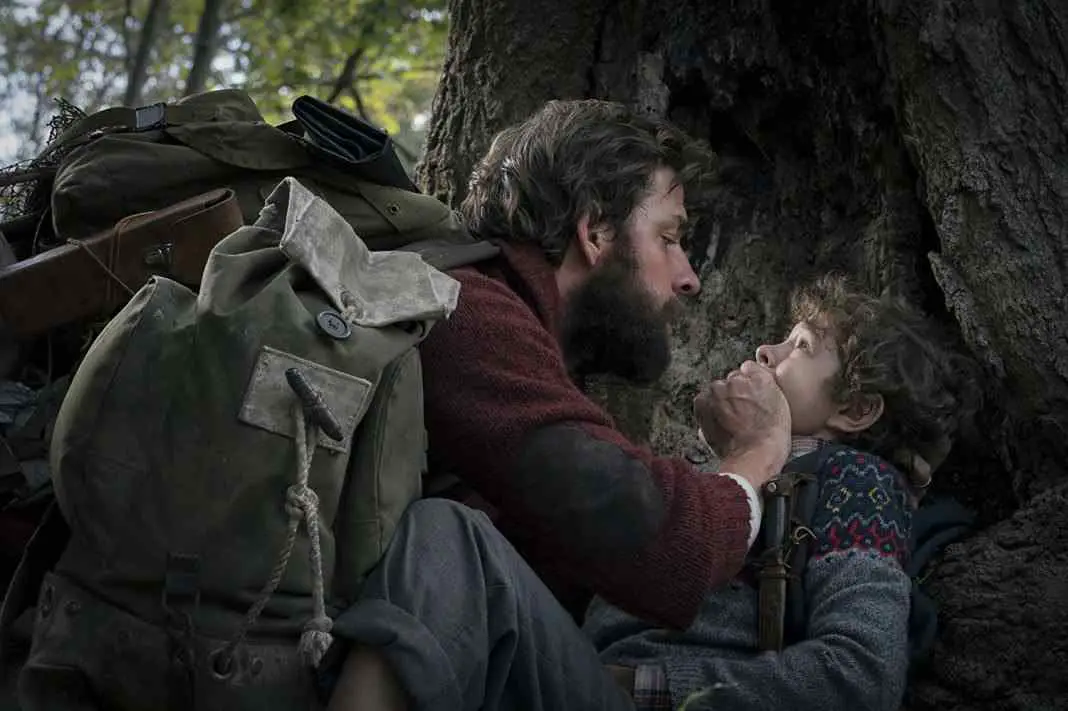 In addition to tension you could cut with a knife, A Quiet Place also boasts beautiful cinematography and a series of expertly rendered shots. Tightly framed sequences induce a sense of claustrophobia in the viewer that make the tension even more palpable.
The performances are top notch across the board. Emily Blunt (The Girl on the Train) and writer director John Krasinski (Jarhead) are pitch perfect as the parents and Millicent Simmonds and Noah Jupe deliver layered and three-dimensional performances as the Abbott children.
As for the FX work, I'm usually not a big fan of VFX. But the CGI in this film is absolutely exceptional. It's too clean to be practical but that's about the only way I could tell it was CG. All of the monster effects are beautifully rendered and sufficiently horrifying.
Hearing persons in our society often take for granted our use of verbal communication. A Quiet Place reminds its audience of just how much we rely on our ability to express ourselves by way of spoken word. The film also drives home a strong point about the significance of family.
A Quiet Place is now available on Blu-Ray, DVD, and DigitalHD. The Blu-Ray release includes a behind-the-scenes featurette, an informative and fascinating piece on the film's sound editing, and a featurette on the VFX work. If you missed this one during its theatrical bow, it is an absolute must see.
For a another take on A Quiet Place, you can read Wicked Horror contributing editor Joey Keogh's rave review right here.
Director(s): John Krasinski
Writer(s): Bryan Woods, Scott Beck, and John Krasinski
Stars: Emily Blunt, John Krasinski
Release: July 10, 2018 (Blu-Ray and DVD)
Studio/ Production Co: Platinum Dunes, Paramount Pictures
Budget: $17 Million (estimated)
Language: English
Length: 90-Minutes