Nerd Block is a subscription mystery box that delivers geeky collectibles right to your door each month. You can choose whatever theme box you are into–there's the Classic Block, Arcade Block, Sci-Fi Block, Horror Block, Comic Block, and even a Boys Jr. and Girls Jr. Block for younger kids. The sets always includes a t-shirt, along with 4-6 other collectibles that are often exclusive to Nerd Block subscribers. After six months of some wonderful horror treats, I happily decided to keep my subscription. Today I am unboxing the May 2016 Horror Block.
Horror Block has really been stepping up their game over the past two months. They listened to the feedback of their subscribers, and the things that they liked and don't like seeing when they open up their boxes each month. Subscribers wanted less generic exclusive items, and definitely less zombie stuff, with more items from specific movies–possibly a Blu-Ray or two. The May 2016 Horror Block met all this criteria and more, so let's see what's inside!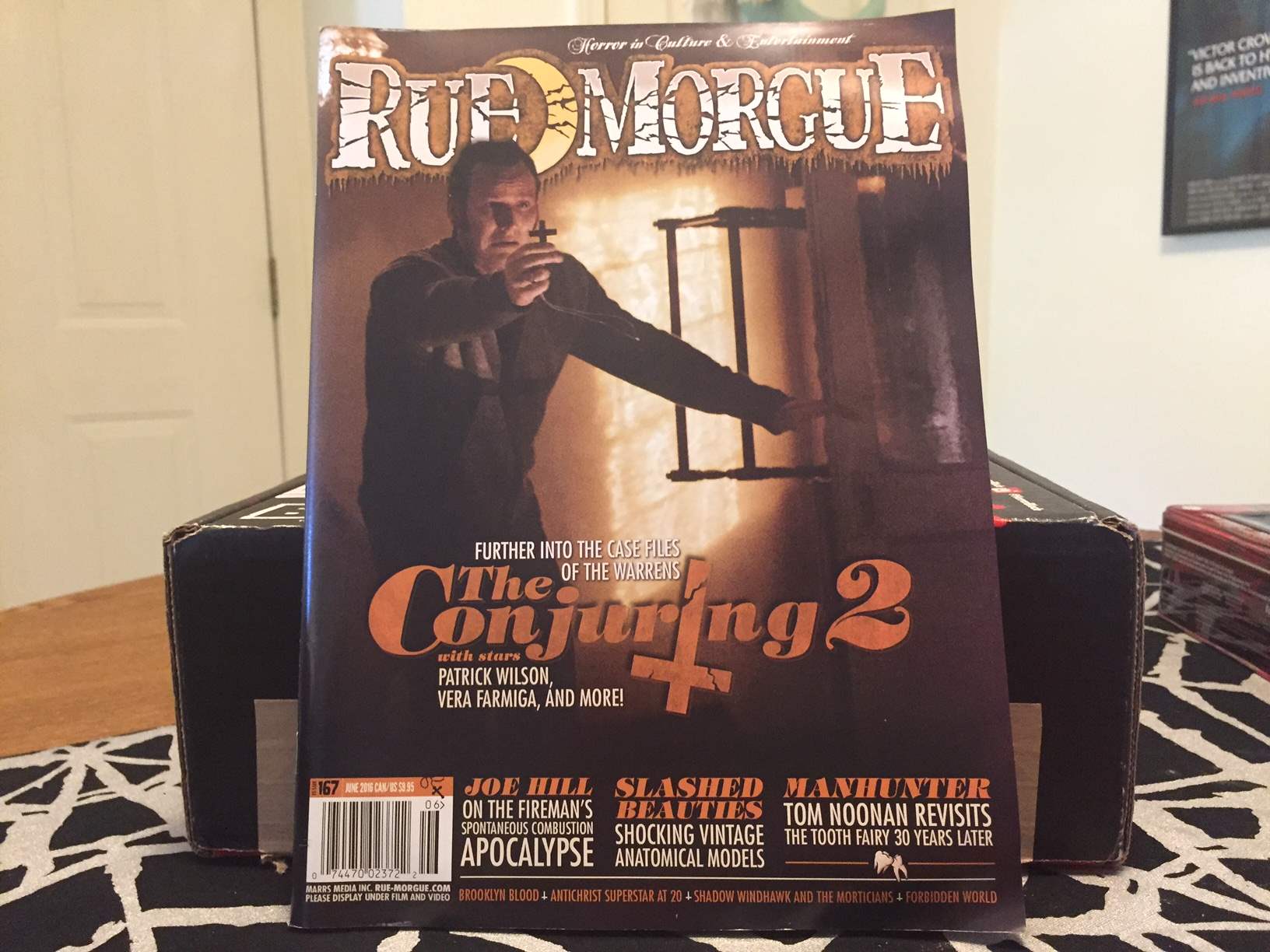 First, we'll start with Rue Morgue issue #167, for June 2016. The cover features Patrick Wilson in the highly anticipated horror sequel,
The Conjuring 2
. Inside the mag are interviews with Wilson and Vera Farmiga about reprising their roles from the first film, as well as an interview with the screenwriters about the real-life case on which the film is based. There is also a wonderful look at author Joe Hill and his new novel
The Fireman
–about a virus that seems to cause people to spontaneously combust. Another interesting article is a quick interview with actor Tom Noonan as he looks back on his role in
Manhunter
, which received the collector's edition Blu-Ray treatment from Scream Factory last month.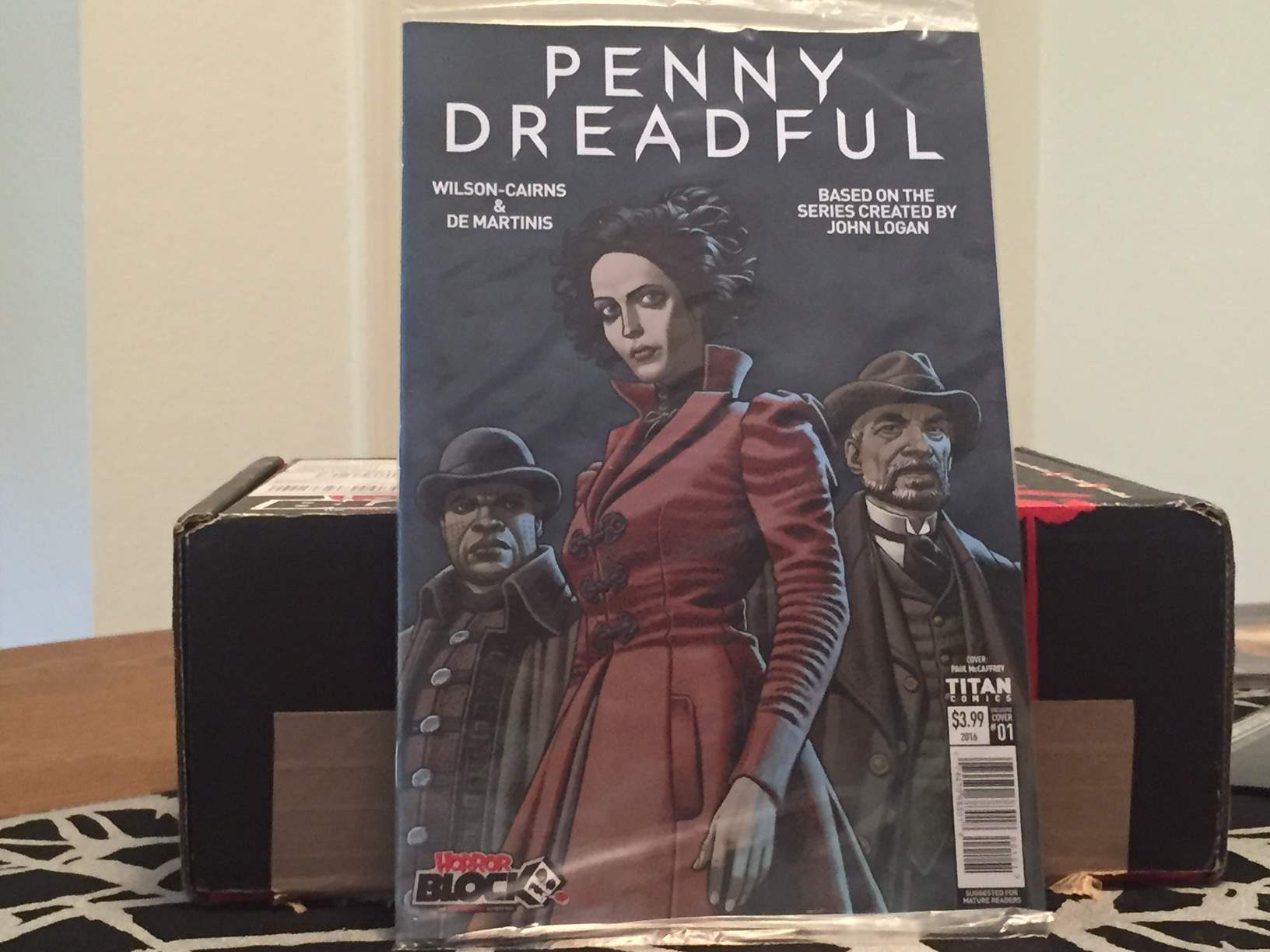 Also in this month's block is a Penny Dreadful variant cover comic. It is a 19-page book from Titan Comics, with story by Krysty Wilson-Cairns, Andrew Hinderaker, and Chris King, and illustrated by Louie de Martinis. I have personally never seen the show Penny Dreadful, nor have I ever been into comics, so this particular item was really not for me. I've definitely heard great things about the show, though, so maybe I'll be getting into it soon and then I can read the comic!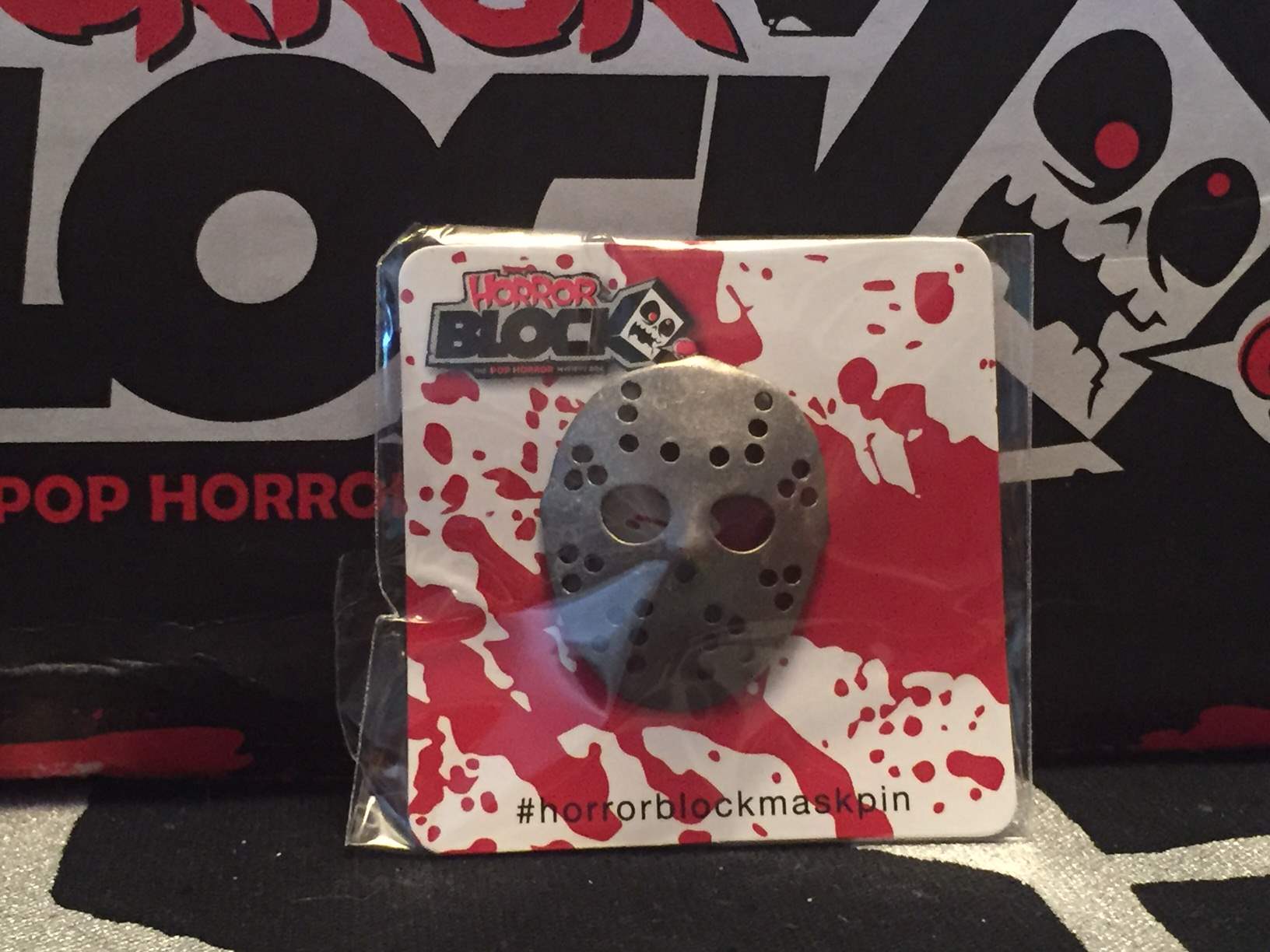 Next up is the smallest item in the block, which is actually still pretty cool considering it comes from one of the horror genre's biggest franchises. This Horror Block exclusive is a silver hockey mask pin, and it is one inch tall and made from nickel-plated zinc. It has a good thickness to it so you don't have to fear it breaking, and the edges are not exactly perfect lines. This imperfect quality of the pin actually makes it more unique to me. I began collecting horror-related pins just a few years ago, so I'm more than happy to add this one to that collection.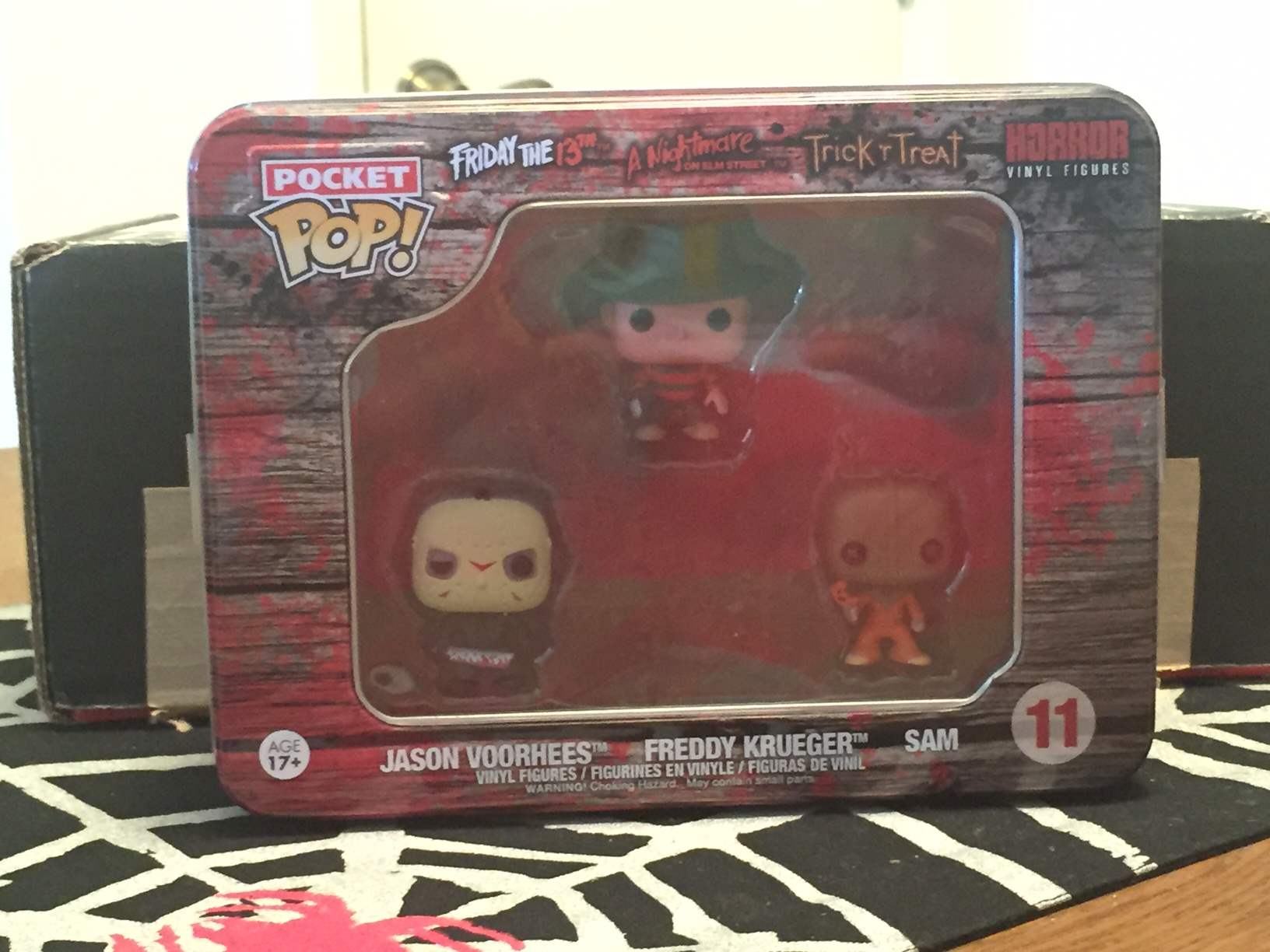 Another favorite item of the Horror Block are Pop! Vinyl figures. Instead of one figure in the block this month, though, we are treated to three Pocket Pop! figures, each a little over one inch tall. The figures are of Jason Voorhees with a bloody machete, Freddy Krueger with his trademark outfit, and Sam with his lollipop. They come in a nice tin case with plastic packaging, which makes for a nice display as something so small could easily get lost.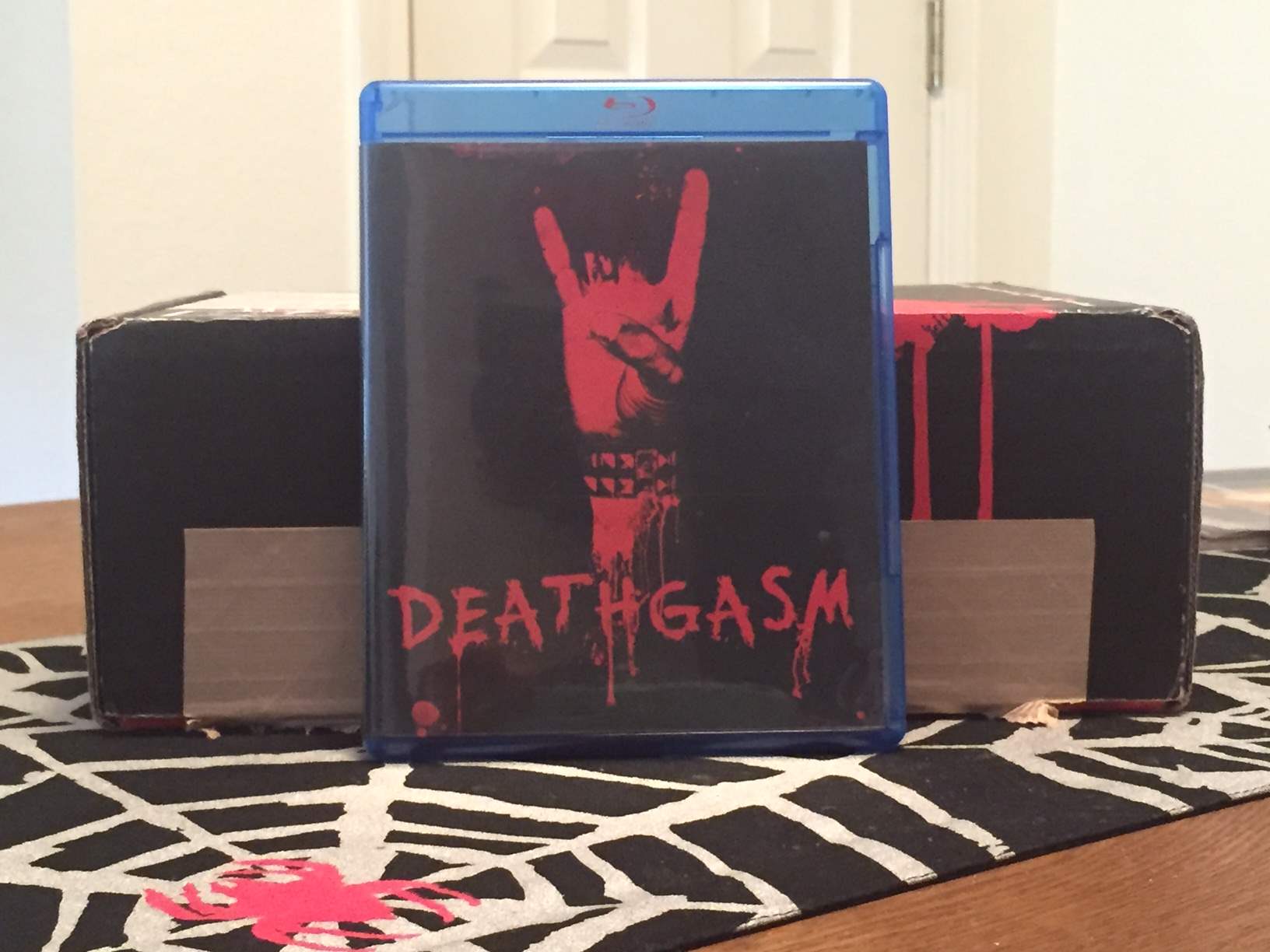 I have been working on slowly growing my Blu-Ray collection lately, and I'm glad I have Nerd Block to now help me out in that endeavor. Last month, my block included an awesome Blu-Ray for the film The Editor, and this month it is the heavy metal horror comedy Deathgasm! I didn't see the film in time to include it in my top five list for 2015, but if I had, it most definitely would have been on there. What you get for the price of these blocks is really amazing, even more so now that they are including Blu-Rays. The only thing I don't like about this is the cover–it has the title of the movie on the front with the metal hand in red, but the back cover is blank. No synopsis or special feature information, nothing. Also, the title is not printed on the spine, so it will look weird to just have a plain black spine on my bookshelf.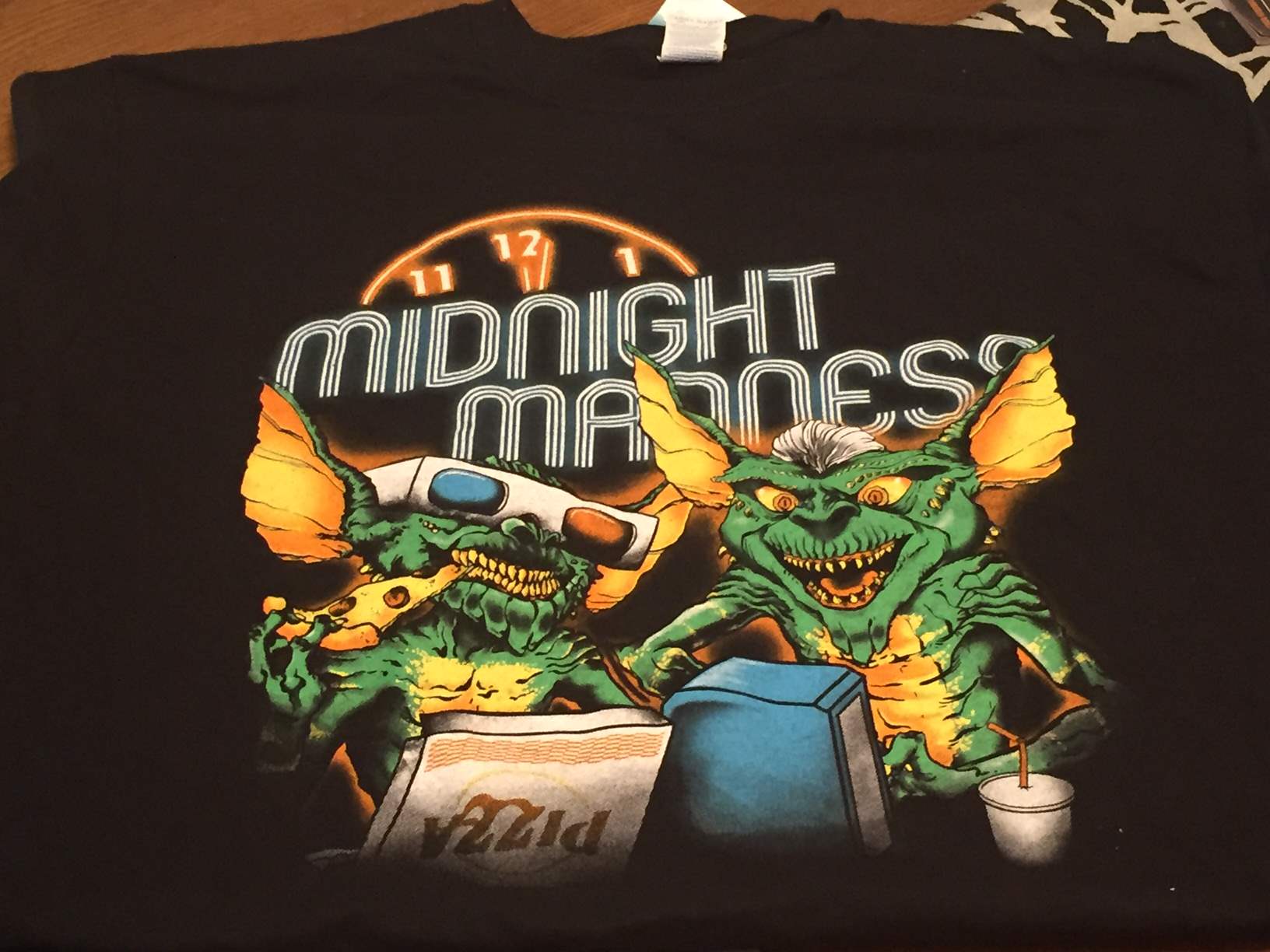 I might have said this about another t-shirt I received from Nerd Block (possibly the Wes Craven tribute shirt), but I'm going to say again that THIS is my favorite t-shirt so far. Courtesy of ShirtPunch, as always, I was so excited to see that this month's shirt featured Gremlins. We know the gremlins love the movies, so this shirt features one gremlin wearing 3D glasses, plus Stripe looking ready to cause problems. "Midnight Madness" is thrown in there for an extra reference. I'm sure any Gremlins fan would be proud to sport this around town.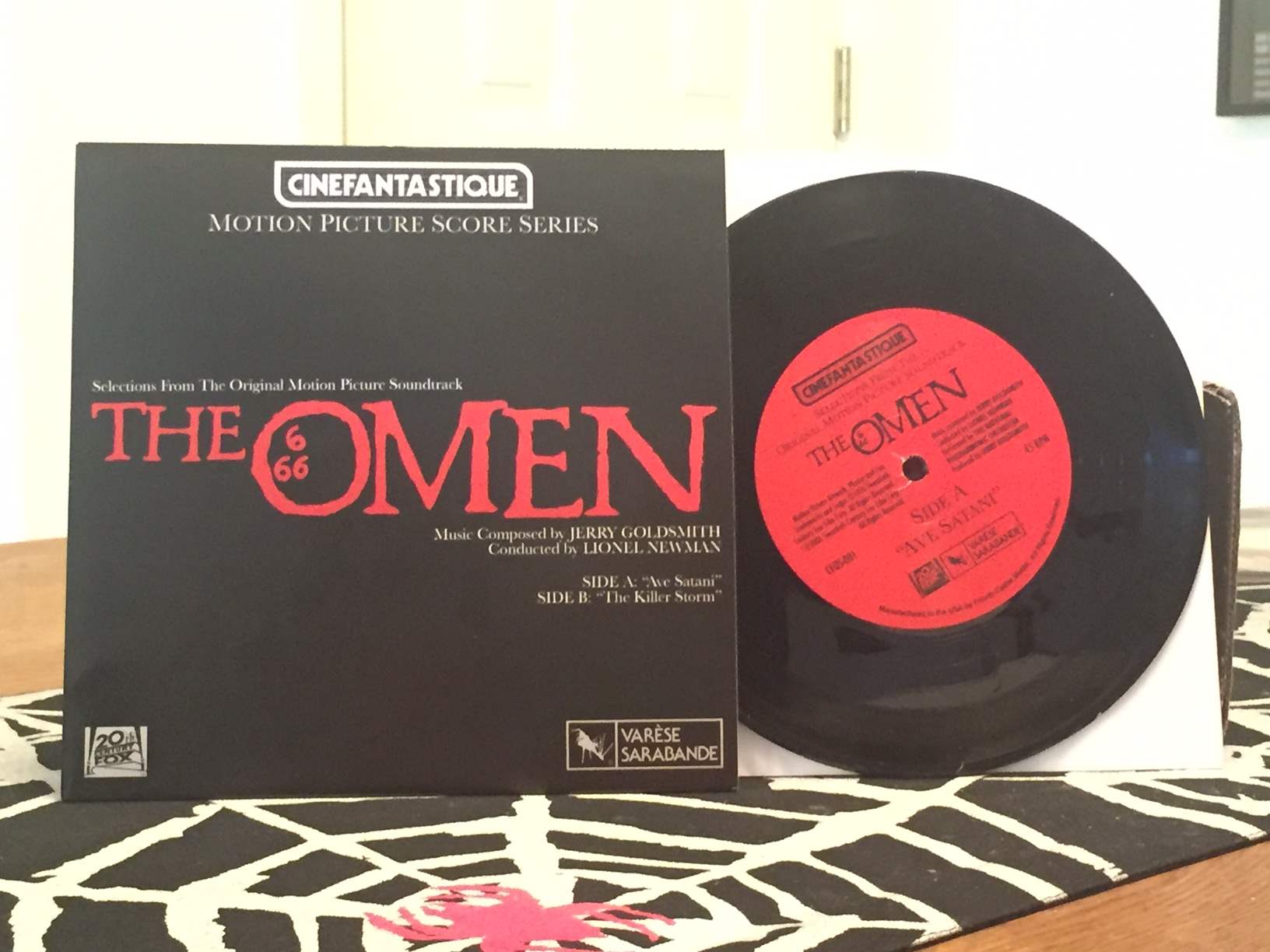 Horror Block did something a little different for May's block by actually telling subscribers beforehand what one of the items was going to be. That item is this amazing vinyl soundtrack featuring two songs from one of my favorite horror films of all time, The Omen. However, only a select number of subscribers would receive an all red record as opposed to your typical black, and I obviously was not one of the lucky ones. But this is still an amazing item, especially for me because the music in The Omen is a large part of why I love it so much. The two tracks by composer Jerry Goldsmith are "Ave Satani," the main theme music with the choir chanting in Latin, and "The Killer Storm."
Horror Block has really been hitting it out of the park lately. I was unsure if I was going to continue my subscription for a while there because some of the stuff I was getting wasn't really worth it. But if they keep providing items like what we got in the April and May blocks, then I think I will have it for a long time to come. The teases for the June block include goodies from A Nightmare on Elm Street, Jaws, The Strain, Turbo Kid, and Buffy the Vampire Slayer. I don't know if I can wait another month to find out what those are! If you like what you saw here, head on over to Nerd Block to start your subscription today!