Osgood Perkins' (son of Anthony) feature debut The Blackcoat's Daughter (AKA February) has been in release limbo so long, his sophomore effort, I Am The Pretty Thing That Lives In The House, has already been and gone. It's a real shame, because his first attempt is far superior to his second, drenched in melancholy and unease, with quietly horrifying events taking place against an unforgiving backdrop of crisp, white snow.
The setting is an out-of-the-way boarding school, the movie kind one doubts actually exists in the real world anymore (if it ever did in the first place). Mad Men's Kiernan Shipka is Kat, a quiet, lonely young woman who, when we meet her, is crossing the days off the calendar month marked February. Her parents will be along shortly, she assures the principal, as he matter-of-factly advises her that she cannot "live" there over the imminent school break.
Kat isn't completely alone, however, as another student, Rose (Sing Street's Lucy Boynton, playing a very different kind of bad girl here) is also stranded until her folks arrive. The principal tasks Rose with taking care of the younger Kat, a responsibility she very obviously doesn't want. As the older, more sophisticated girl prepares for a date, Kat looks on, hovering in the doorway. She subsequently goes through Rose's stuff once the coast is clear.
The Blackcoat's Daughter has a timeless quality to it, much like the fabulous It Follows (another inspired debut from an exciting new voice in horror). No modern conveniences abound, but there's a sense that events are taking place in the present day. Or maybe the story is set in another dimension entirely, given how Perkins plays with narrative structure, leading to a bizarre and enjoyably off the rails final act.
There's an eeriness to it, a sense that something is immediately off. What that something is, is revealed so gradually there should be no doubt that a certain sect of horror fans will turn away from the movie before it's even really got its considerable claws in. Perkins, you see, is unconcerned with big shocks or scares. The writer-director is, one assumes, un-bothered by appealing to the mainstream horror crowd.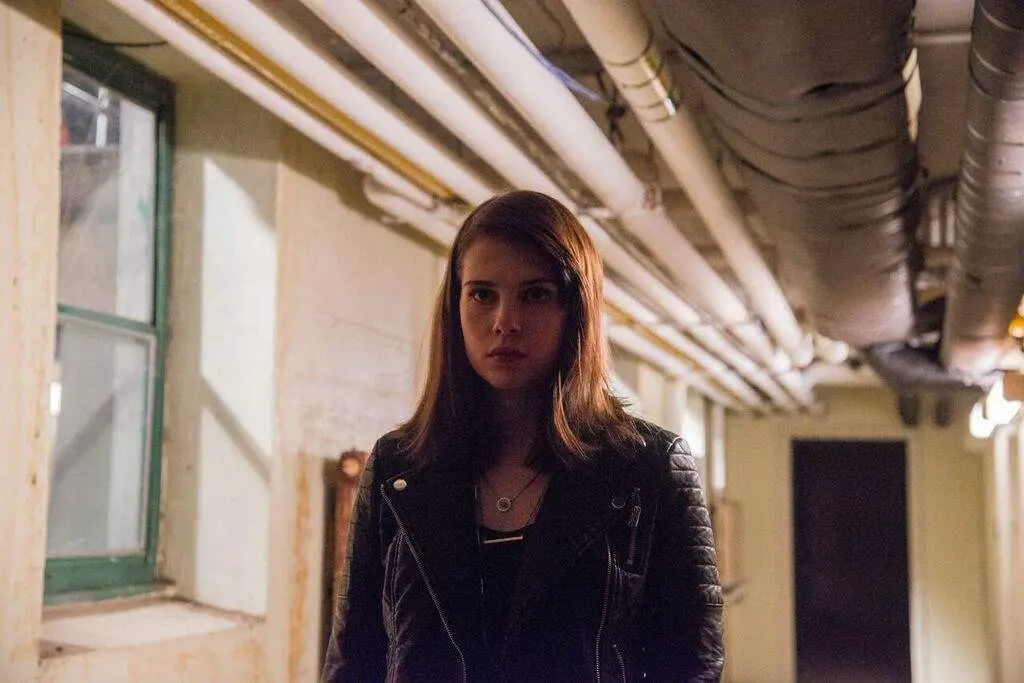 He builds the tension at a snail's pace, drip-feeding us select frights here and there, like beads of cold sweat gradually gathering on our backs. His is an arch, disciplined, very mannered portrayal of three (Emma Roberts is also involved, more on her later) damaged, lonely young women, all of whom are struggling with demons both inner and outer.
Recurring imagery wrong-foots us at every turn, making it increasingly difficult to discern what is real and what isn't. The sound design is impeccable, and plays an important role in establishing the bigger scares. The score is a cawing, moaning, clanging, skin-crawling thing, paired very purposefully with the dread-laden atmosphere.
There's an old-school potboiler feel to proceedings, reminiscent of David Fincher's Zodiac. It's defiantly old school and classy. Perkins isn't interested in spoon-feeding us, subverting our expectations consistently, as he exercises an enormous amount of control over virtually everything on-screen, from the music, to the use of slo-mo, to the subtle and well-placed violence and gore.
Not all of it works, of course (the big reveal will either delight or infuriate you) and, in spite of a zippy run-time, there will be those who find The Blackcoat's Daughter a bit of a slog (the bleak landscape and action being reduced to almost a single location won't convince anyone either). It's all about atmosphere, more of a mood piece than an out-and-out horror movie.
There will also be those who find it pales in comparison to similarly-themed films like The Witch and The Devil's Candy, both of which straddled that line between slow and plodding much more effectively. However, where Perkins' film differs is in its three leads, all of whom are excellent. Boynton furthers her career as a must-see actress following her scene-stealing role in Sing Street.
Shipka is a revelation in her most grown up role to date, all sunken eyes and quietly calculating menace. Her Kat remains a question mark right up until the very end, her machinations still unclear in an impressively vague denouement. The real surprise, however, is Emma Roberts as girl on the run Joan, who happens upon James Remar's Good Samaritan while fleeing from a mental health facility.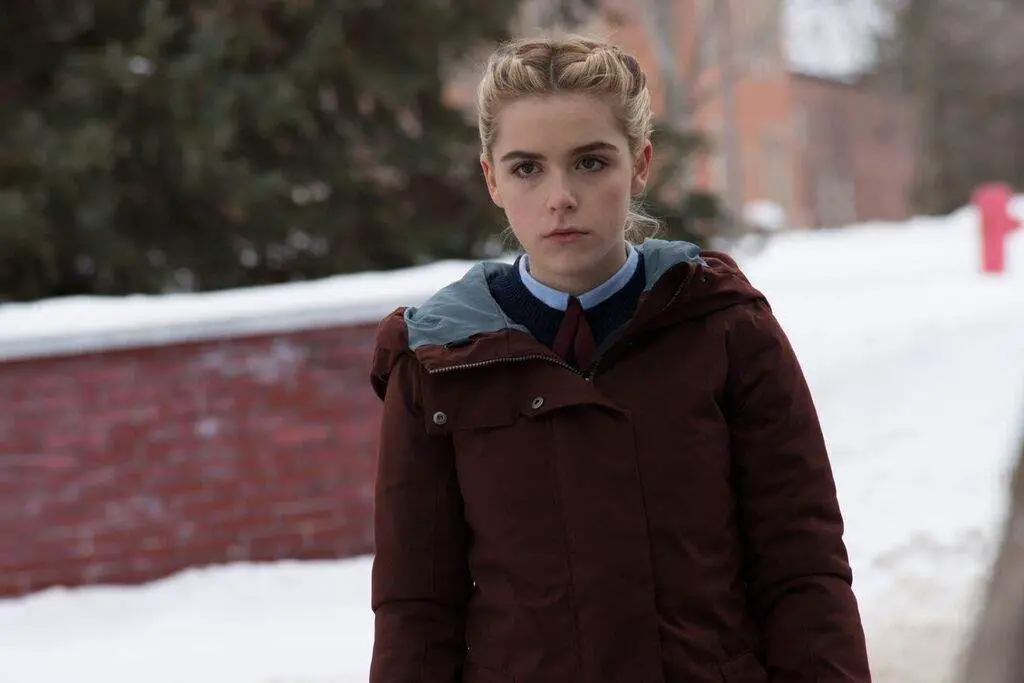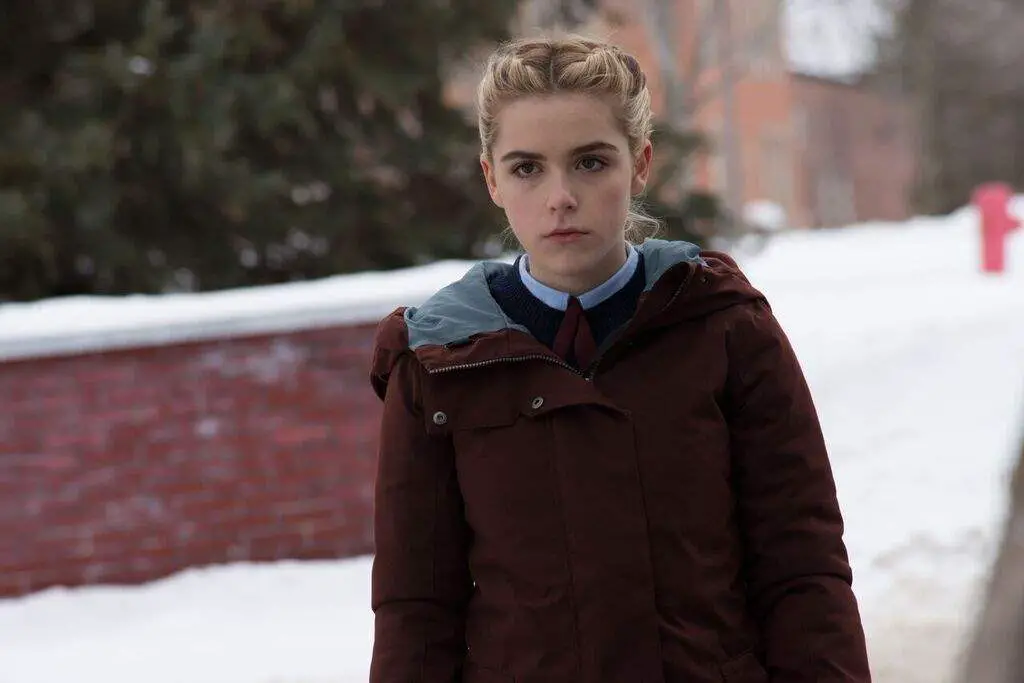 She's already shown incredible range as a performer, in everything from Nerve to Scream 4, American Horror Story and horror-comedy Scream Queens, but it's here that Roberts really comes into her own. It's her most unflattering, meaty role to date, but she takes to it with aplomb, fixing a steely stare on anybody in her path while still showing just enough vulnerability so we don't completely know what she's thinking.
It's a stunning performance, making the film's marketing material (most of which focuses on Roberts' character) much more understandable. You may know Oz Perkins as the guy who helped Elle reach a book in Legally Blonde, or who just had sex with Katherine five minutes ago in Not Another Teen Movie, but this is a serious calling card for him as a genre filmmaker to watch in future.
The subject matter is well-trodden ground but Perkins gives it a coat of fresh, untouched snow to make it something new and beautiful. Visually striking, nightmare inducing, and genuinely unnerving, The Blackcoat's Daughter will certainly not be for everyone – it's more arthouse than multiplex and the pace will turn many off.
The very definition of a slow-burn chiller, those who stick with it, however, will find their faith rewarded by one of the most original, and strongly female-led horror movies of the year thus far.
A24 and DirecTV will release The Blackcoat's Daughter in
theaters and On Demand March 31, 2017
WICKED RATING: 7/10
Director(s): Oz Perkins
Writer(s): Oz Perkins
Stars: Kiernan Shipka, Lucy Boynton, Emma Roberts, James Remar
Release: March 31, 2017
Studio/ Production Co: Eggplant Pictures
Language: English
Length: 93 minutes
Sub-Genre: Possession