Low budget horror is notorious for utilising posters so awesome the attached film couldn't possibly live up to their promise. Each year at Cannes, the basement of the Palais (which plays host to the event) showcases posters for movies of this ilk, such as Attack Of The Killer Donuts and Shark Exorcist, desperate for buyers. Patrons looking to take a break from waiting in line, in the sweltering heat, to boo the likes of Personal Shopper can take a stroll through its halls and gawk at what's on offer. It's easy to imagine Pool Party Massacre, the feature debut of writer-director-producer-actor hybrid Drew Marvick, fitting comfortably, and standing out, among its number.
Seriously, the poster is totally f**king rad (I don't know how else to describe it, but those three words seem appropriate).
The setup is simple: a wretched rich girl, with a free house for the weekend, invites her equally horrid friends over for a pool party only for a crazed killer to take 'em all out one by one in the most hideously gruesome ways imaginable. Marvick wisely keeps the action in the one, great location, so we can get the geography clear in our minds early on.
Also See: Dude Bro Party Massacre III is Silly Fun!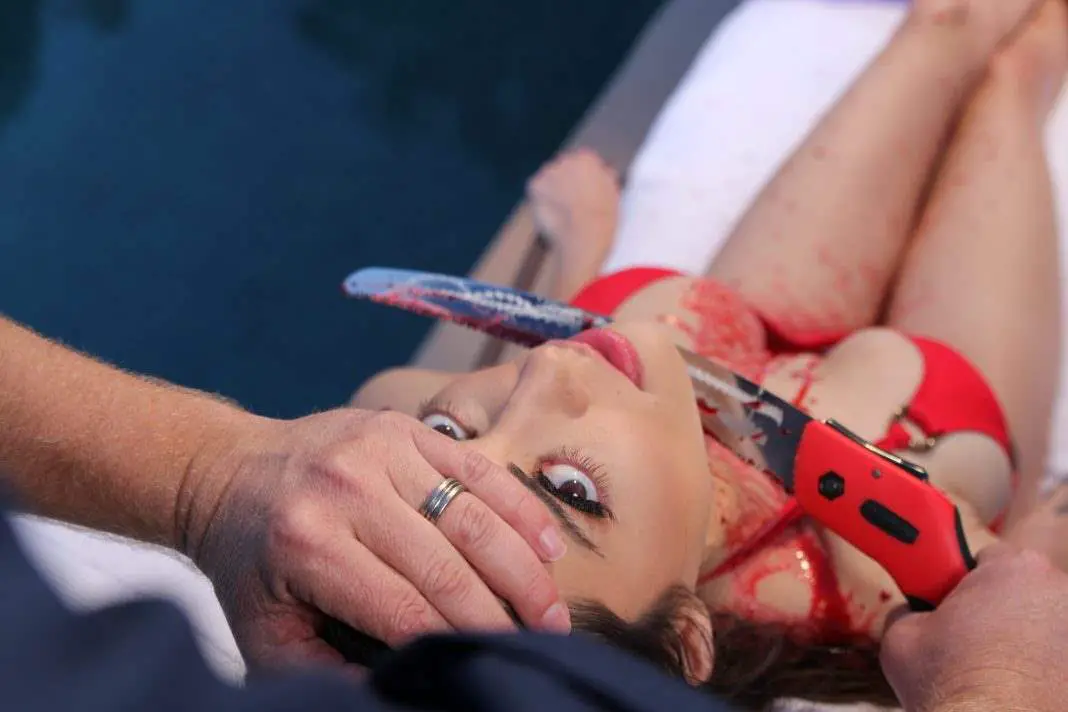 The cold open, which sees a metal-head pool guy (there are a lot of alt people in this movie, which is refreshing, even in horror) neglecting to notice his super-hot client's wife is hitting on him, and then murdered in front of him, is super-funny and gory, setting the scene perfectly for what's to come. If the movie falters slightly afterwards, it can hardly be blamed.
The introduction of main antagonist Blair (newcomer Kristin Noel McKusick, splendidly unhinged), with cameos for her awful parents, includes line reads so hammy and stilted they must be on purpose. And, sure enough, as the action progresses and the kills intertwine with lengthy sections of sharply funny dialogue, Marvick's intention becomes clear.
Pool Party Massacre is the definition of a breasts 'n' blood slasher movie, an ode to "every 80s slasher movie" as the end credits thanks note. There's plenty of both even if, for the most part, nobody really gets into the pool during this so-called pool party. There are also only two people present for the first couple of hours at least.
The victims are all walking, talking rich girl clichés but each actor, at the very least, injects her character with something beyond the one trait usually afforded to such archetypes (the mean one, the slutty one, etc). McKusick is a standout as Blair, but she's ably supported by a cast of virtual unknowns, including the director's wife who, thankfully, is more Sheri Moon Zombie than Jennifer Schwalbach in her small role.
Nick Byer's Clay, a hideously sexist creation who spouts lines like "you girls are a disgrace to hot chicks everywhere!" while dressed like he's stumbled over from a Reel Big Fish show, almost runs away with the whole movie. One suspects if he were involved from the beginning, even Blair might have struggled to steal the spotlight from him.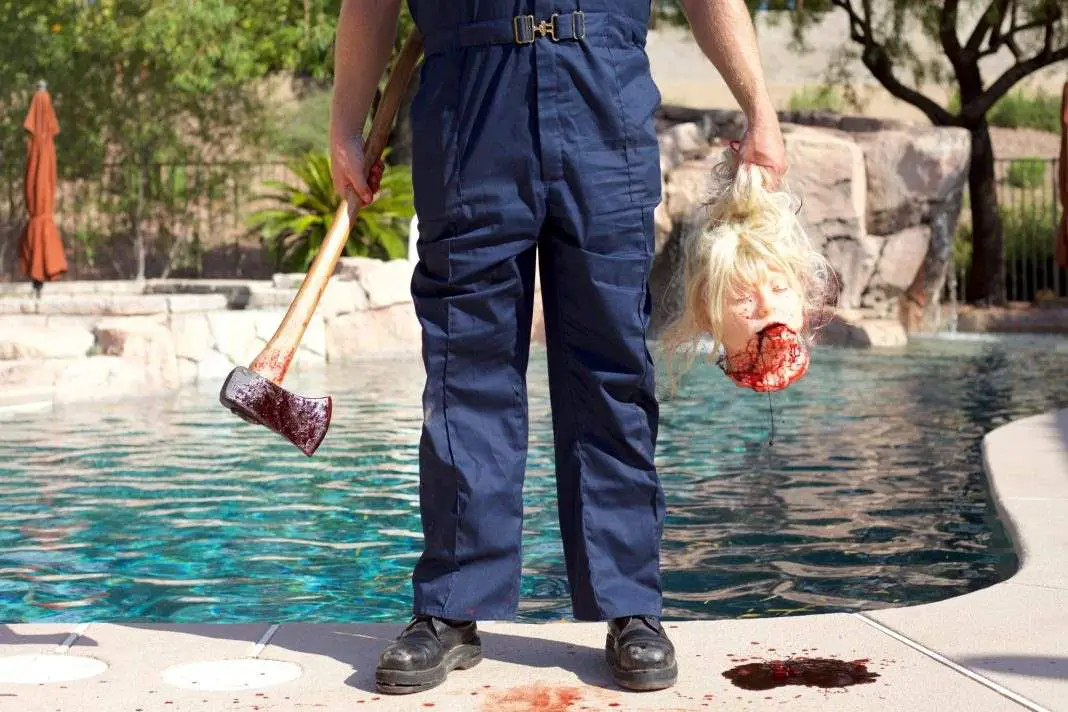 Michael Conway's score is synth-heavy and evocative of classic splatter movies but, to its credit, Pool Party Massacre boasts some seriously gory, inventive kills to back it up. The murders are gory, over the top and inventive, the unseen killer choosing his weapons from a wall of well-organised gardening tools (including a drill he has to pause to plug in).
The SFX are gooey and gross and awesome (in the truest sense of the word) and there are a tonne of fun transitions, from a cracked jaw into a bottle of champagne popping to a wanking/sawing combo. The humour is obvious and sometimes dumb, but the movie is still loaded with laugh-out-loud moments, particularly in meta references to the "killer" party.
This style of slasher subscribes to the logic, agreed upon many years ago, that the main focus should be horrible people dying horrible deaths. And, in this way, Pool Party Massacre more than delivers–the characters are so hideously self-absorbed they don't even notice anyone is dead. Meanwhile, the payoff to the whole thing is original, clever and super-funny.
It's scrappy, it's messy and there are definitely moments it feels a bit like a series of skits strung together to facilitate some fairly gruesome murders. But the thing is shot so well, and presented with so much heart and gumption–not to mention it is a bloody good time throughout–it's impossible to hate.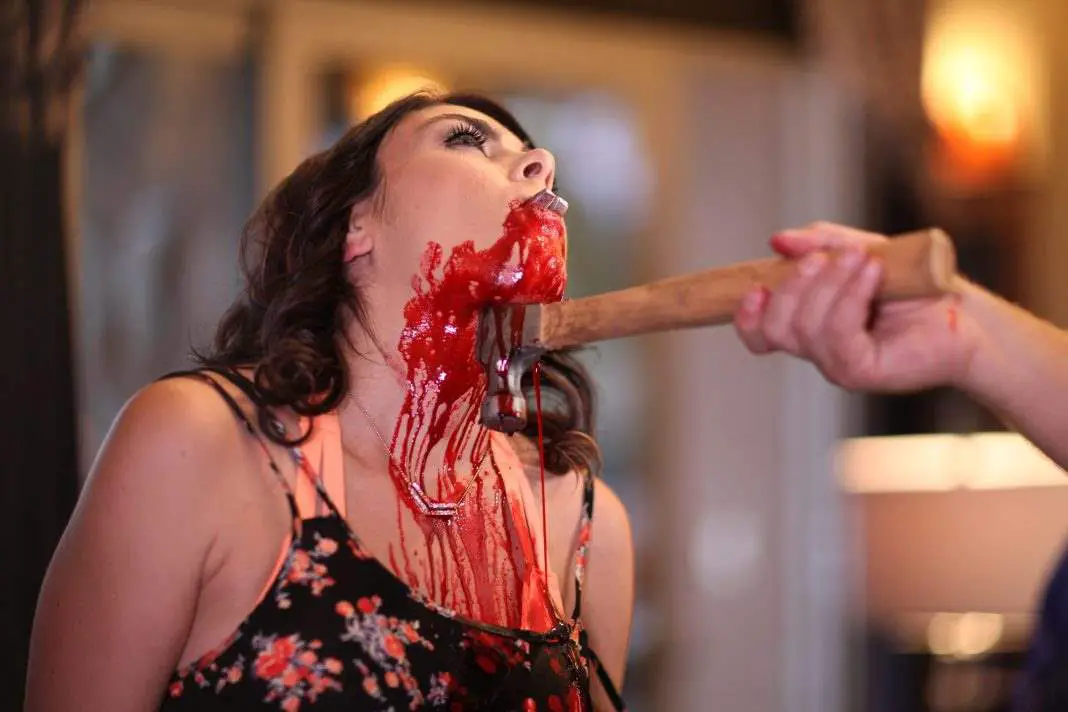 Take Sam & Bill's titular song, which plays over the end credits and is weirdly informative about the events of the film. It alone exemplifies what makes Pool Party Massacre so likeable. The song is silly, spirited and wickedly funny. But it's also well-produced, well-performed and presented without a hint of irony.
The argument could be made that, in the year 2017, this brand of breasts 'n' blood slasher has no place. In a world of Raw and The Witch, how can we still justify watching topless bimbos getting hacked to bits? As a proud feminist, I can attest to the fact that, as per (almost) every 80s slasher movie ever made, there is still a time and a place for this style.
The Final Girl is tough, the camera doesn't linger and, although the female characters featured within are horrible stereotypes, we all know that's what makes it fun to watch them die such horrible deaths (and the guys don't get off easy either). There's a time for The Witch and a time for Pool Party Massacre and I, for one, enjoyed both (albeit for very different reasons).
Take that awesome poster as inspiration and check it out. In spite of what its attendees may have you believe, this pool party definitely does not suck.
Catch Pool Party Massacre on DVD, VHS and Blu-ray from April 20, 2017. All pre-orders from the official site will ship the same day. The movie will hit Amazon Streaming in early May and iTunes towards the end of May.

WICKED RATING: 8/10
Director(s): Drew Marvick
Writer(s): Drew Marvick
Stars: Kristin Noel McKusick, Nick Byer, Destiny Faith Nelson, Jenifer Marvick
Release: Apr 20, 2017
Studio/ Production Co: Floating Eye Films
Language: English
Length: 81 minutes
Sub-Genre: Slasher