Last year's brilliant Satanic Panic pitted a pizza delivery girl against a group of rich Satanists in suburbia. We Summon the Darkness posits that it's actually the young woman who's the threat, skewering a long-established trope about the nature of victims in horror as well as simultaneously calling attention to the noxious idea of the bad ass so-called Final Girl. Even if it doesn't go much deeper than that, it's a fun movie for what it is. Plus, preacher Johnny Knoxville has to be seen to be believed.
The action takes place in Indiana. The year is 1988 and satanic panic is gripping the nation. In spite of this, and the rash of vicious local murders apparently inspired by local youths' new devotion to the dark lord, a trio of young ladies are road tripping to a heavy metal gig where there'll be more demons and five pointed stars on show than in my totally adult, grown-up apartment. Alexandra Daddario's Alexis and Maddie Hasson's Val clearly go way back, but Amy Forsyth's Beverly feels like something of an outsider. Still, they all love Twinkies, so clearly they're BFFs.
Related: Satanic Panic [Frightfest 2019 Review]
After arriving at the concert (side note: attendees are smoking indoors – remember when you could do that? Hell, remember when you could go to gigs?), the trio makes friends with another trio of lads (played by Logan Miller, Keean Johnson, and Austin Swift) who, naturally, take a shine to them. Then, once the gig is over, the group decides to keep the party going in Alexis's nearby palatial family home. The guys think they've hit the jackpot, with one quipping "What did we do to deserve this?" not realizing, of course, his words are eerily prescient since the party isn't going to end the way any of them expect it to. In direct contrast to every other even remotely similar scenario, they're the prey and the women the predators.
To say any more would spoil the fun, but suffice to say We Summon the Darkness subverts a well-trodden cliché in a neat, clever, even somewhat self-conscious way. There's a sense of not pushing the idea as hard, or as far, as it could've been pushed, particularly with regards to Beverly, whose crisis of conscience is blindingly obvious from the outset, robbing the film of any real tension. There's a meta element to the proceedings that also could've been sharper, exemplified by local law enforcement disbelievingly asking a bloodied young man, "Three girls did this to you?" It may have been fear of offending delicate sensibilities, but there's the nugget of a good idea here, at least.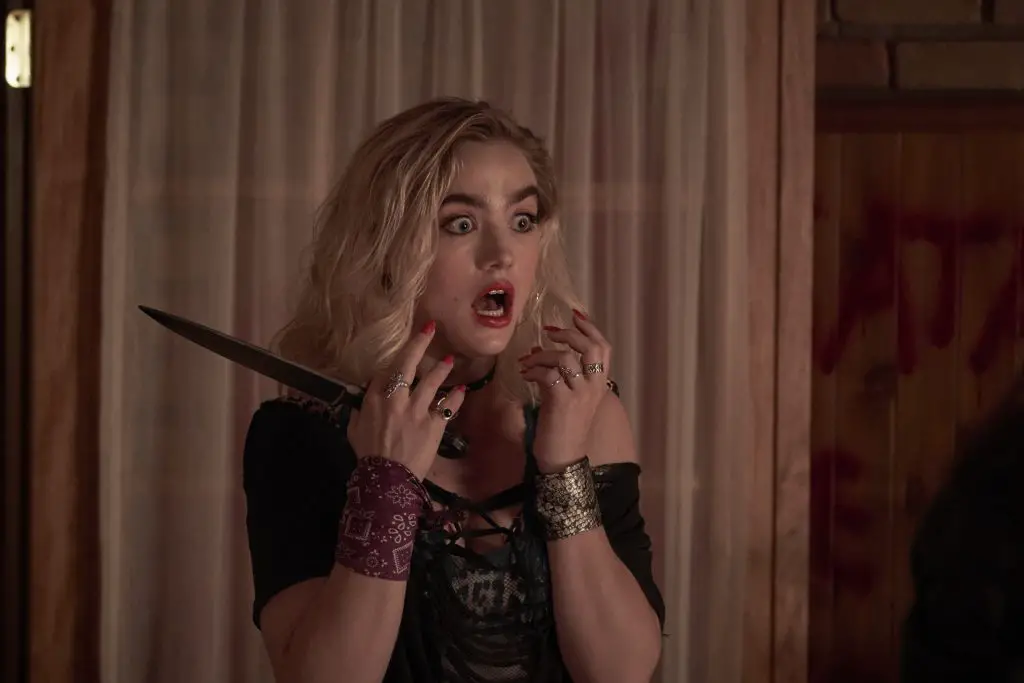 Still, it's a sharp script, sharper than you'd expect coming from the guy who wrote Burying the Ex (which also featured Daddario, albeit in a much glossier role). One particular reference to how the truth doesn't matter, only what people believe, is on the nose but impactful. The movie needs more of this to be truly great. Director Marc Meyers was responsible for the annoyingly underrated My Friend Dahmer, which featured ex-Disney kid Ross Lynch as the titular killer and was brimming with menace and intrigue. He's on straighter form here, likely because We Summon the Darkness is aimed at a party crowd, but the edges aren't entirely dulled either.
For one thing, just seeing women playing these kinds of flawed, villainous characters is progressive and although Hasson's blood-red lip-gloss stays perfectly applied throughout, she and her two onscreen cohorts are given the space to get properly banged up and messy. Thankfully, though, since it's usually the female characters who end the movie completely wrecked, the guys take most of the beatings here. The blood is thick, gooey, and flows in rivers while the gals revel in spilling it. As things start to unravel, the chaotic nature of the situation allows for more violence but the story remains grounded, with a weed-whacker brandished but sadly not really utilized.
Most of the action takes place in a single location, similar to Satanic Panic (double bill these two for maximum satanic worship), which grounds the performances. Forsyth is saddled with essentially the same character she played in Hell Fest, but with a more rick chick look. Still, she's solid as always. Daddario, meanwhile, is unleashed in a way she never has been before, her eyes wide, menacing, and crazy rather than alluring. She gets pretty messy too, which is a far cry from her sweaty, half-clothed Texas Chainsaw 3D days ("Do your thing, cuz!" – never forget). Here, Daddario doesn't even take off her jacket which again, sadly, feels pretty progressive.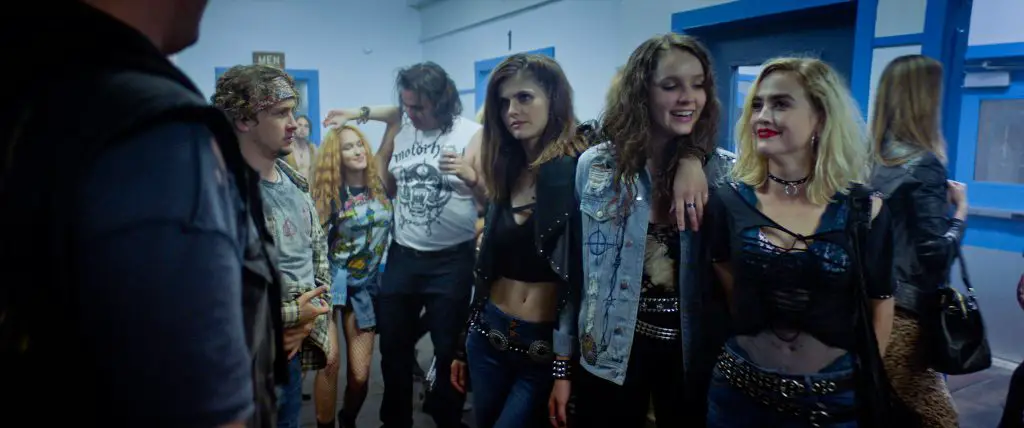 On the boys side, Nashville star Jackson is surprisingly soulful as the mullet-sporting possible paramour to Beverly (all these kids look like posers, which is somewhat explained by the fact the women actually are faking it) and Miller is reliably great as always – nobody does schlubby loser in peril like this guy, and I do mean that as a compliment (though he can also play darker characters, too, see Love, Simon and Scouts Guide to the Zombie Apocalypse). The real standout, however, is Hasson as the completely unhinged Val. From constantly needing to pee, which is something all women can relate to, let's be honest, to talking a mile a minute and exhibiting an insatiable blood-lust, she's an absolute joy. If there's any justice in the world, this will be a major breakout moment for her.
And then there's Johnny Knoxville. The Jackass legend will be the reason many choose to watch We Summon the Darkness and, although he doesn't actually get involved in the action until the last 20 minutes, his presence is keenly felt throughout (his preacher pops up in TV sermons during the trio's road trip, which is a neat touch). This is an entirely new side to the actor, one that requires him to be stripped of all manic energy to play quietly intense and scary. Looking very pasty and skinny, with an air of holier-than-thou menace, Knoxville's preacher quietly enjoys a snack in the kitchen while a fight loudly takes place in the basement just below him. He tells an unsuspecting kid "I am the wrath of god" before shooting them. Saving him to the end is a stroke of genius because Knoxville makes a serious impact.
See Also: Hell Fest is a Hugely Entertaining Slasher Throwback [Review]
Maybe more of him would have made We Summon the Darkness feel slightly less superfluous, however. As it stands, the film is entertaining and funny, boasting one genuinely great music cue that solidifies its tongue-in-cheek intent, but not especially scary, the performances of the young male actors compensating for a lack of any real stakes. It has nothing substantial to say, possibly on purpose, which contributes to the fluffy, throwaway vibe. The sequel grab at the end feels ambitious at best, if indeed that is what it is (the filmmakers may have just wanted to reassure viewers about the fate of a certain character), while the real-world tie-in isn't properly established to generate any further discussion. Still, it's good fun, everybody gives it their all, and, just to reiterate, preacher Johnny Knoxville.
Catch We Summon the Darkness on Digital and VOD from Friday, 10 April 2020

WICKED RATING: 7/10
Director(s): Marc Meyers
Writer(s): Alan Trezza
Stars: Alexandra Daddario, Amy Forsyth, Maddie Hasson, Logan Miller, Keean Johnson, Johnny Knoxville
Release date: April 10, 2020
Studio/Production Company: Saban Films
Language: English
Run Time: 93 minutes
Follow us on social media: Twitter, Facebook, Instagram, and YouTube