Venom is one of those films you've probably never heard of but it should definitely be on your radar! It's about a recently deceased man who becomes possessed with thirteen evil spirits. Awesome, right?
It was directed by Jim Gillespie in his return to the horror genre after I Know What You Did Last Summer. Venom was previously titled Backwater. I have come across a lot of people who have never heard of this movie, and that is no big surprise since Dimension Films only released it to 489 theaters. And they didn't start promoting it until the week before its release, which is unfortunate because this flick was made for horror fans and offers a lot to the seasoned fan of all things frightful.
Why I Know What You Did Last Summer Doesn't Deserve the Hate it Gets 
The story takes place in a small town in Louisiana where a tow truck driver goes off a bridge in a car that  contains a box full of snakes. The snakes are part of a ritual that involved evil people getting their souls sucked out. This leads to the driver getting bitten numerous times and taking in all the evil souls. Because of the bites, he is declared dead. However, his corpse returns to kill anyone he comes across. And now, it's up to a group of teens to stop this dead man who is possessed by 13 evil souls!
I think Venom has a great theme to it. It uses the familiar concept of teens fighting for their lives, but it also has a hardcore twist. In this one, we're not dealing with the typical killer who slowly stalks and kills his victims one by one. This killer doesn't have a butcher knife, let alone a weapon to kill people (minus the crowbar he uses a couple of times). This film has a lot of things going for it: The gore, the deaths, the characters and the cool killer all work in the favor of this picture. It has that old school slasher feel to it, which is never a bad thing.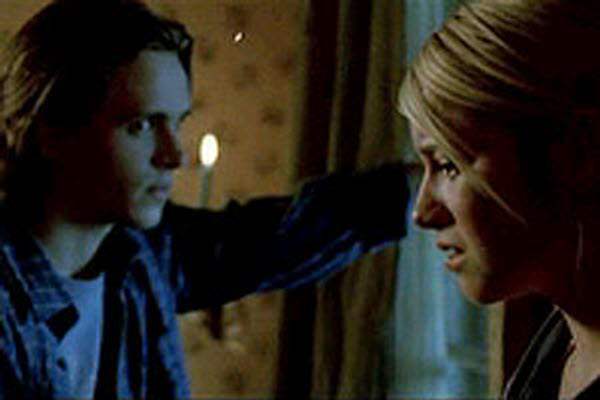 I loved this movie when I first saw it and still love it after repeat viewings. It's a horror film that has something for everyone. This is definitely one you can enjoy with your friends and a bowl of popcorn. Though it follows certain horror tropes, 
Venom
has a lot of awesome touches and cool death scenes. I always recommended this movie when people want to check out a voodoo themed horror picture, but I actually recommend it to anyone that has not seen it.
WICKED RATING: 7/10
Director:  Jim Gillespie
Writer(s): Flint Dille, John Zuur Platten
Stars: Agnes Bruckner, Jonathan Jackson, Meagan Good
Year: 2005
Studio/ Production Co:  Dimension Films
Budget: Unknown
Language: English
Length: 85 Minutes
Sub-Genre: Horror