Bloody Moon opens with a disfigured man named Miguel. From the start, you can't help but feel sorry for him. Not only is he sexually frustrated, but he's also misconceived. Due to the disfigurement of his face, the ladies find him quite repulsive. That doesn't stop Miguel from at least trying. One night at a party, Miguel believes he is about to score with a young woman who was practically throwing herself at him! Once the woman gets a full look at Miguel's face, she brutally denies him access to her secret zones. And he responds by stabbing her in the chest repeatedly with a pair of scissors. Yikes!
About five years go by and Miguel is released from the psychiatric hospital as if he didn't viciously murder an innocent girl. Miguel is now in the custody of his family and their estate, which just so happens to be a part of the "International Youth School of Languages Boarding School" where there are ample young women. Some even walk around topless!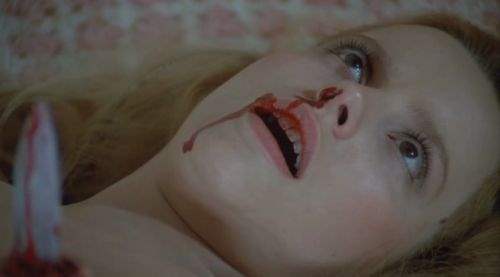 Although the majority of the girls at this school may only be interested in topless sunbathing, boys, and partying, a new student named Angela only hopes to advance her studies in the Spanish language. All the students who decided to attend this school are very aware of this location's history, which involves a young woman getting murdered. However, once some of Angela's classmates start to disappear, she seems to be the only one concerned.
For the majority of the film, Angela yells at anyone and everyone who will listen about her friends who disappeared. She saw the dead corpse of one friend bleeding out on her bed, but once she left to get help, she returned to the body has vanished. People simply tell Angela that she reads too many murder novels and it's all in her imagination. Want to know something insane? Angela believes them, regardless of the corpse she discovered in her bed. Why not just go to the police? As the viewer, we try to figure out if Angela is going to survive the school semester. We always wonder if it's Miguel who is still insane?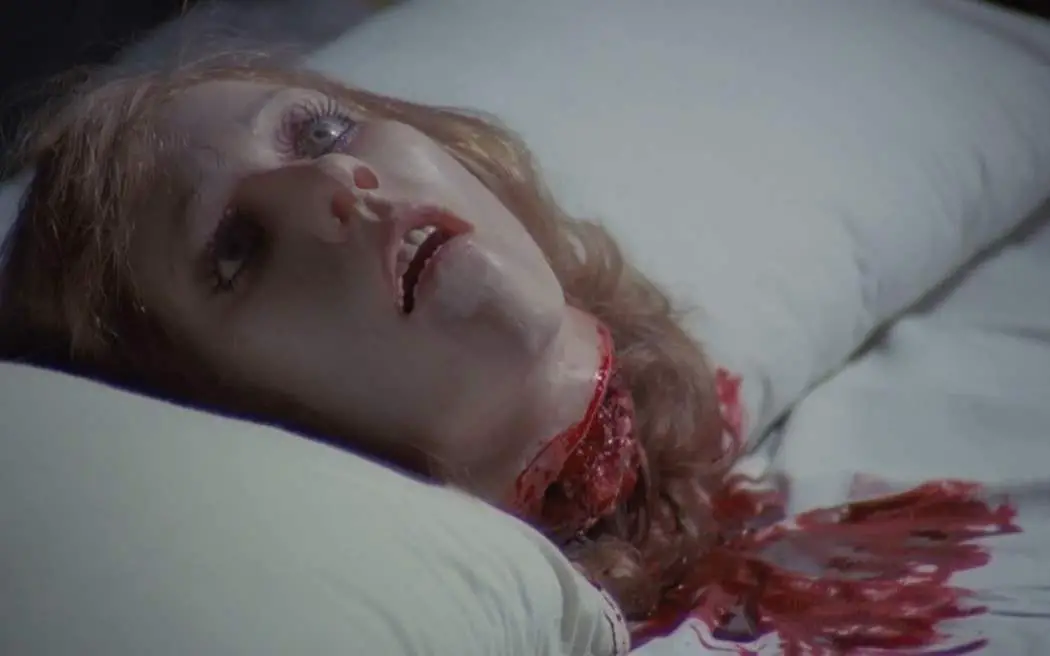 Bloody Moon has plenty of clichés that are easily noticed right away; however, there's something captivating about this film. The clichés that are easily noticeable are the international cast that is dubbed with English voices and it's awful. The zoom-in of the camera on random faces or items is also quite cheesy. Director Jesús Franco was truly a master of clichés and of course random naked women running around his films. However, with Bloody Moon, Mr. Franco actually showed a lot of restraint. It seemed like he was trying to imitate the American slasher formula, which I believe he accomplished.
I've always wondered if Mr. Franco hated women because the way some of these women were murdered was ridiculous! One woman was stabbed right in her boob; it was a very clean stab straight through. Another got her head chopped off and then left on someone's pillow as a surprise. Although I was in awe of the variety of top-notch gore scenes, I couldn't help but question his feelings towards the so-called fairer sex.
Overall, the effects in Bloody Moon are super dated however it's still very enjoyable. There is plenty of gorgeous cinematography and violence! For all the perverts out there, there's plenty of nudity; however, it's far less nudity than in Jesús Franco's other films. If you would are into Euro-horror films, I highly recommend this one.
WICKED RATING: [usr 5]
Title: Bloody Moon aka Die Säge des Todes
Director: Jesús Franco
Writer: Erich Tomek
Stars: Olivia Pascal, Christoph Moosbrugger, Nadja Gerganoff
Release: 1981
Studio/ Production Co: Lisa-Film
Budget: Unknown
Language: German
Length: 90 Minutes
Sub-Genre: Horror