I can't recall the last time a movie's marketing campaign was as on point as that of Jeremy Saulnier's hugely-anticipated Green Room. Believe the hype; this flick is incredible. And the posters, trailers and everything else you've seen and heard expertly capture its tense atmosphere, punk-rock stylings and gory. utterly unpredictable trajectory.
As horror fans, we so often find ourselves disappointed by new releases because nothing ever seems to live up to that feeling of being scared out of our mind we experienced as kids. Green Room might not be the scariest movie you've ever seen, but it's painfully tense and affecting to the point that it might just be the most on edge you'll been in a theater for a very long time (I've seen it twice now and both times the audience gasped).
Put simply, this is a horror movie experience unlike any other and, if you're somehow still on the fence about it, here are five reasons to see Green Room while it's in theaters:
The Gore
Green Room boasts the most inspired, and disgusting, use of masking tape perhaps ever committed to celluloid. But this moment is just one of many, excruciating instances in which the flashes of gore Saulnier experimented with in Blue Ruin break out in all their fully-fledged (and totally practical), stomach-churning glory. You haven't seen gore like this in a horror movie lately. There's no comedy to it, no relief when the blood starts spraying. It's horrifying, relentless, crunchy, gooey and utterly unpredictable. And it will leave a wound on your soul that not even the strongest masking tape can cover.
The Cast
Going against the grain in a major way, Saulnier has littered his cast with interesting, up-and-coming British actors who, aside from mastering the required North American drawl, offer some serious edge in a way their statewide counterparts couldn't. Having said that, Anton Yelchin, Mark Webber and Alia Shawkat do a killer job representing the other side of the pond with equally layered, nuanced and, particularly in Yelchin's case, brave performances. The writer-director's buddy Macon Blair also pops up to once again prove his worth as an actor, in a quieter role than his Blue Ruin revenge-seeker that is no less intense or committed.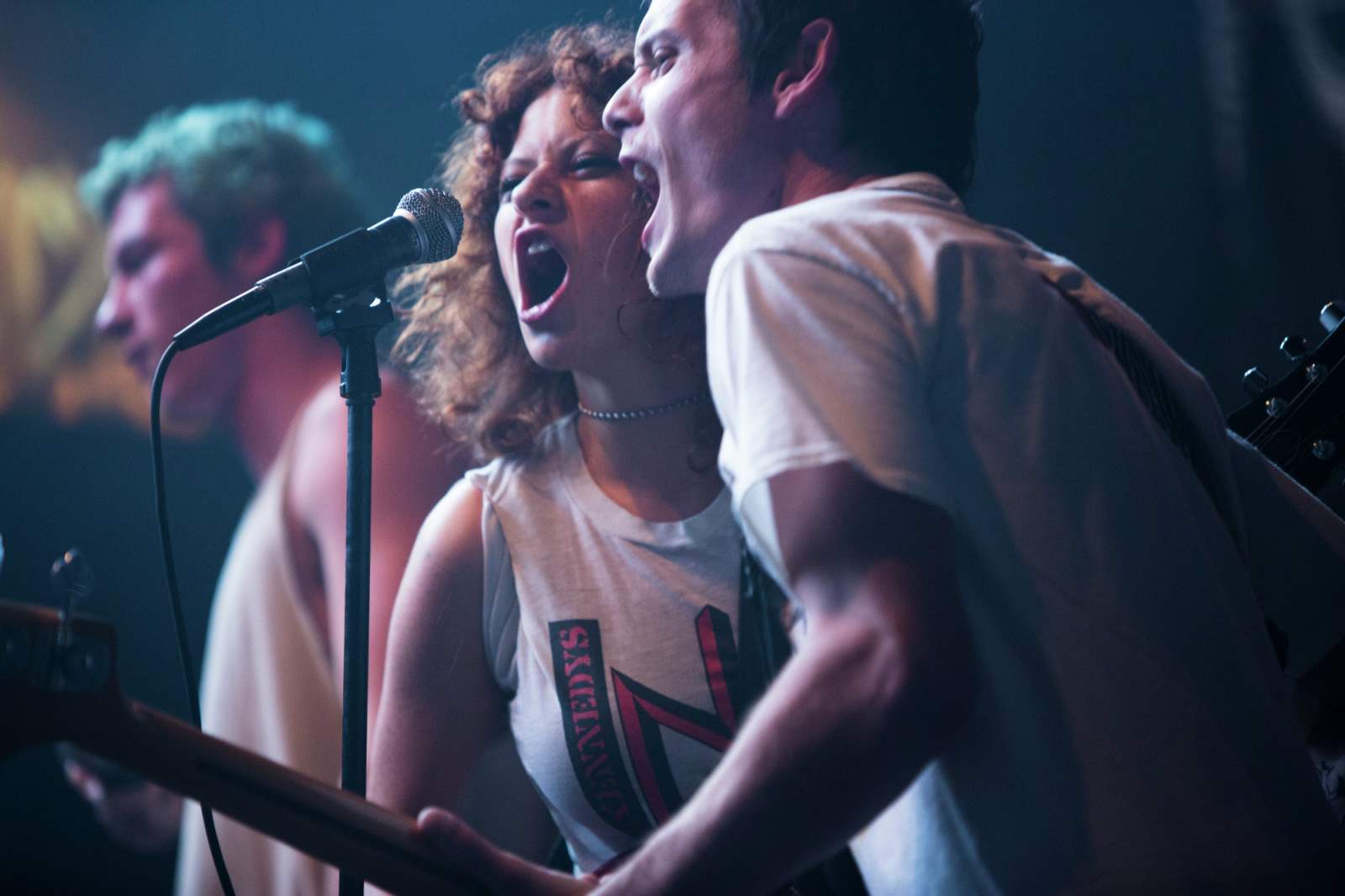 The Authenticity
Usually, when a sub-culture features in a film or TV show, it's for the purpose of a lame, 'look at those
freaks
!'-style sight gag. But Saulnier, a former hardcore singer and lifelong punk rock enthusiast himself, has meticulously crafted the world of
Green Room
so it perfectly represents the real-life scene which many viewers are, or were, a part of. It's comforting to see the punk scene represented so well onscreen, from casually dropped band names (Cro Mags!) to the torn-up T-shirts the Ain't Rights wear (Minor Threat!) to the performance of an actual punk song (Dead Kennedys' notorious "N*zi Punks F**k Off"!). Saulnier reportedly gave his cast a list of appropriate movies and music to get them into the spirit. And, rather than simply using the scene as a cool backdrop, Saulnier puts us right into the battered skate shoes and Docs of these characters so we can smell the blood, sweat and tears as the atmosphere gets tighter and tighter.
Patrick Stewart
Let's face it, most people were turned on to Green Room by the description of Sir Patrick Stewart's character as the cold, calculating leader of a group of ruthless neo-N*zi skinheads. And, naturally, the veteran Brit actor does not disappoint in what is one of his finest, and most fascinating, role to date. Darcy could easily have been a cipher, but Stewart imbues him with the sort of calm demeanour that makes one terrified to imagine what he's thinking, which, mixed with his no-nonsense business approach to the escalating situation, makes for a compelling, and very memorable, screen villain.
Its position in horror
In a year that's already gifted us The Witch, my decision to call Green Room 'the first great horror movie of 2016′ may seem like a rash one. But, unlike Eggers' masterpiece in the making, this is a flick that is so immersive, so affecting, so accessible, it's impossible to argue it as anything other than a great horror movie (although many have already tried). Where The Witch split horror fans, Green Room should unite us in our celebration of the genre, what it can do, and the many, crazy different places it can go. This movie should make us all excited and proud to be horror fans as well as leading us to question, as The Gift did last year, exactly where the genre can go with the right people driving it forward. It's something unique, something very different and something to be cherished and supported accordingly.
Catch Green Room in US theaters from April 29th (UK readers have to wait until May 13th.)