2014 has been a great year for fans of horror. There has been an abundance of genre movies released that it was tricky trying to pick my top five. After much deliberation, here are my top five horror films of 2014.
AS ABOVE SO BELOW
I saw As Above So Below late after its release and enjoyed it immensely. As a new fan of the Dowdle Brothers (thanks to The Poughkeepsie Tapes) I was intrigued by the mystery and adventure that As Above So Below brought to the table. The miles of twisting catacombs the team of explorers ventured into to uncover the secrets of the city of the dead was interesting and terrifying at the same time. As much of a horror film as it was, it was also an adventure with something to show us, and that's something that you don't often see in the horror genre.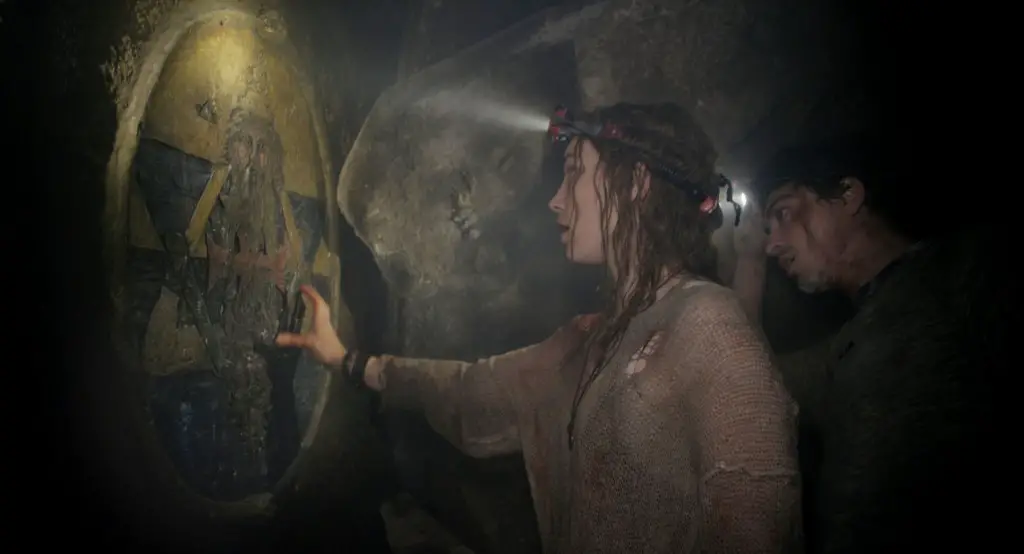 TUSK
Kevin Smith's dark and twisted Tusk unsurprisingly bombed at the box office. It's certainly an acquired taste. Personally, I thought I would hate it due to its comical factor (horror-comedy is never really my thing) but I found myself thoroughly entertained throughout. This Human Centipede style indie stars Justin Long as Wallace Bryton, who goes missing after answering an ad of an unsuspecting walrus loving seafarer Howard Howe (Michael Parks). Tusk is probably the most bizarre film I have ever seen, but it was also so funny at times that I can't help but rate it for managing to sway my non horror-comedy self into enjoying it.
AFFLICTED
Vampires are my less favorite in the genre. There's too many that sparkle and it's always about love and romance. Two things I don't want with my horror thank you very much. Afflicted gave me vampires that didn't sparkle with glitter. Yayy to that. Afflicted also has some of the most clever use of P.O.V in 2014 and proves that there is still something to offer with found footage. Writer/directors Derek Lee and Clif Prowse's feature debut is expertly shot and a good example of great storytelling, believable narrative and likeable character interplay with some action thrown in.
THE TAKING OF DEBORAH LOGAN
Another found footage! I really, really enjoyed this movie. Possession/demonic movies are my thing and The Taking of Deborah Logan is a possession move with a difference. The main actress Jill Larson as Deobrah Logan is one of the best actresses of the year for me without a doubt. She gave everything an amazing creepy factor, while as being a likeable old woman, I wanted her to survive what she was going through. It was well shot, well directed by Adam Robitel, well-acted and very effective, while also showing me a something I had never seen before in this genre. Hungry anyone?
THE BABADOOK
For many like myself, The Babadook will be up there as a great horror of 2014, and with good reason. Director of The Exorcist, William Friedkin, even called it the most terrifying film he has ever seen. The lead performance is one of the best of the year as Essie Davis offers up so much access to Amelia and her thought process and difficulties in coping with everyday life that you feel just as vulnerable as she is. Young Noah Wiseman plays an incredibly dynamic performance for a 6 year-old and he just enhances the situation. The Babadook is a smart, vivid nightmare, expertly crafted and delightfully eerie, with a fascinating character study. First time writer-director Jennifer Kent nails it in every respect and The Babadook will no doubt be among the classics in years to come.