Gore and violence definitely have their place in the horror genre. It is sometimes completely necessary to have an extreme amount of gore to achieve a certain impact. To have less gore does not automatically make a horror film superior, in fact the gore can even detract from the intended scare in some instances. Many would even argue that the main allure of the horror genre is the feeling we get when scared and not so much the reaction to seeing excessive amounts of blood. And there are plenty of films that deliver the same endorphin rush we get from watching a horror movie that don't focus nearly as much on the violent acts that transpire within their runtime. They are typically categorized as psychological thrillers or some form thereof. The following list showcases some great films that like deliver a high level of suspense without excessive gore.
Guilty as Sin
This film follows a powerful, intelligent attorney named Jennifer Haines (Rebecca De Mornay). Jennifer is hired by David Greenhill (Don Johnson), a man accused of killing his wife. While at first willing to take on the case, she later starts to suspect that not only is David guilty but that he is an immediate threat to her life. However, she sees no choice but to defend him and set him free. He begins to stalk her and attack those close to her. The film finds Jennifer alone and pursued by a man who knows how to get away with murder. Guilty as Sin ends with a shocking climax in which Jennifer must fight for her life against a psychopath.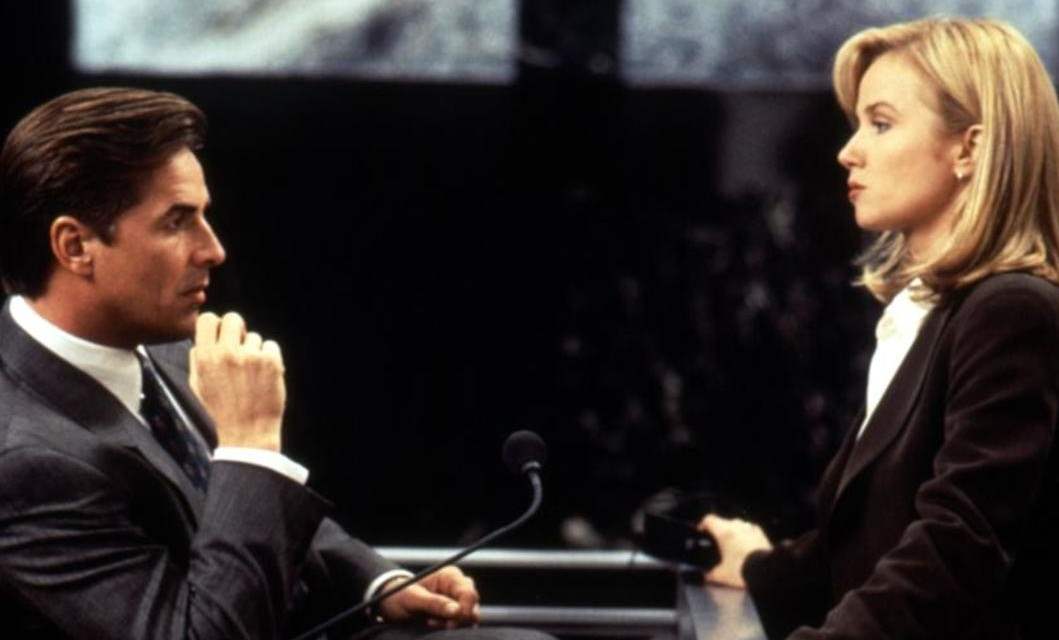 Extremities
Extremities follows Marjorie (Farrah Fawcett) and her two roommates. At the beginning of the film, Marjorie is attacked by a masked assailant intending to physically assault her. She barely manages to escape, but not before leaving her purse and wallet behind. Marjorie goes to the police only to find that there is nothing that can be done. Having all of Marjorie's personal information from her wallet, the masked man does not wait long to strike again. However, what he does not expect is for her to turn the tables on him.
The Vanishing is a remake of a Dutch-French film of the same name. It tells the story of Jeff (Kiefer Sutherland) and his obsessive need to find out what happened to his abducted girlfriend, Diane (Sandra Bullock). The abductor, Barney Cousins (Jeff Bridges), is revealed early on as the villain. As Jeff seemingly begins to move forward with his new girlfriend (Nancy Travis), Barney decides to make an offer to Jeff. He will show him what happened to Diane, but only if Jeff agrees to go through it in the same way she did. There is nothing particularly gory about this film but the suspense is extremely high.
Cher plays public defender, Kathleen Riley, in this courtroom thriller. A secretary is found murdered and a homeless veteran (Liam Neeson) is the suspect on trial for her death. As Kathleen investigates her case, she finds herself stalked by the real killer. With the help of an unethical juror (Dennis Quaid), Kathleen desperately tries to identify the killer and prove the innocence of her client. The style and the tension of the film are what make it scary.
Adrienne (Goldie Hawn) thinks she is living the perfect life until her husband (John Heard) is killed in an automobile accident. Devastated by this event, she manages to pull herself together for the sake of their young daughter (Ashley Peldon). However, this is not to last long as the knowledge comes out that her husband had been using a false social security number. Once that piece of information is revealed, Adrienne's entire world begins to unravel. While trying to figure out exactly who her husband was, Adrienne is also being stalked by an unknown assailant. One betrayal after another is revealed until she has nothing to left to do but try to escape with her life.
Eye for an Eye is the story of Karen McCann (Sally Field) and her quest for justice for the rape and murder of her daughter. While the evidence is all there for her daughter's killer Robert Doob (Kiefer Sutherland) to be convicted, he is released on a technicality. Filled with harrowing moments, Eye for an Eye is a psychological thriller centers on the real-life horrors that happen every day. It is an examination into the basic animal qualities of humankind. Field's performance is spot on and the audience feels compassion for her as a woman who takes justice into her own hands.
Diane Keaton gives a tour de force performance as Theresa Dunn in Looking for Mr. Goodbar. Based on the novel of the same name by Judith Rossner, this film is a fictionalized account detailing the true story of Roseann Quinn. Quinn was a school teacher by day and a sexual barfly by night. Most of the film shows Keaton as Theresa dealing with her double life of being compassionate to her deaf students while at the same time balancing night life explorations into her own sexuality. The bulk of the film plays out as a drama with her family, an aggressive lover (Richard Gere), and a wholesome suitor (William Atherton). However, nothing can prepare the audience for the final, shocking moments that make up the film's ending. A conclusion  that scared me more than a lot of my favorite horror films.
Joy Ride is a thriller focusing on two estranged brothers (Paul Walker and Steve Zahn) and the female friend of one of the brothers (Leelee Sobieski) as they take a road trip home. The trip goes dangerously off track when the brothers pull a prank using their CB Radio. Unfortunately, a man is brutally attacked because of the prank. Although the brothers think they have escaped, it is not long before all three are relentlessly pursued by the humiliated truck driver. There is really only one true moment of "gore" and it is within a scene that is intense for the drama, not for the blood.
This is a film that is walks a very fine line between horror and psychological thriller. It manages to give the impression that the audience has witnessed more gore and violence than they actually have. In fact, almost all violent scenes are seen from the point of view of the victim and therefore, no gore is actually shown. Frailty follows two young boys with an apparently unstable father (Bill Paxton) who claims to be a messenger of God. His mission is to strike down all those that commit unspeakable acts of evil. The father calls them "demons." The story of the young boys takes place in the past with everything being narrated by the adult version of one of the sons (Matthew McConaughey) in the present. The film is full of twists and suspense until everything comes to a head in both the past and the present. Frailty is sure to keep its audience on the edge of their seats with its mixture of family drama and psychological terror.
A film analyzing serial killers seems like a perfect fit for the horror genre. However, Copycat is not actually a horror film. But it is filled with all the suspense and terror you could want. Helen Hudson (Sigourney Weaver) is a woman that has made analyzing serial killers her life. Playing too close to the fire finds her getting burned in the opening scene as she is attacked by Daryll Lee Cullum (Harry Connick, Jr.), who is one of her subjects. The event leads to Helen becoming agoraphobic and mentally trapped in her home. When a string of murders breaks out duplicating previous serial killers, Helen is called upon for her expertise. Unfortunately, this new serial killer is beginning to copy Cullum; the serial killer that attacked Helen at the beginning of the film.