Horror video games are definitely in a resurgence right now. They just seem to be getting more and more popular, with horror games like Dead by Daylight, Until Dawn, Outlast and Friday the 13th (2019) we are living in an exciting time. Not to mention classic horror characters like Jason, Leatherface, Freddy, Alien, and Predator are taking over Mortal Kombat. But horror has a long history in gaming. Some of the greatest classic games had huge horror influences. Some of them are obvious: Resident Evil, Silent Hill, Castlevania, and House of the Dead. But there are many horror-themed games that come to mind.
Some have made the leap to the big screen, but very rarely with any degree of success. Silent Hill actually turned out pretty well, and Resident Evil has fared favorably as a sustainable action franchise. But other than that, the results have been fairly abysmal.
I think to make a great film out of a horror video game, we need to look to the past. There are so many horror games that have been lost to time, but could actually work on the big screen. They have short, simple premises that could allow a writer and/or director the creative freedom they would need.
Phantasmagoria
Phantasmagoria is an old-school, point-and-click adventure. Not exactly the most riveting of games, but it has a lot of solid atmosphere that I think would work well on screen. The investigative nature of it would also translate really well to film. Above all, though, the game is weird. It's like if Lucio Fulci created a video game with Ken Russell. It's not an obvious choice for adaptation, but I think that makes it even more worthy of consideration.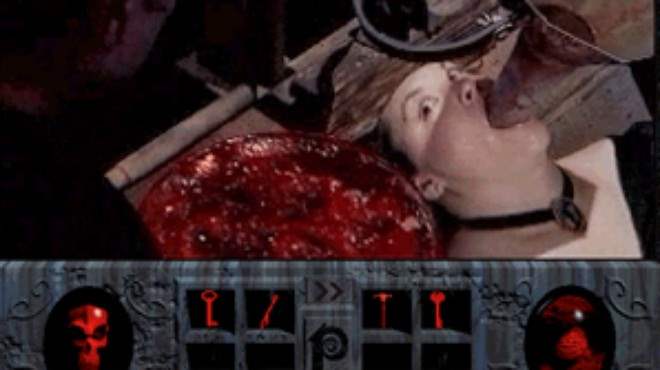 MediEvil
I know that this doesn't exactly feel retro, but the game is over twenty years old, so I think it's worth considering. This one's interesting, because I couldn't imagine it being a live-action film. The game animation is so stylized and specific that I think it would have to be animated similarly if this undead knight's tale made it to the big screen.
Master of Darkness
Most people haven't even heard of this game and the ones who do remember it just dismiss it as a Castlevania rip-off. In terms of gameplay, it absolutely is. But as a kid it was one of my favorites and I actually think the plot is screaming for adaptation. Set in Victorian London, it reveals that Jack the Ripper is slaying his victims as sacrifices so that he may resurrect the lord of vampires himself, Count Dracula. I love the idea of tracking Jack to stop him from raising Dracula, like a supernatural version of Time After Time.  
Nightmare Creatures
Another game that counts even though it feels fairly recent, Nightmare Creatures would make for a great feature film. It's got a great visual style, atmosphere; it's the perfect combination of action and hardcore horror. I think that would all make for a great adaptation. I'm thankful this escaped the clutches of Uwe Boll so that we can still hold out hope, even though the idea of actually ever seeing it on the screen seems unlikely.
Zombies Ate My Neighbors
I was hoping that kids' horror would see a big resurgence after Goosebumps, but sadly that hasn't really been the case. At least not for live-action. But I can't get enough of the idea of an Amblin-esque family horror comedy about a Monster Squad type group of youngsters setting out to save their small, suburban community from an invasion of the undead. Seriously, just take my money. Yes, ParaNorman hit some of these same beats, but I think Zombies Ate My Neighbors could absolutely benefit from an adaptation. This is just something I really want to see in live-action.
Splatterhouse
Imagine Friday the 13th if Jason was the hero. Rick is a parapsychology student trapped in a haunted mansion. When his girlfriend is taken, Rick bonds with a sentient hockey mask to transform into a superhuman monster to fight off hordes of creatures in attempt to get her back. It's a game that still has a lot of fans and would make for a great time at the movies.