Love can be hard to reconcile, especially when it takes the form of scissor-wielding, murderous spirit. Alluring as it is gruesome, Kim W. Andersson's Alena explores sexuality, doubt, and vengeance within the caste-system of a preppy boarding school. Originally published in 2012, the graphic novel garnered acclaim and The Adamson Statue, an annual award given by the Svenska Serieakademien (Swedish Academy of Comics) for exceptional art and narrative. Though a rushed and simplistic look at relationships and angst can often feel detrimental to the work, a sharp didactic and classic terror save Alena from becoming a butchered love letter, at least in an unintended fashion.
After the death of her best friend, Josephine, Alena struggles to find happiness at her school. It doesn't really help that she terrorized by Philippa, the institution's Lacrosse star. Often taking jabs at the heroine's waived tuition costs due to bereavement and her overt social anxiety, few panels show Alena receiving any kind of reprieve. Docile and unable to take action, Alena is encouraged to respond violently by one particular voice: Josephine's. Like a trendy and more talkative Samara of The Ring, Josephine prods Alena, condoning resentment through an emotional (and at times, abusive) rhetoric.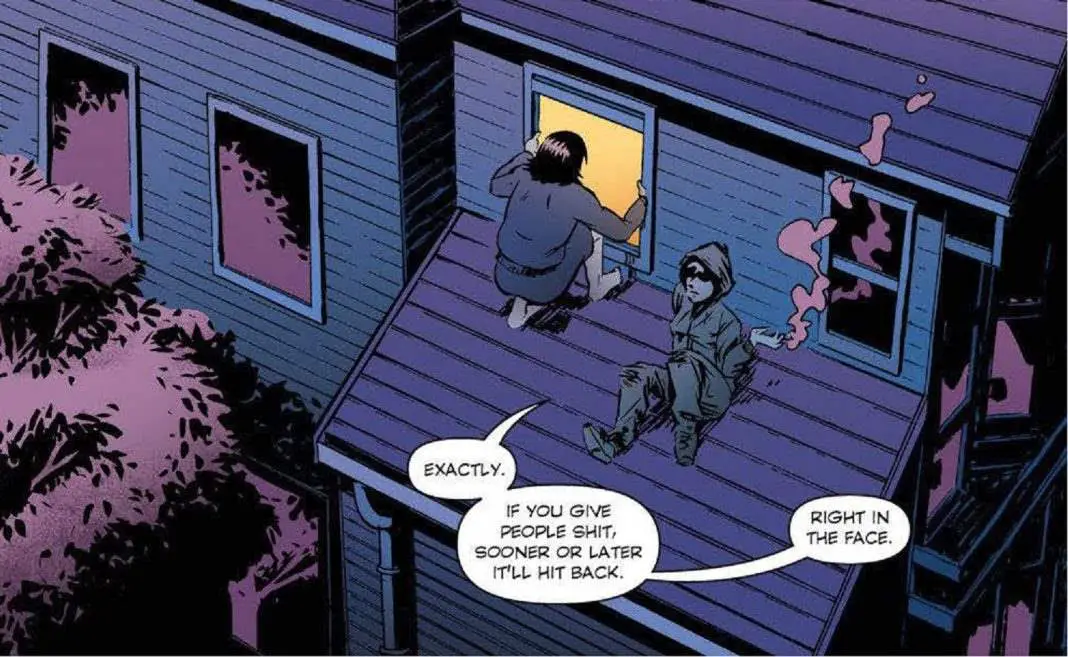 Though Andersson is careful to flesh out the piece's central characters, some of the conclusions they often come to feel a bit forced. For instance, a comical illustration of Philippa's musings of becoming a super model super-imposed over her vomiting at the high-class party gives you a bit of insight into her idiocy. This also feels like it lends itself to some microcosm of redemption, but expectation is defied. It lends itself to the work's theme in many respects, but it still feels a bit disjointed. Horror and teen drama proves to discern the worst of individuals, but Alena goes through great lengths, almost in spite of itself, to solidify this notion. This is noticeable in a few of the tale's more horrific scenes, but it still feels like something is lost.
Andersson, responsible for the work's art as well, is keen on body types. Alena often appears small, within herself, and frequently standoffish. However, the silhouette seen in multiple chapters of Philippa, such as atop a table or in the midst of lacrosse practice, is powerful, daunting, and baring the hips of Robert Crumb's female illustrations. The school's counselor endures a later term pregnancy that seems to swell nearing the novel's conclusion. Even more subtle nuances, such as the shape of the P.E. instructor, add a level of both realism and symbolism that seems to more than make up for the moments that seem lacking.
Alena wrestles with incredibly relevant themes, so it can at times feel a bit peculiar that they are never examined in any significant depth. The ending of the tale does offer a meaningful conclusion, but it feels as though the sprint to get there could have benefited from a bit more contemplation. Furthermore, while the culture surrounding boarding school most likely falls on the more conservative end, repressed sexuality doesn't seem to hold the weight it does in and of itself. In other words, it seems like Alena would be a bit more considerate and less spontaneous given her situation than the way she's usually conveyed. She is introverted, but can often come off as explosive. Her reluctance is rarely bookended with much of the same. Consistency may help stabilize the character, but then again, stability is far off from her current state.
Alena has struck a social chord in many circles, and the recent film adaptation from Daniel di Grado has been making subtle waves on the festival circuit. The graphic novel is worth tracking down for those with a soft spot for pieces like A Girl Walks Home Alone at Night, and the more classic horror elements could satisfy a traditionalist. However, it's far more than the narrative that keeps this scissor-pierced heart pounding.
Wicked Rating: 5.5/10