Vampire Hunter D Volume 26: Bedeviled Stagecoach is the latest novel in the Vampire Hunter D series. These translated novels, written by Hideyuki Kikuchi and Yoshitaka Amano since 1983, also boast companion anime, audio dramas, mangas, and comic adaptations of the original stories.
In this universe, the vampire hunter known only as D wanders through a post-nuclear steampunk Earth that combines modern technology with the brutality of colonial days. D himself is a dhampir, a half-breed combination offspring of a vampire and a human mother which makes him the perfect vampire hunter, but simultaneously an outcast of both species.
Bedeviled Stagecoach initially follows a small party of law officers who must escort a captured servant of one of the wealthy nobleman (who is also a vampire) to the capital where humans can try to draw information from him about his previous benefactor.
Unfortunately, the journey turns out to be a rather treacherous one as they are attacked by mysterious monsters and confronted by the presence of the beautiful, but terrifying D who eventually crosses paths with the traveling party. As they continue to the capital their intentions are to deliver the vampiric manservant, but they must survive first.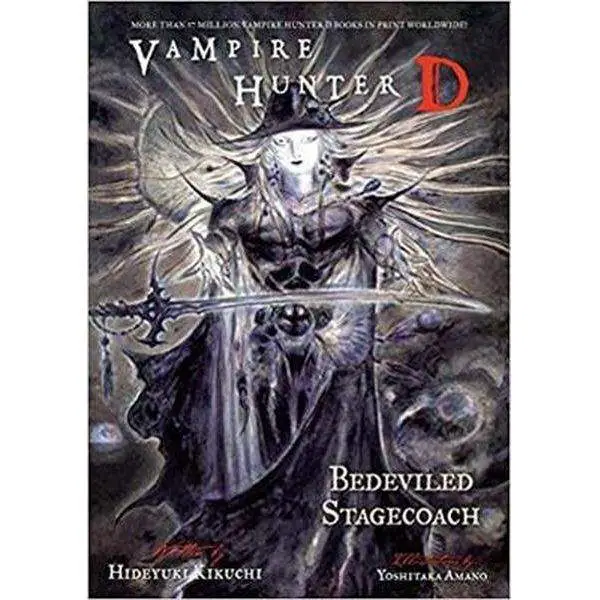 Overall, Vampire Hunter D Volume 26: Bedeviled Stagecoach is a fascinating read that can be enjoyed by longtime fans or by those new to the series alike. While I had heard about this series myself, I brushed myself up on the universe and dove into this volume and had no problems following the complexity of the stories and the characters.
Bedeviled Stagecoach does a fine job setting up the various characters in the story and invests you in their stories so when the shit hits the fan you are invested in what happens to them next. That can sound like a trivial compliment, but with an overpowered and impossible to stop protagonist like D, you need a balance to keep the plot interest.
However, sometimes the universe can be slightly confusing with the steampunk/colonial/wild west mechanics all working together at once, but Bedeviled Stagecoach treats the technology as add-ons to the story, not the main focal point of it, so it is not too distracting for the most part.
I would recommend this novel (and the series in general) if you want to try something new, but for readers who aren't interested in a complicated universe that has many working parts, you can skip this one.
Pick up Vampire Hunter D Volume 26: Bedeviled Stagecoach when it's released from Dark Horse Books on August 23, 2017