So after reading the dozens of comic reviews here on Wicked Horror, or perhaps after a lifetime of vague interest you've decided to collect comic books. Welcome, friend! As a long time comic enthusiast, I welcome you into this fold of nerdery. Whether you are collecting comics drawn or colored by a particular artist; comics of a particular character, team or genre; or are collecting comics written by a particular artist, you are well on your way to a lifelong hobby. Consider this article a crash course in how to collect comics like a professional.
Collecting things, whatever they might be, has been a hobby for quite a while. Comic book collecting in particular hit its stride and became more popular in the 1960s. This was when comic book conventions began to take place. During this boom comics became regarded as pieces of art which should be retained, rather than simply casual reading material. Some people collecting today still have comics from that period, though they are few and far between. If you're just starting out and don't happen to have an Invincible Iron Man #1 (my pride and joy, as pictured to the left) hiding out in your closet, don't fret! It's never too late to get started with comic book collecting, and not having THE issue won't make or break you. (Not in the beginning, anyway. Once you get established it may drive you crazy.)
1 – Deciding What to Collect. 
The first decision to be made is what you want to collect. The obvious reply here is 'comic books', but that's a bit broad. From Marvel and DC, to Dark Horse, 2000 AD, and Image comics, saying you want to collect "comic books" without narrowing it down is a bit like saying you want "food" for dinner. Well, sure, but what does that mean?
Many comic book collectors decide to collect all the issues in a particular series or which feature a particular character. For example, I have every issue of X-23 by Marjorie Liu and every issue of X-Force which features X-23 the character. My collection is fairly small for that character, though, given that the character I adore is featured in 1,266 comics and counting in the Marvel catalog. A small stepping stone would be to collect all of the issues in a particular story arc, such as all of the Avengers vs. X-men comics or all of the Hellboy in Hell comics. It's a start, and it will get you accustomed to the process of finding comics, determining their condition, and negotiating costs.
2 – Finding Them.
Once you know what you're looking for, it's time to figure out where to find it, and how much it'll cost you. If you're fortunate enough to be shopping for current run comics like Hellboy in Hell or Hellboy and the B.P.R.D. then you will have a much easier time of this. Current comics can easily be found at your local comic book shop or on sites like Things From Another World. If you'd like to subscribe and have future comics delivered to you automatically (as opposed to running by the comic shop every Wednesday to pick up your new issues), Things From Another World can help with that, too. (Other comic vendors like Midtown Comics and Comic Cartel also offer subscription services. My advice would be to compare prices based on what you're interested in collecting, weigh the option of Comic Cartel's storage boxes with your purchase, and go from there. With the holidays coming up sales are imminent, so this is a great time to play the field in terms of comic delivery.)
If you want to collect older stuff, things get a little more complicated. For example, if you decide to start large and get every appearance of Deadpool since New Mutants #98… Well, expect to spend a lot of time on Comics Price Guide and Ebay, by association. When you start hunting there, you'll see listings of "graded" comics. We'll talk about what that means in a moment, and how that changes the value of the issue in question.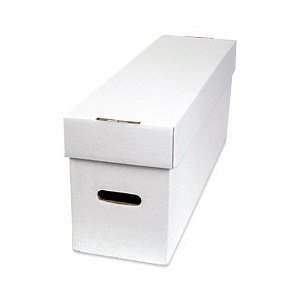 3 – Storing and Caring for Comic Books.

Unlike many collectible things (shot glasses, thimbles, postage stamps, etc.), comic books are very fragile. Forget the obvious ways to damage a comic book like spilling a drink on them or someone writing in the margins; comics can lose their value just by being read or opened! (If you aren't careful.) Since the main way to determine a comic book's value is its physical condition, it's important to take very good care of your books. (The other items tend to be how rare the comic is, how marketable it is–this is particularly flexible: As an example,
Guardians of the Galaxy
comics shot up in value after the recent movie release–and whether or not the comic has been restored and if so, how well.)
Many collectors, rather than storing their comics in their garage or in closets, have opted to get their comic books professionally bound. (Houchen Bindery is highly rated at this service in addition to their traditional printing practices.) This keeps story arcs together and can help organize a collection and make it more aesthetically pleasing and suitable for a normal book shelf. If you don't opt for this additional expense that is okay, but keep in mind that you will want to protect the edges of your books both from damage (tearing, corner blunting, losing their gloss, etc.) as well as from moisture. (Moisture can damage the paper, but can also cause the staples in the book to rust which will also decrease the value of the book.) Getting cards, bags, and long boxes is the traditional way to store comics, but in recent years many have opted to keep their collections in more easily digestible (and liftable) chunks, in smaller boxes such as these 15-20 comic containers which can fit on bookshelves, similar to bound books, or for plastic containers intended for shoes.
I personally keep my comics carded and bagged in plastic bins to protect them from heat, moisture, and humidity – things that traditional long boxes don't always protect against.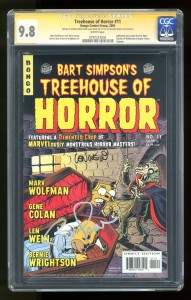 4 – Grading Comic Books
How well you care for your comics will determine their condition, as is the case with electronics and any number of worldly possessions. The only difference is that comics depreciate incredibly quickly based on condition because they aren't innately rare. Sure, if you get your hands on an incredibly old issue you may get some leeway because there aren't that many left, but how well your book stacks up/is graded will matter immensely if you ever decide to sell your collection.
There is an organization called the Comic Book Certification Service based in Florida who officially grade comic books and seal them for a fee. This is great if you have valuable comics in excellent condition that you want to "lock in" some of the value by making sure the book is safe. Once a book has been graded, opening its packaging will null the graded value, so keep that in mind before you make a purchase! While it isn't necessary that you get your entire collection graded, it is a good idea for your prized issues to ensure that you get everything you are entitled to in the event you sell. To get an idea of what condition your books are in, CBCS has a helpful grade evaluation list on their website. 
5 – Having Fun & Collecting What You Like
Collecting comic books isn't like collecting gold or silver; comics often depreciate even when they're in stellar condition. Not to mention that finding a buyer can be difficult for obscure releases. This is especially true if a character loses popularity due to a story line change or lousy movie release. You might not end up making a great profit if you opt to sell when a character is experiencing a popularity slump unless you hold onto the book(s) for a long time which will allow the slump to pass, or the book to become rare enough that it's worth purchasing again. For that reason, rather than thinking of comic book collecting as an investment or a business enterprise, remember above all that it's an enjoyable hobby. Try to collect comics which features characters and worlds you enjoy and can be passionate about. Even if you aren't making money, you get the thrill of the hunt, access to beautiful artwork and compelling stories, and increased credibility the next time you visit a comic book shop or convention.
Think I missed an important step? Reach out in the comments. It's hard to narrow down the most important aspects of a hobby into a 5 point list, so I'd love to hear what you think deserves to be up here.