With the recent release of Rob Zombie's latest film, 31, which opened to an overwhelmingly negative response even from his most rabid fans, I decided there was no better time to take a look back at his first feature. Especially given that, as a director, he's learned so much and come a great deal since then. According to reviews from genre critics and even diehard Zombie fans, 31 is a big step backward. And, well, that just brings to mind another filmmaker who's always seemed to hold an influence over Rob Zombie, and that's Tobe Hooper.
While that Texas Chainsaw Massacre vibe and those over-the-top characters have never left Zombie's work, this has never been clearer than in his debut piece House of 1,000 Corpses. Even though Corpses was made to showcase Zombie's own voice as a storyteller for the first time—and succeeds at doing so—it almost reads like a Tobe Hooper's Greatest Hits Album.
The plot is almost identical to Hooper's original Chain Saw Massacre. A bunch of young people on the road are led astray to an old farmhouse where an eccentric redneck family picks them off one by one. Tonally and visually, it feels incredibly similar to Hooper's own follow-up, Texas Chainsaw Massacre 2. It has that over the top, twisted sense of humor and neon color palate. Hell, it even carries over Bill Moseley who plays an almost identical character in both.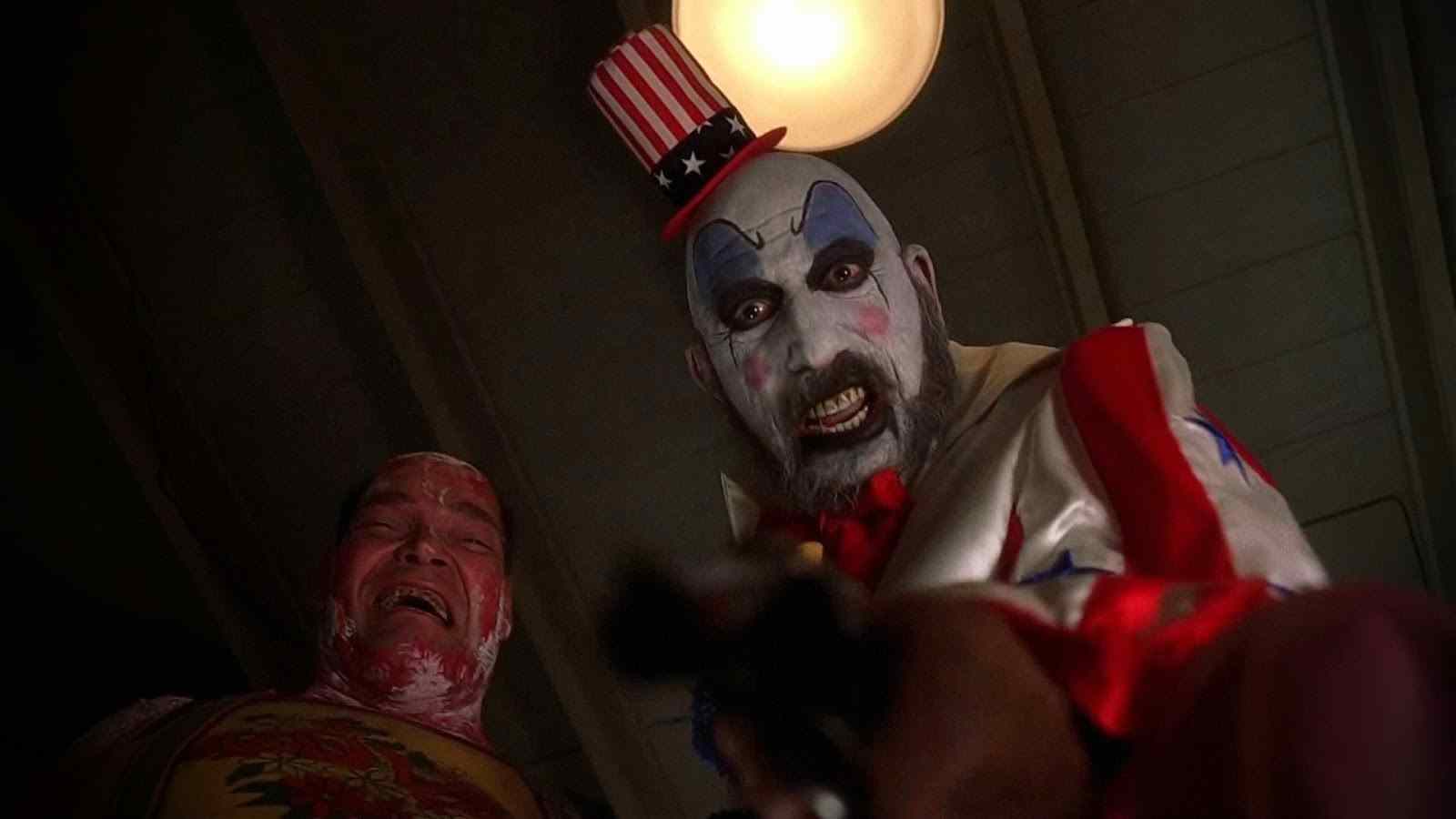 Of course, it's nothing new to point out the similarities between
Chainsaw
and
Corpses,
but the thing is, I don't think it stops there. Yes, Otis, Rufus and Tiny feel like they were written for a
Chainsaw
sequel that was never meant to be. But Captain Spaulding and Grandpa feel like they're lifted directly from
The Funhouse.
Baby, while very much a white trash character in line with the mentality of the previously mentioned movies, bears—and bares—an interesting resemblance to the central vampire of
Lifeforce
 in the sway she holds over just about every single male character she comes into contact with.
Intentional or not, there are echoes of Hooper all over Corpses. It makes sense, though. Like Tarantino before him, Rob Zombie has cemented himself as a filmmaker with very specific influences. He pulls from '70s exploitation classics and Tobe Hooper was one of the reigning kings of that kind of production, so of course he's a director that Zombie would admire and one who would go on to influence later work.
As much as we can joke about the hits and misses of Hooper's career, that influence cannot be denied. By influencing Rob Zombie, who then went on to make this movie, Hooper practically influenced an entire decade. House of 1,000 Corpses was shot in 1999 but once Universal saw a finished cut, they were appalled. The film was held off for release until the price went down so that Zombie could snatch it up and bring it to Lionsgate for distribution. It was finally released in 2003, which poetically also saw the release of the remake of Texas Chainsaw Massacre.
Together, these two features set the tone for the entire decade. The 2000s would prove to be full of throwbacks to the 1970s, from numerous remakes to flicks like High Tension, Hostel and Grindhouse. The '70s came back in big way and offered up an excellent time in horror cinema—and much of the thanks is owed to Rob Zombie, all because of House of 1,000 Corpses.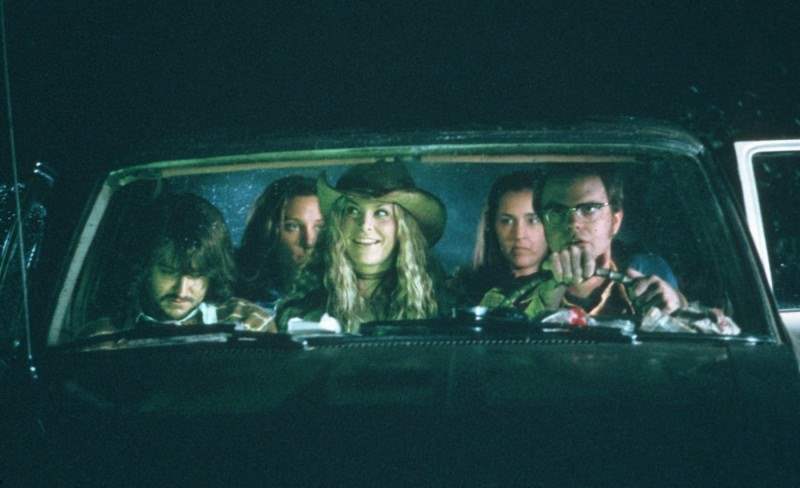 As a movie itself, it holds up better than one would think. It lives in the shadow of The Devil's Rejects, which is certainly superior in terms of actual quality of filmmaking. But Rejects can be an incredibly disturbing, downbeat feature—which absolutely works for it—and that kind of makes House the more entertaining one to watch if you're not in the mood for anything too heavy. There are interesting, experimental elements. With this production, Zombie absolutely threw in everything plus the kitchen sink. It gets more and more insane as it goes, and it just keeps going.
That, I think, is where the influence of Tobe Hooper really shows in House more so than Zombie's other films. Texas Chain Saw Massacre is a perfect example of a movie that just gets more and more insane as it goes. You feel like you're in the hands of an untrustworthy filmmaker, who can and will show you absolutely anything. Texas Chainsaw Massacre 2 does this in a different way, just getting more and more over-the-top until it hits the ending, and The Funhouse also attempts to ramp up the insanity in a way that doesn't work as well as the other two.
Personally, I think House of 1,000 Corpses falls somewhere between Chainsaw 2 and Funhouse on that scale. It has a great build-up, introduces some truly scene stealing characters and the second act is the brutal intensity you go into a movie like this expecting. Things fall apart a bit in the third act. Everything down in the tunnels, with Dr. Satan and the other weird assortment of creatures and visuals there—all of that starts to feel more like a video game. It's so over-the-top from everything else we've seen in the feature so far that it takes the audience out of it a bit.
Yes, Dr. Satan was introduced early on, so he needed to come back into play. But when he does, he's played much more like a visual set piece than a character who has any bearing on the plot. Even still, it does its job of building insanity, of building a world in which you have absolutely no idea what you're going to see next. And it delivers us into an ending with such resounding hopelessness that I would have to think it would make Hooper proud.