Welcome back to What's New on WHTV! This weekly list will update you on everything that is coming to Wicked Horror's streaming counterpart, Wicked Horror TV. If you're not aware, Wicked Horror TV is available on Roku and Amazon as well as via your Internet browser. From classic films to the latest in indie horror, Wicked Horror TV has a little something for everyone. And the best part? New movies are added weekly!
The following titles will be available October 23rd, 2022:
Meatball Machine (2005)
A couple's love is split by alien parasites invading the earth turning people into cyborg fighters.

The Sci-Fi Boys (2006)
This is the story of the Sci-Fi Boys, who started out as kids making amateur movies inspired by Forrest J Ackerman's 'FAMOUS MONSTERS' magazine and grew up to take Hollywood by storm, inventing the art and technology for filming anything the mind can dream.

14 Cameras (2018)
When a family of four rent a beautiful house for their summer vacation, the price seems too good to be true. Unbeknownst to them, the lascivious owner has set up a series of spy cams throughout the house, streaming their lives onto the darknet.

The Terror (1963)
Lt. Duvalier, a French soldier, loses contact with his unit and is forced to wander alone near the Baltic Sea. While in search of his regiment, he spies Helene, a mysterious beauty, walking by herself. Mesmerized, Duvalier begins tracking her, but she vanishes. He later catches up with her and follows her into a castle, where he encounters the bizarre Baron Von Leppe, finds signs of witchcraft and learns the shocking truth about Helene.

The Barn (2016)
Its Halloween 1989, best friends Sam and Josh are trying to enjoy what's left of their final Devil's Night before graduating high school. But trouble arises when the two pals and a group of friends take a detour on their way to a rock concert, finding an old, abandoned barn and awakening the evil inside.

The Incubus (1982)
A small-town doctor and sheriff join forces to track down a vicious sex-killer who may be the indestructible incarnation of a demon spawned from hell.

Caesar and Otto's Paranormal Halloween (2015)
Caesar and Otto live out horrifying scenes when they housesit a haunted home.

The Evil (1978)
A doctor and his wife purchase a dilapidated mansion but are unaware of the darkness lurking within. They try turn it from a house of the devil into a drug-rehabilitation center.

The Last Horror Film (1982)
A cabdriver follows his favorite actress to a film festival to convince her to star in his movie.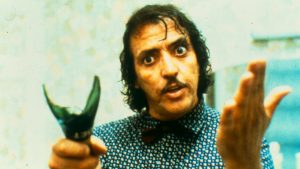 Like what you see? Be sure to follow us on social media: 

Twitter,

 

Facebook

, and 

Instagram!