Noteworthy Heroines of Horror is a recurring segment on Wicked Horror where we shine the spotlight on a female character from the annals of horror history that has made a significant contribution to the genre. The characters we select may not be the obvious final girls that regularly grace top ten lists, but their contributions to the genre are meaningful and worthy of note.
There are some final girls out there who deserve bonus points not just for surviving a particular horror film, but for surviving it at the hands of one of horror's most notorious killers. The girls who have come out on top over the likes of Jason Voorhees, Michael Myers, and Freddy Krueger seem like they deserve a bit more respect from fans because of the infamous brutality of their enemies. Our next Noteworthy Heroine of Horror finds herself up against an entire family of psychopaths when she runs afoul of Leatherface and the rest of the Sawyer clan in The Texas Chainsaw Massacre 2. Meet Vanita "Stretch" Brock, played by actress Caroline Williams.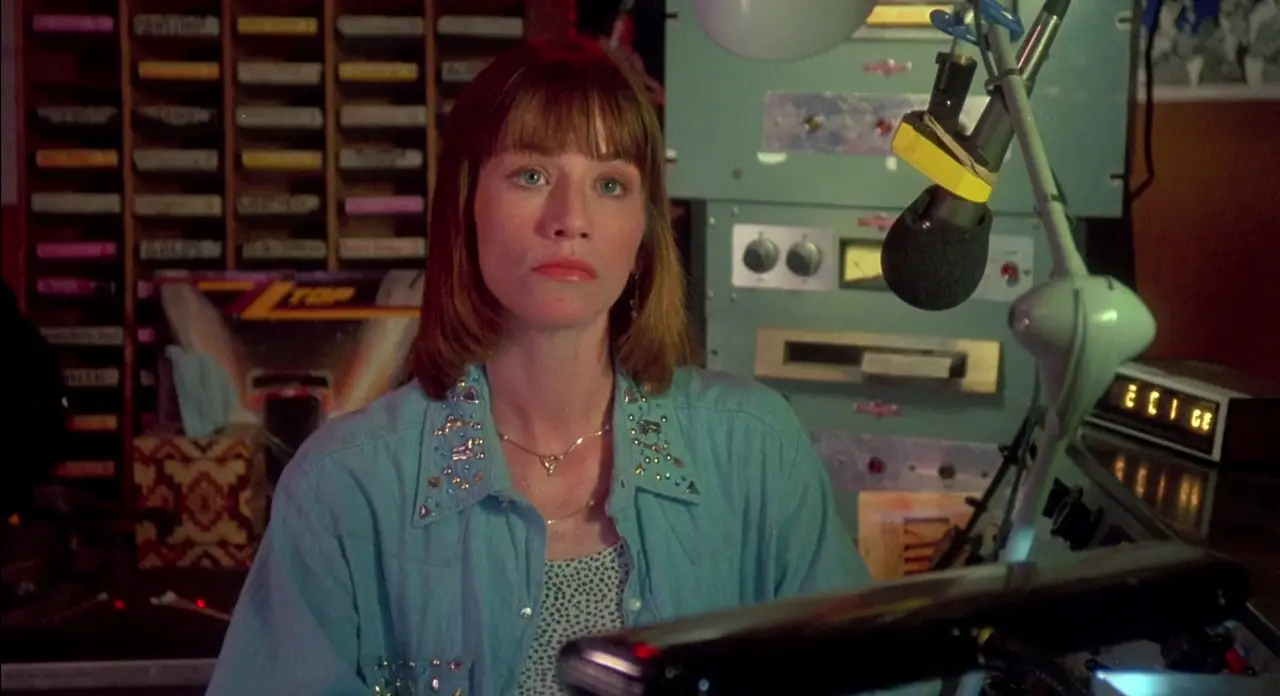 Stretch (a nickname whose origin I would love to know) is a local DJ at K-OKLA, Red River Rock 'n' Roll in Burkburnett, Texas. Her profession alone is enough to make her cooler than most characters, and, on top of that, Stretch's spunky personality is instantly likable to both male and female viewers when we first meet her in the DJ booth. Williams' own accent is perfect for the role (she was actually born in Texas) because it makes her fun to listen to and is quite adorable at the same time. The Texas upbringing and DJ gig also means that Stretch has got a bit of a mouth on her, like when she's dealing with the two joyriding kids who keep tying up her phone line, or warning her co-worker LG against calling her "darling." This girl can handle herself with anyone–a trait that will become very helpful later on in the film.
Stretch is no directionless loser, either. After overhearing about the aforementioned joyriders being murdered, Stretch realizes the importance of her position and doesn't waste much time in tracking down Dennis Hopper's Lieutenant "Lefty" Enright. She eventually convinces him that he does need her help, and her determination to do something "real" in her life particularly shows in this scene. She wants to help and wants to do the right thing, which makes her very admirable. Unfortunately, it is the action that she takes in this pursuit that makes her the target of the Sawyer family.
Stretch's first encounter with the insanity of the Sawyers in The Texas Chainsaw Massacre 2 is during her scene with Chop-Top (Bill Moseley) at the radio station. Though she's obviously scared and freaked out by this crazy character, Stretch still manages to keep her cool as best she can when trying to get rid of him, and even still keeps her mouthy attitude. That becomes much harder to do once Leatherface shows up, but I don't expect too many characters–regardless of gender–not to lose their cool when confronted with a live chainsaw. But Stretch does not completely give up. Much like Ginny did with Jason Voorhees in Friday the 13th Part 2, Stretch seems to make an instant psychological analysis of Leatherface and uses it to help herself in a situation where her death seems imminent. And surprisingly, it works. Leatherface becomes smitten with her, and lets her live.
Even after nearly getting butchered with a chainsaw, Stretch doesn't give up on catching the Sawyers and follows them to their underground amusement park of horrors. There, she is subjected to witnessing the mutilation of her friend LG (she even has to wear his skinned face), and she endures a dinner table scene just as horrifying as the one in the original film. She uses her wits and her previous connection to Leatherface to escape momentarily but is eventually found by Chop-Top and The Cook. Once again, I really can't blame Williams's spasmodic acting in the dinner scene–she's a likable character in a pretty messed up situation, and I'm sure I would be reacting the same way. But after Lefty comes to save the day, Stretch snaps out of it and becomes much more fierce in her ensuing escape and face-off with Chop-Top.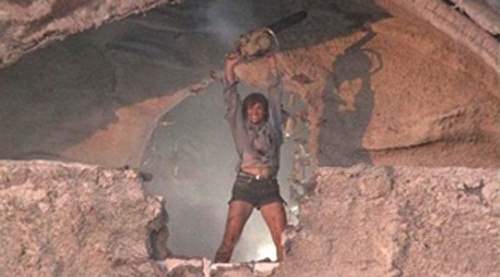 Each time Chop-Top catches her, Stretch gives just as good as she gets–punching and kicking him, and electrocuting him by jamming a lamp into the metal plate in his head, and she never stops running. She expertly makes her way through the maze of the Sawyers' abode until (conveniently) finding the EXIT sign and scaling a steep staircase to Grandma's shrine. Even while being attacked by Chop-Top, Stretch manages to take control of Leatherface's weapon of choice and slice him up before sending him over the edge.
At the end of the film, Stretch has literally conquered the Sawyers' mountain and the last glorious shot of the movie is her celebrating her achievement by waving the signature chainsaw over her head. Maybe the experience has made her a little crazy. But crazy or not, she's one of the few people to survive her encounter with the infamous cannibal clan, and for that, she is a very Noteworthy Heroine of Horror.