Hammer Films burst onto the scene in 1957 with The Curse of Frankenstein. And just like the early days of Universal, one followed the other and a Dracula movie was put into production right away. Curse was great, but it didn't quite cement Hammer as the powerhouse horror studio they wanted to be. The Universal films, of course, were known for their monsters. Curse of Frankenstein was great for cementing Victor Frankenstein as a truly despicable, villainous character. But as a result the creature sort of fell by the wayside. Christopher Lee looked great in the unsettling makeup, but the monster didn't have a huge presence.
Hammer's next film, Horror of Dracula, was what put them on the map. It gave audiences a truly evil monster. A Count that was extremely far removed from Bela Lugosi's portrayal, but memorable all the same. This Dracula was everything that the original Tod Browning endeavor was not. It was faced-paced, action heavy, and showcased the horror instead of keeping it off-screen. It was made for a very different audience than Universal's movie. This Count was regal, charming, but much more sinister. The image of Dracula with blood red eyes and blood dripping from his mouth conjured up nightmares for all who first saw it in the theater.
In a time when gothic horror was all but dead, Horror of Dracula gave the genre the shot in the arm it needed to be relevant again. Almost singlehandedly, it moved horror away from atomic-age science fiction. Through it, audiences took a renewed interest in gothic melodrama, in vampires, and in the genre itself. It kicked off the Hammer legacy.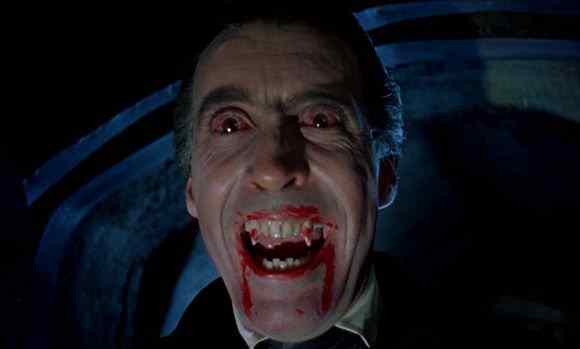 And, of course, it kicked off a successful franchise of its own at the same time. Lee went on to portray the vampire more times than any other actor. In the minds of many, he will always be the definitive version of Dracula. The Hammer Dracula series was their most successful and remains one of the most prominent horror franchises ever.
Of course, like Dracula before it, Horror of Dracula took many liberties with the book. Jonathan Harker travels to the castle already knowing exactly what the Count is. Characters are combined and their relationships are changed, as always seems to be the case. But in his commanding presence, his ruthless nature and monstrous attitude this is as close to the character in the novel as any adaptation has ever gotten.
So much of the success of Horror of Dracula comes down to the lead actors themselves. Peter Cushing and Christopher Lee worked together on countless Hammer productions, usually with Cushing as the hero and Lee as the villain. This began in Curse of Frankenstein, but like so many other things it was cemented in Horror of Dracula. Cushing brings an honesty and immediate likeability to his Sherlock Holmes-ish portrayal of Van Helsing. This is a hero who cares about the well being of others and will do anything to take the monster down.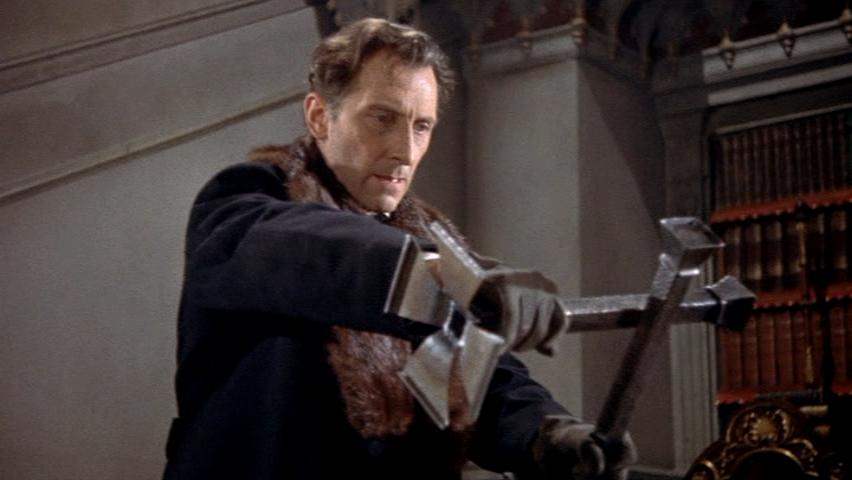 Lee's Dracula, in stark contrast, is the embodiment of evil. He will stop at nothing in his quest to spread his darkness. Most portrayals have a romantic sensibility to them and while Dracula does have a way with women in the Hammer films, it's not exactly sexy. He lures them in like a seductive serial killer, uses and objectifies every woman he meets as long as she's fit to be made undead. He is a soulless killing machine. There was a man in there long ago, you can see it behind Lee's eyes, but that man is long forgotten and rarely mourned. This is exactly who Dracula was in the book. Yet this side of the character has been rarely explored since Lee's days wearing the cape.
The ending is one of the most unforgettable showdowns in horror history, with Van Helsing chasing Dracula throughout the castle, making sure he does not get back into his coffin before sunrise. The determination in the character has never been clearer. This finale was action-packed in a way the Universal Dracula films had never been. Yet it never sacrifices the atmosphere, the brooding tension or the excellent actors. That is precisely why it worked and why it has remained a classic for so long.
Curse of Frankenstein certainly captivated audiences, but Horror of Dracula put Hammer on the map. It gave audiences an unforgettable update on a classic horror tale and cemented the "good vs. evil" rivalry of Van Helsing and Dracula. Even sequels like Brides of Dracula proved that one could work without the other. But it this was the one that started it all. This was the movie that brought vampires back from a decade long sleep. It made the Count popular again. In some ways this film rejuvenated the entire genre. But more than anything, it kicked off the Hammer legacy and made it the powerhouse horror studio it eventually became.