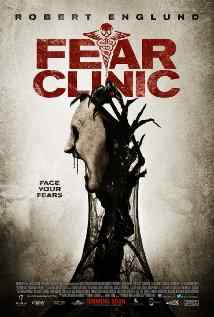 Today brings the announcement of the DVD and Blu-ray release of
Fear Clinic.
 The film
will be released on DVD Blu-ray February 10, 2015 via Anchor Bay Entertainment. Robert Englund, Fiona Dourif, Angelina Armani, Thomas Dekker, and Slipknot lead singer Corey Taylor star. The film is directed by Robert G. Hall (
Laid to Rest
). Effects legend Robert Kurtzman lent his talent to the production along with Steve Johnson.
The idea was adapted from a FEARnet web series of the same name, which was helmed by Robert G. Hall. Hall co-wrote the feature film script along with Aaron Drane.
DVD specs and special features will be announced soon. We will keep you in the loop as soon as we have more information to share with you.
Plot synopsis from the press release: When trauma-induced phobias begin to re-emerge in five survivors a year after their horrifying tragedy, they return to the "Fear Clinic," hoping to find the answers they need to get cured. Dr. Andover (Robert Englund), a fear doctor who runs the clinic, uses his "Fear Chamber" to animate their fears in the form of terrifying hallucinations. However, the good doctor soon begins to suspect that something more sinister may be at work, something that yearns to be more than just an hallucination…