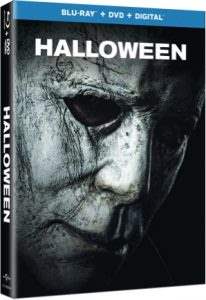 With Thanksgiving and Christmas rapidly approaching, it's time to start thinking about Halloween again. And what better way to do that than with the release of 
Halloween (2018) 
on home video?
Halloween (2018) will hit DVD and Blu-ray January 15, 2019. Those keen on early access to the latest installment in the series can use their Christmas/Hanukkah/Kwanzaa cash to purchase the film on DigitalHD beginning December 28, 2018.
The home video release offers a bevy of special features including deleted scenes (one of which you can scope in the player, below!), a series of featurettes, and much more!
If you haven't seen Halloween (2018) yet, you may want to make a point to check it out as soon as possible. It's certified fresh at 79% by Rotten Tomatoes and our own Justin Steele said that it succeeds by bringing the franchise back to the beginning in his review.
Halloween (2018) set the record for the best horror movie opening with a female lead (at $77.5 Million) and it also set the record for the highest opening ever with a female lead over 55.
As we've mentioned several times before, the new film is not a remake. It does, however, ignore everything to come after the 1978 original. It's a direct sequel to the first film that picks up 40 years later.
The film stars Jamie Lee Curtis as Laurie Strode and Judy Greer as Karen Strode. Danny McBride (Alien Covenant review) cowrote the film with David Gordon Green, who was at the helm. Series co-creator John Carpenter served as an executive producer. Blumhouse, Miramax, and Trancas International Films partnered to produce the latest installment in the series.
Prior to losing the rights to the franchise, Dimension was in development on a new Halloween film with Marcus Dunstan and Patrick Melton. Halloween 3D was reportedly set to pick up after the events of the second film and would not tie in to Rob Zombie's reboots.
Related: Script to Pieces: Halloween Returns