It's Friday and you know what that means; time to invest in some blackout curtains so that pesky sunlight can't bother you- Welcome back to New on Netflix, your weekly update on the spooky films and TV shows added to Netflix's library. The streaming giant's horror department has always been a mixed bag. However, I'd say they've really stepped up their game in the last couple of years with the release of amazing, essential watches. We've been treated to must see original programming like The Haunting of Hill House, Velvet Buzzsaw, Hush, and some of the classics we all know and love.
This week we have a short list that includes a cheating husband and the vacation from hell.
Dirty John: The Betty Broderick Story
Season 2 of Dirty John arrives to Netflix on May 31st. This season tells the tale of Betty Broderick, a woman raised with strong Catholic values primed to be a perfect housewife by her strict parents, who marries lawyer Daniel Broderick. But by the mid 80s their marriage dissolved bitterly and very publicly, ending in tragedy.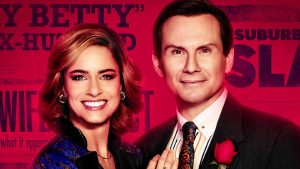 Welcome Home 
And on June 1st comes Welcome Home. Couple Brian and Cassie travel to Umbria for a vacation in an effort to mend their relationship. They rent a villa but the devilishly charming homeowner can't seem to leave them alone.