Last week we brought you a look at the first round of re-designed theatrical art for the forthcoming re-release of Saw. Today, we have the second installment. Come inside and take a look after the jump.
Come inside for a look at this second round of newly released concept art in support of the theatrical re-release of Saw. It marks the second of five limited-edition collectable posters that will be debut weekly, leading up to the 10 year anniversary re-release of James Wan's Saw. LionsGate is providing theater goers a chance to get their hands on a copy of this NEW poster at participating AMC, Regal, Cinemark, and Carmike cinemas.
With the theatrical re-release of Saw, a whole new generation of horror fans will have the opportunity to see Saw on the big screen. In celebration of the 10th anniversary of the game changing film, Saw will return to theaters for one week beginning October 31, 2014.
Saw marks the horror film debut of powerhouse director James Wan (The Conjuring) and the first feature film collaboration between Wan and Saw co-writer Leigh Whannell.
Made as an indie feature with a limited budget, Saw was eventually acquired by LionsGate Films for distribution. After LionsGate's acquisition of the film, it went on to gross over $50 Million at the box office. Saw represents the first feature to spawn a franchise for the LionsGate brand. The film inspired  a total of six sequels and introduced the world to the Jigsaw killer.
Saw follows the plight of two men that wake up trapped in an unfamiliar room, restrained by chains – a dead body lies between them. The pair are given a series of specific instructions by which they must abide and tasks they must complete if they are to make it out with their lives intact. Their will to live and resolve will be tested and their survival will ultimately depend on how much they are willing to sacrifice.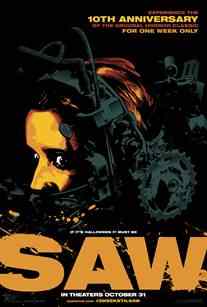 random-text