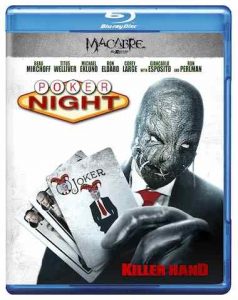 XLrator Media has reached out to let us know that their serial killer thriller 
Poker Night
 will be hitting DVD and Blu-ray next month. Full details after the break. Head inside and take a look!
The film stars Ron Perlman, Giancarlo Esposito, Beau Mirchoff, Titus Welliver,
Michael Eklund
, Ron Eldard, Corey Large. It is directed by Greg Francis. Francis also penned the screenplay for this upcoming release.
The film is being classified as a thriller but it is sure to be laced with plenty of horror overtones.
Poker Night is slated to hit DVD and Blu on February 10, 2015. Blu-ray box art is picture to the left. DVD art is virtually the same with a couple of minor differences. Stay tuned to the site in the coming weeks for our review of this title and more news about the film as it becomes available.
Official plot synopsis from XLrator Media: "In this twisted thriller, a young detective is caught in a sadistic game of cat-and-mouse when he is kidnapped and tormented by a masked serial killer. In order to survive, the rookie must use the wisdom imparted to him by senior detectives on their regular poker night."