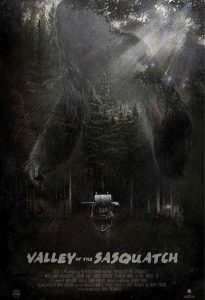 The Northwest based production company,  October People will be staging the west coast premiere of their new film 
Valley of the Sasquatch 
at the Seattle International Film Festival. The festival will run from May 14 through June 7.
The feature is written and directed by John Portanova. It purports to be based on 'actual stories of a Bigfoot attack'. The Bigfoot effects were all accomplished practically with a man in a suit.
The film stars David Saucedo (Paranormal Activity: The Marked Ones), Bill Oberst Jr. (Resolution), Jason Vail (Abraham Lincoln vs. Zombies), D'Angelo Midili (The Invoking), and Miles Joris-Peyrafitte (Gut).
Stay tuned for more info on this project as it is announced. No word on distribution at this juncture.
"After losing their home following a devastating tragedy, a father and son are forced to move to an old family cabin. Neither reacts well to being thrown into this new world. The son's attempts to relate to his father are complicated when two old friends arrive for a weekend of hunting. This trip into the forest unearths not only buried feelings of guilt and betrayal, but also a tribe of Sasquatch that are determined to protect their land."