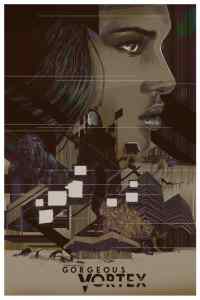 Excised 
V/H/S Viral 
segment 'Gorgeous Vortex' recently released a clip previewing the segment and today we have a poster in support of the film's deleted/bonus segment to share with you. Come inside and take a look at the recently released poster after the break.
The 'Gorgeous Vortex' segment is directed by Todd Lincoln and was initially supposed to be included in the anthology as a surprise segment. But the additional vignette was prematurely announced and when it wasn't included in the film's theatrical and VOD release, fans wondered if it was left out because it was of inferior quality. After checking out the clip from 'Gorgeous Vortex', we are led to believe that there may be some other explanation, as the quality is definitely there from what we can see. C
The film was just released on DVD and Blu. And the bonus segment is part of the home video release. You can read our review here. If you haven't checked it out yet, the third installment in the VHS franchise is a lot of fun and should appeal to fans of the series and anthology horror enthusiasts alike.
VHS: Viral centers around a Los Angeles area police chase that is dominating the news stations. A random sampling of amateur camera people try to capture the ordeal via various portable media devices in an attempt to enjoy their fifteen minutes of fame. But those recording the chase soon learn that they are in store for much more than they bargained for. Every one of them is affected by an unexpected side effect of their quest for fame that may just cost them their lives.
VHS Viral features segments directed by Gregg Bishop, Nacho Vigalondo, Aaron Moorhead and Justin Benson, and more. The poster was first shared via The Wrap.