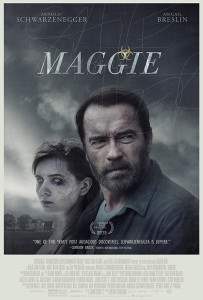 The zombie film 
Maggie, 
which was picked up for distribution by LionsGate during The Toronto International Film Festival recently debuted a full trailer (you can check that out in the player below). But today we have a hot off the press one sheet to share with you. So head inside for your first look.
The brand new artwork for the film is pictured left. Click to expand the image to full resolution.
Maggie stars Abigail Breslin (Haunter) as the titular character and Arnold Schwarzenegger (End of Days) and Joely Richardson (Nip/Tuck) as Maggie's parents. It is directed by Henry Hobson in his feature film directorial debut and written by John Scott 3. Maggie also marks Scott's first foray into feature film but his script scored him The Blood List award in 2011 (for best un-produced horror script).
Maggie was initially scheduled to make its world premiere at the Toronto International Film Festival but it was snatched up by LionsGate before the film screened and its premiere was postponed. The picture will now make its world premiere at Tribeca later this month and is slated to hit theaters and VOD on May 8th.
Maggie's story is told from the perspective of the afflicted in the same fashion as Warm Bodies. Given the talent attached and the award winning script, it looks like it may be well worth a look. Maggie tells the tale of a family struggling to come to terms with the fact that their daughter has been infected by a virus that will turn her into a flesh hungry zombie.