Welcome to Blood on my Sofa! Each month I will be providing you with a movie recommendation. It won't be just any movie, but a movie I watched during the previous month that really rocked my world. In this installment, we will be taking a look at Animal World. 
Wondering what Netflix Original film to watch next? How about an action drama with splashes of horror? And how about a film that turns the exciting rock-paper-scissors game into a one that is deadly? 
Also See: Blood on My Sofa: Down for The Demented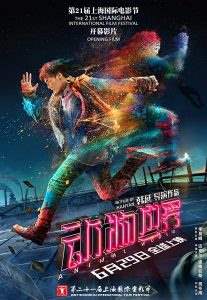 Directed by Han Yan,
Animal World
reigns as an immersive and unique experience, based on Nobuyuki Fukumoto's anime/manga series
Ultimate Survivor Kaiji
. This tale of parallel worlds, both real and dream-like, unites the trippy-ness of Zack Snyder's
Sucker Punch
, together with the traces of Guillermo del Toro's
Hellboy
, and the ingenuity of Christopher Nolan's
Inception
. 
The film follows a young man named Zheng Kaisi (Li Yifeng). With his father deceased, his mother a coma patient at the local hospital, and his love interest (Zhou Dongyu) being courted by a much wealthier prospect, Zheng finds little solace in the real world. As a child, he mentally escaped his trepidations by watching a cartoon that featured a cunning clown. As an adult, he works as a clown, attempting to make his dreamworld a reality but coming up considerably short. Funds soon run low, and Zheng finds himself faced with the opportunity to win big money on a gambling ship operated by an ominous impresario (Michael Douglas). The game is rock-paper-scissors. The stakes are life or death. And the solution—is Zeng's peculiar math abilities.
Apart from the smart storyline, this movie features the most intense game of rock-paper-scissors you will ever see. The concept is based on Tobaku Mokushiroku Kaiji (Ultimate Survivor Kaiji) by Nobuyuki Fukumoto. The manga and anime versions feature the game Mahjong. But the tension remains just as high in the feature film version.
I was impressed with the way writer/director Han Yan was able to craft a screenplay that could encompass the complexity of Fukumoto's work. Han Yan is the talented director of the incredibly profitable and highly imaginative dramedy Go Away Mr. Tumor, starring Bai Baihe and Daniel Wu. In this film and his directorial debut First Time, Yan not only excels in plot development, but also in story development, which relies on smartly chosen performers with broad range. 
Starring as Zheng, Li Yifeng began his career as a singer in the early 2000s before focusing on acting. The role I first observed his talent in was Zhang Xiaofan in the television series Noble Aspirations, which became one of the most watched Chinese dramas at over 20 billion views. He also starred in Sparrow, an espionage series set in the 1940s that received critical acclaim. This series also featured his love interest in Animal World, the beautiful Zhou Dongyu. 
Alongside the first-rate acting were ground-breaking visual effects. This was an international effort. With a peek into the ending credits, viewers can witness talented studios around the world coming together. The production VFX supervisor for the film is John Dietz, who has overseen movies like Harry Potter and the Deathly Hallows: Part 1, 28 Weeks Later, and Hunger Games. The VFX studios involved included Dietz's company BangBang Pictures in Beijing, Weta Digital in New Zealand, Rising Sun Pictures in Australia, Fin Design + Effects in Sydney and Shanghai, and The Monk Studios in Bangkok. 
Obviously, a project of this caliber needs an experienced concept designer. Feng Zhu took on the challenge of the different designs of Animal World. He has collaborated on movies such as Alita: Battle Angel, Transformers, TMNT, Star Wars: Episode III – Revenge of the Sith, as well as designed for video games like Dark Sector, Gears of War, Dead Space, and Wolfenstein.  
Animal World is considered an action drama, but it has elements that horror fans will appreciate. This horror is told through some of the most talented artists in entertainment. For this reason, I am thirsting for part two. And from the feedback I've read online, I see that I am not alone. Watch Animal World soon, so you can join the rest of us checking Netflix every hour for news of a sequel.